France
ST TROPEZ
RESTAURANT, LA RÉSIDENCE DE LA PINÈDE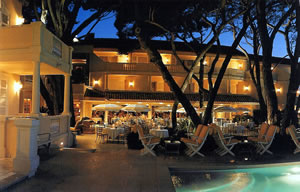 I believe that food tastes better when you are properly dressed. I have accepted this truth since I was a small child. It is clear, however, that nowadays many people know not this particular Credo. The cult of dressing-down has spread to many of the world's restaurants, whose customers sometimes seem to have ransacked their dustbins rather than their wardrobes before setting out for dinner. My eyes have too often been offended by scruffy (although, doubtless, very affluent) fellow diners. This does not happen in St Tropez, thank goodness. This sparkling gem of the Côte d'Azur somehow inspires folk to aim for high sartorial standards. Their efforts can be conspicuously successful, as I am always reminded when I visit the town's most elegant dining room – the Restaurant of La Résidence de la Pinède.
I say the dining room, but the weather is usually kind and allows me to enjoy alfresco dining on the terrace. Here, as inside, there are fine tablecloths of white damask, Schott glassware and members of staff dressed formally in black tie. The service, under the direction of the Restaurant Manager, Roger Boccia, is smooth, courteous and correct. Silver domes are lifted and napkins are replaced immediately if the (well-dressed) guests leave their places for a moment. This is the sort of atmosphere I like – calm, ordered and serene.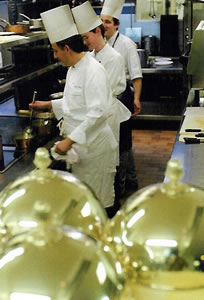 And then there is the view. A magnificent panorama is not essential for a memorable meal, but it certainly helps. As I looked out over the bay, towards the distant lights of Ste-Maxime, the white yachts dipped and swayed gently on the darkening blue of the Mediterranean. It occurred to me that there can have been little difficulty, in 1936, in selecting this particular pine grove as the site of the hotel. For those who like to be right next to the sea, La Pinède's location is well nigh perfect. So are the standards maintained at the hotel by its proud owners, the Delion family. I have yet to encounter any member of staff who was not doing his or her best, because it is clear that at La Pinède only the best will do.
Chef Arnaud Donckele, from Normandy, offers three set menus – for 115, 145 and 170 euros. The last allows you to choose any three dishes, plus cheese, plus two desserts – in half portions. If you opt to go à la carte, as I did, expect to pay around 180 euros for four courses. As there is no stinting on the luxury ingredients and as the ambiance is so delightfully comfortable, I consider these prices to be quite reasonable.
I began with Provençal vegetables, cooked with lemon zest and marjoram, and served with caramelized balsamic vinegar and frozen Argan oil. This dish was a delight for the eye, as well as for the palate. The soft and yielding vegetables combined marvellously well in my mouth. Next came turbot, with potato gnocchi, roasted tomatoes and plenty of truffle – the firm flesh of the fish given a real boost by the slices of divine fungus. Roasted suckling pig and creamed potatoes with sage I found less exciting, but my final course almost exploded with exciting flavours. The local wild strawberries I expected to be good, but the hot soufflé, the macaroon with mascarpone and the lemonade which accompanied them were so brilliantly done that the pudding became the highlight of this splendid meal.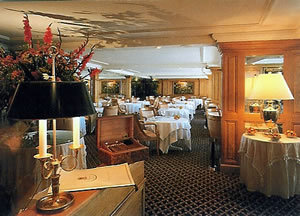 In the cellar of an establishment like this you would expect to find the finest burgundy and claret. And there it is, with bottles such as 1999 Romanée-Conti (6,000 euros), 1985 Lafite (1,100 euros) and 1989 Pétrus (3,350 euros). As the list is so strong in burgundy, I asked the knowledgeable sommelier, Sebastien Benchabi from Aix-en-Provence, to recommend some wines from the Côte de Beaune. My white was a glorious example of French reserve and elegance, with notes of cream and discreet fruit (Corton Charlemagne, Bonneau du Martray, 2004 – 270 euros), and my red burst forth with hot red fruit and the farmyard nose I like so much (Pommard, Les Vaumuriens, Coche Dury, 2004 – 220 euros). This was very good drinking indeed.
As I left, the Director of the hotel, Olivier Raveyre, came over to say goodbye. I told this young and charming man that I had greatly enjoyed my visit. He was a dapper fellow. In fact, everyone there was impressively attired. I expected no less of the Restaurant at La Résidence de la Pinède in St Tropez. The people there know, as well as I do, that food tastes better when you are properly dressed.
---