Italy
POSITANO
RESTAURANT, HOTEL SAN PIETRO
PLEASE NOTE: There have been significant changes to this establishment since this article was written.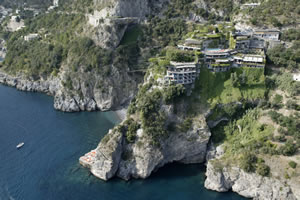 About a mile from Positano, in the direction of Amalfi, on the winding road made famous by hundreds of films and thousands of advertisements for open-topped sports cars, there is a pull-in and a small car park. In this area of spectacular views, it looks of little significance. But do not be deceived. For this is a destination sought out by many of the world's richest and most discerning travellers. There is something marvellous here. Yet where can it be? We are half-way up a cliff face and there are no proper buildings about. But wait. There is a little structure, even if it seems nothing more than a rather smart hut. As we approach, the doors slide open. It is the entrance to a lift, and it takes its fortunate occupants down to a luxury hotel. And in that hotel is a restaurant which has given me one of the finest meals I have eaten in Italy.
The Hotel San Pietro can justifiably be called an architectural tour de force, and is certainly a tribute to the vision and determination of its creator, Carlo Cinque. It seems to be part of the cliff itself, and therefore every room looks out over the gorgeous Bay of Positano. I hope to have the opportunity of staying here in the future, so that I can report to you on the whole establishment, but for the moment my sights were set on its restaurant, which has a Michelin star and a reputation for excellence.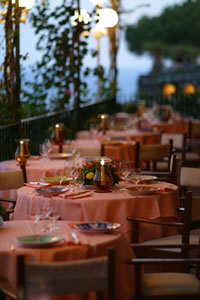 My first reaction upon entering the dining room was to blink at its size. Some words about 'the hall of the Mountain King' came into my mind. The impression is of a huge cave, with the side overlooking the sea one vast expanse of plate glass. I was shown to my table by Pasquale Fusco, the maitre d' – a gentleman who impressed me with his smartness (he was in black tie), his courtesy and his efficiency. I noticed at once that the chair would not offer much support to my ailing lower back. A few words and another chair was brought, to enable my visit to proceed in comfort. I felt I was being looked after properly – as, indeed, I was throughout the evening by my charming waiter, Giuseppe.
A single candle burned upon the pink tablecloth, on which stood fine Spiegelau glassware. Bread was brought in a brown metal box. I noticed that the napkins of fellow diners who left their places for a moment were carefully re-folded. (I liked this small courtesy, although in an establishment as good as this, replacing the napkins would be even better. I recommend this little improvement to the San Pietro's management.) A pianist and a saxophonist struck up a merry tune, as my eye was drawn to the dramatic coastline outside, now beginning to darken in the waning light.
In charge of the kitchen is a Belgian chef of huge talent. Alois Vanlangenaeker is from Diepenbeek. I do not know whether Diepenbeek is a pretty place, or whether Chef Vanlangenaeker has drawn his aesthetic standards from pretty Positano, but his dishes are a treat for the eye. If, like me, you regard fine presentation as one of the important culinary arts, you will be overjoyed at what is brought to your table at the San Pietro.
I began with lobster, with new potatoes, green beans and a vinaigrette of green apple. Essentially simple, what raised this dish to the highest standards was the precision with which the (top quality) ingredients had been handled. Subtle, delicious and wonderfully balanced, it was a tip-top start to my dinner. My pasta course continued the theme of brilliant simplicity. This spaghetti, with tomatoes, basil and garlic, was soft and yielding and full of bright flavours. On a large round red plate, it was also too big for a little chap like me, so – with reluctance – I left half of it. Still, I needed room for the star of the evening: roasted fillet of lamb, stuffed with olives and served with 'vegetable millefeuille' and garlic purée. It takes iron discipline in the kitchen to produce such a good dish – the tenderness and taste of the meat was quite thrilling – so I salute all involved. I finished with a rhubarb and strawberry pie, with crème brûlée and balsamic vinegar. It sounds delicious now, and it was delicious then. (These four courses were 90 euros.)
I expected a good wine cellar here, and that is what I found – together with a splendid sommelier, Salvatore Marrone. As soon as I saw that his list included 15 German dry whites, I knew that Mr Marrone was a man after my own heart. Among his 500 offerings are plenty of grand offerings from France – like 1988 Pétrus (3,500ε), 1988 Montrose (750ε) and 1990 Yquem (860ε) – and runs of super-Tuscans (1997 Solaia is 560ε and 1998 is 380ε). But I thought I should try one of his German beauties. He recommended a 2002 riesling with a stunning nose of petrol and lychees and, typically, only 8% alcohol. What value this was, too, at only 32 euros (Maximin Grünhäuser Abtsberg, von Schubert). For my red, I had decanted the ravishing 1997 Luce – its excremental aromas and over-ripe damson flavours telling me yet again that I am right to love this masterpiece from Tuscany (125ε).
As the lift raised me back towards the car park and the waiting taxi, I was full of gratitude to all those who had worked so hard to provide me with such a memorable evening. The San Pietro is a great restaurant and, I suspect, the San Pietro is a great hotel. To confirm that suspicion, I will need to return.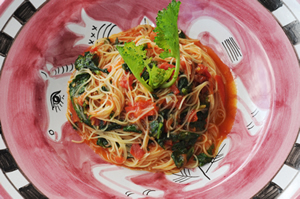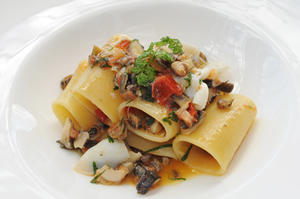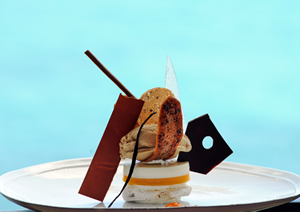 ---
ADDRESSES
THE RESTAURANT
Hotel San Pietro, via Laurito 2, Positano 84017, Italy.
Telephone +39 089 875 455
Fax +39 089 811 449
Email: reservations@ilsanpietro.it
www.ilsanpietro.it
Open April to October