SWITZERLAND
ZURICH (KÜSNACHT)
RICO'S KUNSTSTUBEN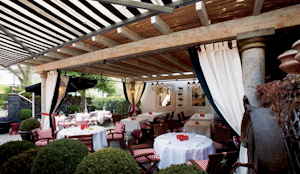 The world is not short of people who are willing to tell me that I lead a privileged existence. I stay at many of the world's most famous hotels. And I eat at many of the world's grandest and most highly rated restaurants. These establishments afford me exquisite pleasures, but I am well aware that such delights are available to only a tiny proportion of humanity. Still, as that rather vulgar saying goes, "It's a tough life, but someone has to live it." But as the years roll by, inevitably, some of the places I like best change, not always for the better. I was therefore slightly anxious as the taxi trundled down the road out of Zurich, along the lake and towards the village of Küsnacht. The restaurant to which I was heading used to be run by a delightful married couple, Horst and Iris Petermann. His kitchen and her supervision of the service had given me some of the most wonderful meals of my life. Now they were gone. What would I find?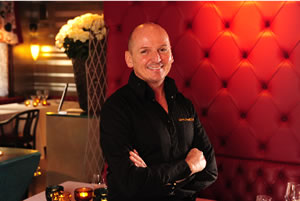 The restaurant was and is called the 'Kunststuben' . The word means art room, and the name refers to the fact that this modest roadside house - built in 1873 - was once an art gallery. But what used to be Petermann's Kunststuben is now Rico's Kunststuben. Outside, all seemed familiar. Inside, however, changes were very evident. There is now a more modern feel to the dining room, with much use of the colour red. But there is still that reassuring sense that an artistic sensibility is in charge. And, indeed, there is. For the eponymous Rico is Rico Zandonella, a chef of real brilliance. And the service, orchestrated by Steffen Kümpfel – a fine young man from Berlin – lives up to the impeccable standards set by the previous regime. My evening was therefore, in every respect, wonderful.
Actually, I should not have been surprised by this. For Mr Zandonella is a disciple and was an apprentice of the great Horst Petermann. Now he is a worthy successor – a fact recognized by the Michelin inspectors, who still award the restaurant two of their coveted stars.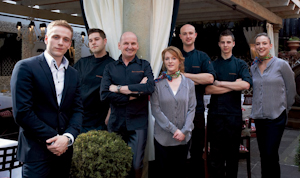 The evening of my visit was warm, so I joined the other diners in the little garden, and there sat, shielded from the sun by a black shade, facing what appeared to be a straw leopard. Before me on the table were glasses by Riedel and glasses by Spiegelau. The waiters wore black suits and open-necked shirts. (I would have preferred them in ties, but I am a notorious reactionary in matters sartorial.) The atmosphere was relaxed, and full of the sound of civilized folk enjoying civilized pleasures. The foremost of these was the food brought forth from the tiny kitchen. (And it is, indeed, tiny – perhaps the smallest kitchen in Europe with two Michelin stars. It seemed near-miraculous to me that it could produce such consistently brilliant dishes from the beginning to the end of the evening.)
A set meal is offered, with three, four, five or six courses at 110CHF 130CHF, 150CF and 180CHF, but I chose four courses from the carte for 205CHF. But before my selection appeared, there came not only some delicious nibbles, including beef tartare with quail's egg, but also a dish of superb veal tortellini with black truffle jus. I could have eaten an entire meal of this unexpected wonder. My courses proper began with goose foie gras – both cold, in the form of a mosaic with apricot jelly, and hot, with the slice of the fried liver set off to perfection by quail breast with sesame seeds and honey. This dish sounds like a brilliant confection, and it was a brilliant confection – rich, luscious and flattering to the palate.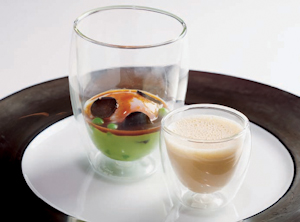 Next came salmon, as delicate as fish can be, with anise potatoes and herb pesto. Its pepper crust was marginally too robust for me, but 'marginally' is the right word, for I did appreciate the balance of flavours it imparted. Balance and harmony was certainly present in my main course of rich, succulent, roasted wild turbot. It shared my plate with artichoke cream, truffle vinaigrette and walnut oil. The fish was warm and the cream was cold – a happy conceit which spoke, yet again, of the Chef's intelligent and playful approach to his craft. And my pudding kept up these sky-high standards. Raspberries marinated in coriander and served in a glass with champagne foam, passion fruit and crispy white chocolate were light, fragrant, satisfying and scrumptious. This meal was life-enhancing.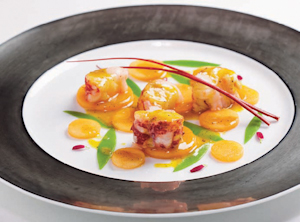 The wine list has around 400 offerings and runs in price from 50CHF for a Swiss white to 2,500CHF for two DRC red burgundies – the 2003 Grand Echezeaux and the 2004 Romanée-St-Vivant. If you like good champagne, Dom Pérignon 2000 is 420CHF. The cellar is strong in fine claret. I noted 1988 Latour (1,400CHF), 1988 Mouton Rothschild (950CHF), 1989 Palmer (660CHF) and 1998 Cheval Blanc (1,550CHF). Mr Kümpfel found for me a brilliant German Auslese to go with the foie gras, an elegant grüner veltliner to accompany the salmon and a well-made, pleasantly-balanced white burgundy with hints of vanilla for the turbot (Poilly-Fusée, Dom. Ferret, 2009 – 85CHF).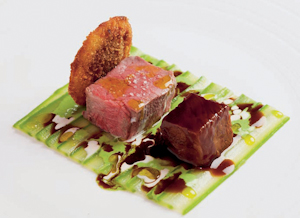 It was really so encouraging to find that one of my favourite restaurants is in top form. Change does not always mean decay. Sometimes it brings difference and equal delight. Thus it is at the Kunststuben. It was a great restaurant, and it is a great restaurant. Congratulations, Rico Zandonella!
---