ITALY
MILAN
RISTORANTE AL QUINTO PIANO
Although I like to eat in the very centre of cities, sometimes it can be pleasant to clamber into a taxi and venture a little further afield. Not too far, of course, but far enough to engender a modest sense of occasion. Thus, while in Milan, I decided upon a visit to the Grand Visconti Palace Hotel and to its restaurant, Al Quinto Piano. As my car pulled up, I was rather surprised. The area was, if I put it gently, a little 'drab'. Oh dear, I thought, this might be a mistake. But, as soon as I walked into the hotel, my spirits lifted. The reception area was impressive. Perhaps because its difficult location requires an extra special effort to attract patrons, this establishment shines like polished crystal. If it were to need a motto, I would suggest, 'Pristine in all things'. I looked forward to what I would encounter on the fifth floor (al quinto piano).
Two lifts and a long corridor later, I was in an attractive, white room with large lampshades. Splashes of red and the grey of the leather fauteuils added visual interest. The friendly waiters and waitresses, dressed in black aprons, seemed genuinely pleased to see me – and, indeed, looked after me well during my visit.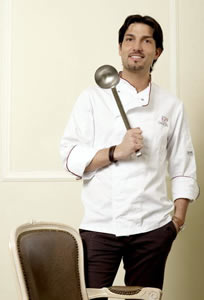 I can report that Chef Daniele Armila cooks in a careful manner and puts a good deal of effort into effective presentation. I began with Culaccia – the ham accompanied by pickled vegetables, honey vinegar and a toasted cheese sandwich.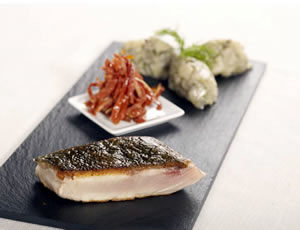 I found the last element a bit of a distraction from an otherwise effective dish. Next, on a white rectangular plate, came leek and Rabiola cheese with asparagus and butter cream. This was well done, with the tastes both clear and harmonious. My main course was loin of beef, a very large portion of fine meat from Piedmont – served with a baked potato on a slate plate. This was so substantial that I ended with a pudding of modest proportions, an iced muscat nougat with coffee ice cream – and a very pleasant ending it was. (These four courses were 64 euros.)
The short wine list does not give vintages. Prices range from 18 euros for a red from Piedmont to 295 euros for Sassicaia. From my own drinking, I can recommend to you the always reliable Brunello di Montalcino from Castello Banfi (in its 2004 vintage – 65 euros), which had a nose of damp oak.
As I returned in the taxi, I was pleased I had ventured away for a moment from the bright lights of Milan's fashionable centre. I wish Chef Armila every success.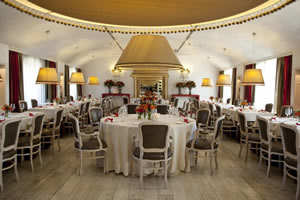 ---
ADDRESSES
RISTORANTE AL QUINTO PIANO
Grand Visconti Palace Hotel, Viale Isonzo 14, 20135 Milan, Italy.
Telephone +39 02 540 341
Fax +39 02 540 69 523
Email: info@alquintopiano.com
www.alquintopiano.com