ITALY
CAPRI
RISTORANTE AURORA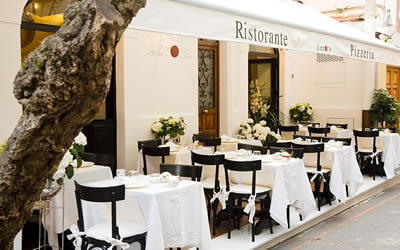 Aurora is the oldest restaurant on Capri. It is also one of the best. It was opened more than a century ago by the d'Alessio family. Here it was that the pizza all'acqua – with mozzarella and red peppers – was invented. Now it is patronised by the world's Chic and Beautiful, who flock to its small tables to enjoy the chic and beautiful cuisine of Chef Franco Aversa. (I am too discreet to reveal the identity of the lady who was dining at the next table on the occasion of my visit. Suffice it to say that, when I was introduced to her, she proved as charming as she is famous.) Chef Aversa is the husband of the splendid Mia d'Alessio – pictured, with your correspondent – who runs the front of house with a friendly efficiency which ensures the contentment of her distinguished clientele.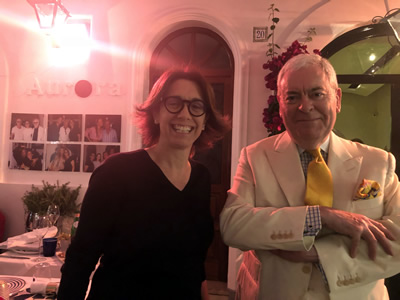 Seating is either outside or inside, and is on both sides of the narrow via Fuorlovado, not far from Capri's beating heart, the Piazzetta. The napery and the crockery are both white, as I like them. Members of staff wear black – an intelligent choice, for it sets off the colourful clothes of the diners. The good glassware is by Riedel or by Zafferano. I sat outside, as I like fresh air when it is warm and I like to see the world saunter by.
To my table were brought four truly excellent dishes. Chef Aversa uses ingredients of the highest quality, treats them with respect and presents them in a manner which appeals to the eye as well as to the palate. I began with a pretty, simple lobster salad, with raw vegetables, olive oil and lemon. This was beautifully judged: the balance of flavours and textures just right, and the lobster tender and tasty. The pasta which followed, pappardelle with black pepper and lots of black truffle, was just as good, its yielding softness precisely judged. More black truffle came with the highlight of the meal, wonderful fillet of veal with mustard – a combination surely made in Heaven. I finished with a five-star version of a wild strawberry tart. (Allow around 110€ for four such courses.)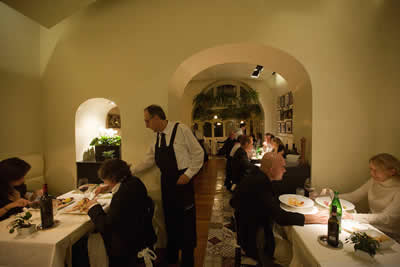 The wine list has 300+ Italian and French offerings. Prices – for such a prestigious establishment – are reasonable, going from 30€ for a 2015 negroamaro from Puglia to 6,000€ for the 2010 vintage of Pétrus. Krug Grande Cuvée is 280€, 2008 Annamaria Clementi Franciacorta (my favourite Italian bubbly) is 120€ and the ever-reliable Cervaro della Sala chardonnay, in its 2016 vintage, is 65€. There are lots of wines from Mr Gaja – like his 2014 barbaresco at 240€. Other bottles to catch my eye were: 2008 Masseto (1,600€), 2011 Ornellaia (260€), 1997 Sassicaia (1,000€), 2007 Solaia (450€), 1997 Biondi Santi Riserva (1,600€) and 2005 Haut Brion (1,800€).
The Ristorante Aurora is certainly a delightful place for seeing and being seen. But it is also a lovely place in which to eat and drink. Its food is impressive, its cellar is excellent and its service is commendable. I recommend it to you.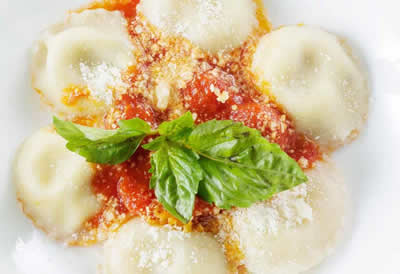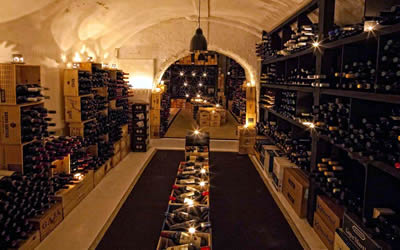 ---
ADDRESSES
RISTORANTE AURORA
Via Fuorlovado 18-22, 80073 Capri, Italy.
Telephone +39 081 8370 181
Fax +39 081 8376 533
Email: aurora@capri.it
www.auroracapri.com
Open for lunch and dinner daily