ITALY
VENICE
RISTORANTE DO FORNI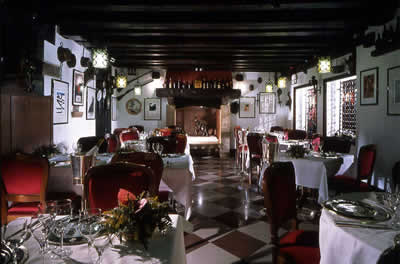 How do you find a really top-class restaurant in Venice? One way is to seek out a dining room which has been patronised by some of the world's most important persons – perhaps the President of the United States and the Head of a Christian Church. Thus you might find yourself at the Ristorante Do Forni, where both Richard Nixon and the Œcumenical Patriarch of Constantinople have been guests. Of course, I do not suppose that they were there at the same time. But, still, it shows that they shared a love of culinary tradition. I imitated these gentlemen and headed for what is surely the most famous restaurant in La Serenissima. For over a century, persons of taste and means have flocked to the Ristorante Do Forni, close to St Mark's Square, to treat themselves to wonderful food and remarkable wines, served with flair and panache.
Since 1973 the Patron of Do Forni has been Eugio Paties. He is a man who dresses as all members of the noble Academy of Restaurateurs should dress – in a fine three-piece suit, with a watch chain across his waistcoat. Standards, as I constantly remind my readers, are indivisible: a gentleman who maintains the highest sartorial standards will maintain the highest standards in the rest of his endeavours. Thus Mr Paties does not just preside over a magnificent dining room. He also endorses (and has done since 1986) a prize for graphic art, the Premio Internazionale de Grafica Do Forni – which, doubtless, is why the walls of his establishment are covered with impressive pictures.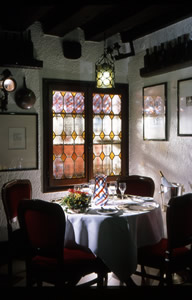 Part of the restaurant is decorated in the manner of a carriage from that remarkable train, The Orient Express. The rest has a more rustic style. I was in the latter part – at a table of impressive size with starched white napery and good glassware by Rastal. The staff wore black tie, of course. My own waiter was the excellent Giuseppe. All around me were people who were very obviously enjoying themselves. This is a jolly, buzzy place, not one of those hushed, gastronomic shrines. But the standard of the food is very high indeed, and Mr Paties is justifiably proud of the many awards his restaurant has received over the years. You will gather the tone of the place when I tell you that one section of the menu is entitled, "Food of the Gods".
I began with a lobster salad with crispy vegetables. The lobster was tender and tasty, and beautifully enhanced by the very light dressing on the salad. This was a fine beginning. And its standards were matched, exceeded even, by the ravishingly soft tagliolini which followed – the pasta made truly heavenly by the generous quantity of shavings of white truffle with which it had been blessed.
For my main course I decided upon a grilled fillet steak. This was a straightforward dish, of course, but it was transformed into the exceptional by the quality of the meat. It was, truly, life-enhancing in its flavoursome lusciousness. To accompany this gorgeous beef, I ordered roasted potatoes, friend onions and boiled peas. All these vegetables were so good and were supplied so generously that I could not bear to leave any. I fear, therefore, that I must make a confession. I ate too much.
But my over-indulgence did not stop me from polishing off my chosen pudding, for it was a Grand Marnier soufflé, and I do love my soufflés. Then was I happily replete. This was a superb meal. (Allow 150€+ for such a meal in the truffle season, and 100€+ during the rest of the year.)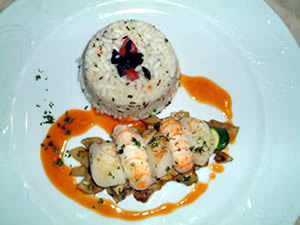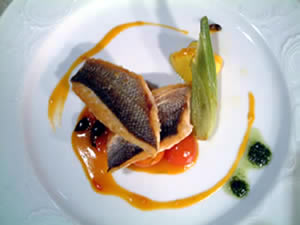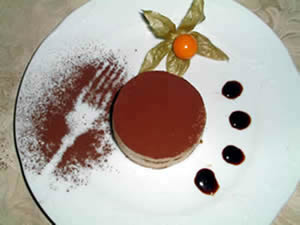 The wine list is superb, too. Its 991 offerings include many of those bottles which make wine-lovers sigh with longing. Prices run from the modest right up to 14,500€ for the 2010 vintage of the finest red burgundy, Romanée-Conti. (The 2009 is 12,500€ and the 2011 is 10,800€.) Those who love super-Tuscans can indulge themselves with a magnum of 1988 Sassicaia for 4,500€ or a double magnum of 2010 Masseto for 5,650€. Fans of red Bordeaux will be pleased to see that all the first-growth clarets are available, and that the 1996 Pétrus is 5,100€. And any Francophile with a sweet tooth can quaff 1983 Château d'Yquem wth his (or her) pudding.
My own drinking began in Sicily and ended in Umbria. The Planeta chardonnay – this was the 2014 vintage (65€) – is always reliably good, especially for those palates (like mine) which thrill to a muscular structure, with lots of vanilla and discreet fruit. And the Umbrian red was equally enjoyable – its density of ripe damsons and blackcurrants making it the ideal partner for the beef (Sagrantino di Montefalco, Rocca dei Fabbri, 2010 – 72€).
If you are looking for a really top-class restaurant in Venice, follow the Presidents and Patriarchs (and me) and go to Do Forni. You will not be disappointed.
---
ADDRESSES
RISTORANTE DO FORNI
San Marco 468 (in calle Specchieri), 30122 Venice, Italy.
Telephone +39 041 5232 148
Fax +39 041 5288 132
Email: info@doforni.it
www.doforni.it