ITALY
SORRENTO
RISTORANTE IL BUCO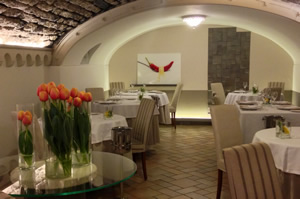 Il Buco is widely acknowledged to be the best restaurant in the beautiful city of Sorrento. It has the important star from the Michelin inspectors, and – just as important – it has provided me with a number of delicious dinners over the years. It is down a sloping alley off the bustling piazza San Antonio. Its outside tables are on the right and its front door is on the left. On my recent visit all those dining al fresco were so taken aback by my sartorial efforts – why do so few other chaps take any care with their clothes nowadays when they visit restaurants? – that they stared in admiration (at least, I hope it was admiration) as I made my careful progress to the entrance. Inside, I soon found myself in the presence of the Chef and Patron, Giuseppe Aversa (pictured, with your correspondent). He certainly takes care – with the selection and preparation of the finest ingredients to be found in this part of Italy.
You will probably be given the choice of three places in which to eat: the vaulted main dining room, a modernistic smaller room (with a television showing the chefs at work in the kitchen) and those various tables under awnings on the street outside. I chose the first, and was shown to a table in an alcove with a single red rose, napery of light beige, glassware by Riedel and by Rogaska and cutlery by Sambonet. Waiters in grey aprons, grey ties and white shirts flitted this way and that, and one of them opened my mineral water and then poured it into a glass jug, before setting in on my table. I liked this little ritual with the water, and – unusually, for me – I liked the canned music, which was of the chanteuse variety.
The menu is straightforward in its descriptions, and those descriptions make clear that this chef and this kitchen not afraid of complexity and hard work. Two tasting menus are offered at 80€ and 95€. I chose four courses from the carte.
I began with a dish which was as attractive in its visual contemplation as it was delicious in its consumption: steamed lobster with local crisp bread, buffalo burrata cheese and many other pretty bits and pieces. My next course was for those who like their pasta fishy, salty and al dente – linguini with lemon-scented scorpion fish on a sauce of roe and sun-dried tomatoes. Superb fillet of beef then came with roasted potatoes and Parmigiana cheese and aubergine sauce. I finished with a delightful variation on the rum baba, made special by its orange glaze and by its white chocolate mousse. (These four courses were 94€.)
The wine list is a hefty volume and has hundreds of offerings, with a very good choice from France alongside its Italian selection. Prices are friendly, and you will find lots of bottles for 25€. Of the grander wines, the following caught my eye: Krug grande cuvée (300€), 1990 Latour (2,000€), 1990 Haut Brion (1,600€), 1999 Ornellaia (340€), 2005 Masseto (700€) and Mr Gaja's 1997 barbaresco (400€). I drank a magnificent Puglian primitivo from Salento – full of sweet, ripe, black fruit and enticing in its depth and smoothness (Il Rosso dei Vespa, 2014).
Those who rate Il Buco the finest restaurant in Sorrento are right. The food is excellent, the wine is keenly priced, the service is friendly and the environment is comfortable. Viva Il Buco!
---
ADDRESSES
RISTORANTE IL BUCO
2a rampa Marina Piccola 5 (Piazza S Antonio), 80067 Sorrento, Naples, Italy.
Telephone +39 081 878 2354
Email: info@ilbucoristorante.it
www.ilbucoristorante.it
Closed: Wednesday