ITALY
SORRENTO
RISTORANTE IL BUCO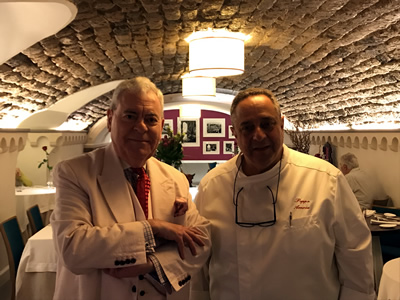 There is joy in Heaven when, on earth, a wonderful meal is served by a brilliant chef. Thus I have preached and thus I have believed. It follows that the Restaurant Il Buco must frequently stir the angelic choirs to blissful harmony. It comes as no surprise, then, that when you ask the residents of Sorrento which is the best restaurant in their beautiful city, the answer comes over and over again: Il Buco. The Michelin inspectors give it a star, which is right and proper. And I am happy to join in the chorus of praise, for it has provided me with many delicious dinners over the years. My recent visit confirmed that this much admired gastronomic temple is maintaining the highest standards.
Il Buco is down a sloping alley, off the bustling piazza San Antonio. Its outside tables are on the right and its front door is on the left. I have become accustomed to all those dining al fresco being so taken aback by my sartorial efforts that they stare in admiration (at least, I hope it is admiration) as I make my careful progress to the entrance. However, I should concede at once that this is a place where the other diners are also often dressed well – a consequence, I think, of the fact that a meal here is regarded as a special occasion. And it should be so regarded, for this is the domain of Mr Giuseppe Aversa, who is both Le Chef and Le Patron (pictured, with your correspondent and with his kitchen colleagues). He takes great care to select and prepare the finest ingredients to be found in this part of Italy.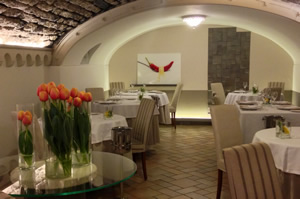 You will probably be given the choice of three places in which to eat: the vaulted main dining room, a modernistic smaller room (with a television showing the chefs at work in the kitchen) and those various tables under awnings on the street outside. I always chose the first, and so I was shown to table number 14, in an alcove in which was emblazoned the word 'Passione'. Upon my table was a single red rose, napery of crisp white, glassware by Riedel and cutlery by Sambonet. Waiters in grey aprons, grey ties and white shirts flitted this way and that, and one of them opened my mineral water and then poured it into a glass jug, before setting in on my table. I liked this little ritual with the water, and – unusually, for me – I liked the canned music, which was of the chanteuse variety.
The menu is straightforward in its descriptions, and those descriptions make clear that this chef and this kitchen are not afraid of complexity and hard work. Two tasting menus are offered at 90€ and 100€ (with wine pairings at 50€.) I chose four courses from the carte (for which you should allow 100€+).
I began with a pretty dish of delicacy and balance – steamed lobster, with burrata, avocado, crisp celery, tomato foam and vanilla salt. The intelligence at work in this combination of tastes and textures was impressive. And it was there again in the truly splendid soup which followed. For my palate, it is difficult to go wrong with cream of broad beans and peas, but this was raised to a high gastronomic plane by its 'extras': melted pecorino cheese, croutons flavoured with truffle and a poached quail's egg. Then came the highlight of the meal: the 'Catch of the Day', brought to me for my approval before cooking. This sea bass, boned by the table, was grilled to split-second perfection, its soft, yielding flesh partnered exquisitely by peas and roasted potatoes. After this magnificent fish, I ended my meal with a collection of pleasing apple desserts.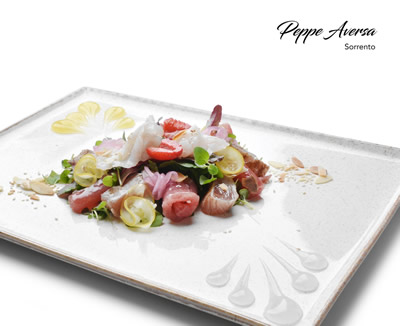 The wine list used to be a hefty volume, but now its hundreds of offerings are contained within an 'ipad' which is brought to the table. For someone of my supreme level of technological incompetence, this presented something of a challenge, but I coped bravely. A very good choice from France is offered, alongside the Italian selection. Prices are friendly, and you will find lots of bottles for 30€ or so. Of the grand clarets, the following caught my eye: 1990 Latour (2,000€), 1981 Margaux (800€) and 2013 Pétrus (3,500€). And it occurred to me that an interesting tasting of 2015 super-Tuscans could be had, with Ornellaia (400€), Sassicaia (450€), Solaia (500€) and Tignanello (140€). I had clear proof that very good drinking could be done here for modest cost, when I drank what I could easily has mistaken for a grand and expensive full-bodied chardonnay from California – but which was, in fact, a white from Friuli for just 40€ (La Tunella, Lalinda Bianco, 2016).
Chef Giuseppe Aversa and his team bring the joy of Heaven to earth. I bow my head at what they do at Il Buco, and raise it again at the manner in which they do it. Bravo!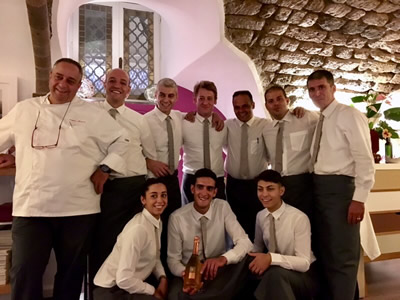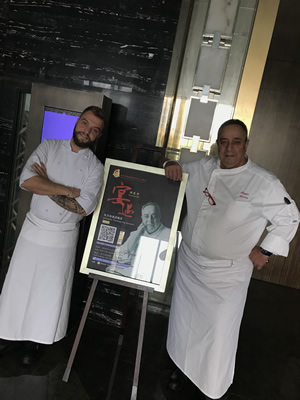 ---