ITALY
SORRENTO
RISTORANTE IL BUCO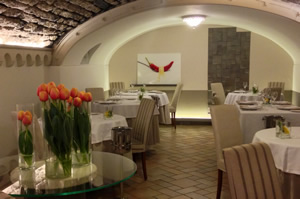 If you were to ask the residents of Sorrento which is the best restaurant in their beautiful city, I would suggest that one answer would be given over and over again: Il Buco. I am not one to disagree with such clever and admirable people. Il Buco has the important star from the Michelin inspectors, and – just as important to me and, I hope, to you, dear reader – it has provided me with a number of delicious dinners over the years. My recent visit confirmed that this much admired gastronomic temple is maintaining the highest standards.
Il Buco is down a sloping alley, off the bustling piazza San Antonio. Its outside tables are on the right and its front door is on the left. I have become accustomed to all those dining al fresco being so taken aback by my sartorial efforts that they stare in admiration (at least, I hope it is admiration) as I make my careful progress to the entrance. However, I should concede at once that this is a place where the other diners are also often dressed well – a consequence, I think, of the fact that a meal here is regarded as a special occasion. And it should be so regarded, for this is the domain of Chef and Patron Giuseppe Aversa (pictured, with your correspondent), who takes great care to select and prepare the finest ingredients to be found in this part of Italy.
You will probably be given the choice of three places in which to eat: the vaulted main dining room, a modernistic smaller room (with a television showing the chefs at work in the kitchen) and those various tables under awnings on the street outside. I chose the first, and was shown to an alcove in which was emblazoned the word 'Passione'. Upon my table was a single red rose, napery of crisp white, glassware by Riedel and by Rogaska and cutlery by Sambonet. Waiters in grey aprons, grey ties and white shirts flitted this way and that, and one of them opened my mineral water and then poured it into a glass jug, before setting in on my table. I liked this little ritual with the water, and – unusually, for me – I liked the canned music, which was of the chanteuse variety. Another pleasing theatrical note was struck when the bread arrived – in a three-storied wooden box.
The menu is straightforward in its descriptions, and those descriptions make clear that this chef and this kitchen are not afraid of complexity and hard work. Two tasting menus are offered at 80€ and 95€. I chose four courses from the carte (92€).
I began with a dish as pretty as it was tasty. These grilled vegetables in smoked oil came atop a lentil and potato crumble and within a green bowl. Another primary colour – this time red – appeared with the plate for my pasta course. This was a confection of delicate, subtle flavours – homemade ravioli, with rosemary scented lamb and Ischitana sauce. This last was made with sun-dried tomatoes and capers. Next was a piece of really superb beef. I love chateaubriand, and this one was worth loving, and was accompanied by a well-judged sauce béarnaise and baby new potatoes. My pudding was a well-conceived and well-executed confection of white chocolate, almond and rice crisp, coffee and mascarpone cream.
The wine list used to be a hefty volume, but now its hundreds of offerings are contained within the 'tablet' which is brought to the table. A very good choice from France is offered, alongside its Italian selection. Prices are friendly, and you will find lots of bottles for 25€. Of the grander wines, the following caught my eye: Krug grande cuvée (300€), 1990 Latour (2,000€), 1990 Haut Brion (1,600€), 1999 Ornellaia (340€), 2005 Masseto (700€) and Mr Gaja's 1997 barbaresco (400€). I drank a magnificent blend of primitivo and aglianico which proved how brilliant are the winemakers of Campania nowadays. Its lovely nose was bursting with black fruit, and its solid tannins made the perfect foil for the beef (Rampaniuci, Falerno del Massico, Migliozzi, 2011).
The good burghers of Sorrento are fortunate to have Il Buco, and they are right to rate it so highly. Its food is excellent, its wine is keenly priced, its service is friendly and its environment is comfortable. So let me join in the chorus: Viva Il Buco!
---
ADDRESSES
RISTORANTE IL BUCO
2a rampa Marina Piccola 5 (Piazza S Antonio), 80067 Sorrento, Naples, Italy.
Telephone +39 081 878 2354
Email: info@ilbucoristorante.it
www.ilbucoristorante.it
Closed: Wednesday