ITALY
FLORENCE
RISTORANTE IL CIBREO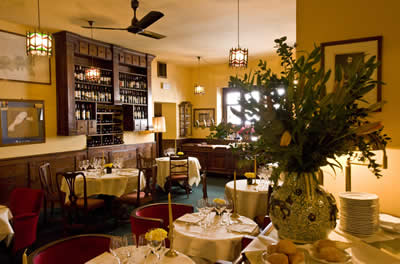 In a street between the piazza Ghiberti and the via dei Macci is a Florentine restaurant much admired by those 'in the know'. I am supposed to be in that number myself, so I thought I should heave myself into a taxi outside my hotel and set off to acquire The Knowledge. I would be far from the first, of course, because Chef Fabio Picchi opened his dining room back in 1979. And now, indeed, he also has a café and another restaurant (Cibleo) nearby. But I was intent upon eating at the original expression of his culinary flair – the Ristorante Il Cibreo. (Cibreo is a ragout, which used to be made for the family by the Chef's mother.)
My first impressions were entirely favourable, for I found myself in a welcoming room, with interesting furniture – like the mahogany dining chairs – white napery, white crockery, Spiegelau glassware, tapered candles in silver holders and lots of pictures on the walls. These last are works by Giulio Picchi, Fabio's son, who is clearly a painter of considerable talent. The doors to the kitchen are kept open, so that visitors can see the workshop of the other artist in the family.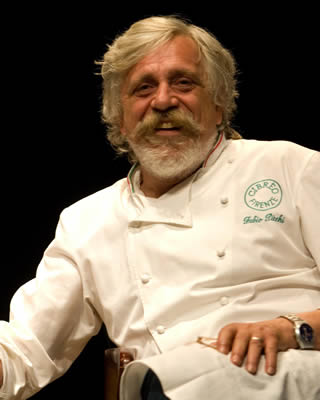 There is no written menu, as le Patron likes his dishes each day to be driven entirely by what is available at the market. Thus it was that a lady came to sit at my table to explain what could be cooked for me. My guide was a charming lady of Finnish extraction, named Christina. She spoke perfect English, so – thank goodness – I was relieved of the obligation to use my rudimentary Italian. One surprise was that no pasta was on offer, for the Chef does not regard pasta as authentically Tuscan. I feared this might mean that, deprived of my usual pasta course, I would leave hungry. But I need not have worried: portions are substantial and the amount of food easily defeated me by the end of the evening.
Indeed, the opening nibbles – including some splendid warm ricotta with Parmesan – could have made a passable meal on their own, so I had to be careful to leave room for what was to come. This was, first of all, potato and ricotta cheese with a meat sauce (made with pork and beef). This traditional dish managed to be both delicate and rich – a little conjuring trick which filled me with anticipation for the main course of beef. The meat had been slowly cooked with tomatoes and shallots. 'Beef stew' is too prosaic a description for a plate which revealed an exceptional depth of meaty flavours. Its presentation was striking, with the stew held within a square by strips of bread. I liked, too, the accompanying mashed potatoes. An avalanche of puddings then appeared – to which I confess I could do little justice. Still, I can report that the strawberry tart was gorgeous and that the crème caramel was delicious.
The wine list has some interesting bottles from Italy, of course, but also from France, Germany and Spain. Prices run from 27€ for a prosecco to 645€ for the 2011 vintage of Mr Gaja's Langhe Nebbiolo Sorì Tildin. A magnum of 1997 Luce is 498€ and a bottle of one of my favourite champagnes, Charles Heidsieck's Blanc des Millénaires, in its 1995 vintage, is 300€. The kindly sommelier, Consuelo, directed me to a 2011 Chianti Ruffina Riserva (Selvapiana Bucerciale) which stood up well to the beef.
So now I know about Il Cibreo in Florence. I have no hesitation in recommending it to you.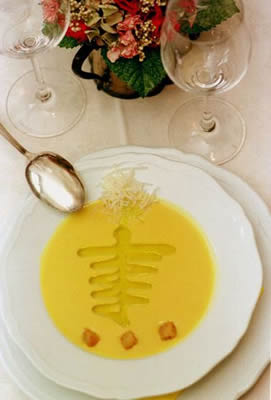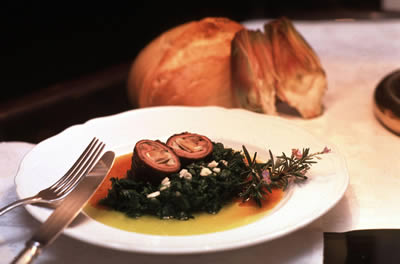 ---
ADDRESSES
RISTORANTE IL CIBREO
Via del Verrochio 8/r, 50122 Florence, Italy.
Telephone +39 055 234 1100
Email: info@cibreo.com
www.cibreo.com
Open for lunch and dinner daily, except Monday