ITALY
ITALIAN LAKES
BLEVIO, LAKE COMO
RISTORANTE MOMI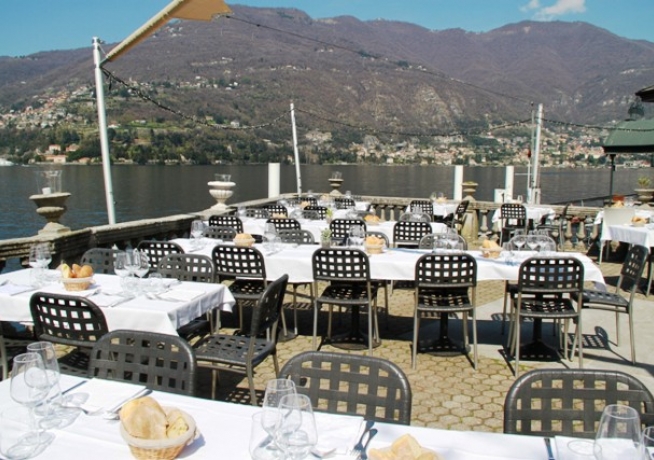 There is a good deal to be said in favour of youthful enthusiasm. Those of us for whom youth is a distant memory can be stirred to admiration by the energy and sparkle of youngsters who see the world as an exciting place of endless possibilities. Such thoughts were much in my mind during my evening at the Ristorante Momi. I had the opportunity to speak to its eponymous young Chef. He is so full of the joys of cooking on the shores of Lake Como that he seemed to cast a spell of pleasure and contentment over all those within his establishment – and I certainly include myself among the bewitched.
I had wondered how I might reach the restaurant from my hotel. A taxi, it seemed, would have to trek all the way from the city of Como to transport me the short distance to be covered along the vertiginous roadway. This, of course, would have been expensive. But the Chef solved my problem, by sending one of his assistants in his own car to effect the transfer, without charge. (And another of his helpers took me back after dinner, again without charge.) This kindness put me in a very good frame of mind.
And so did the view when I arrived. The restaurant occupies a beautiful spot on the Lake. Beyond its stone balustrade I looked directly across the water to that most famous of hotels, the Villa d'Este (see separate article). It was a real pity that the inclement weather prevented me from dining al fresco. But the necessity of going inside did not dim the jollity of my fellow diners, all of whom seemed to be Italian and all of whom were very evidently enjoying themselves.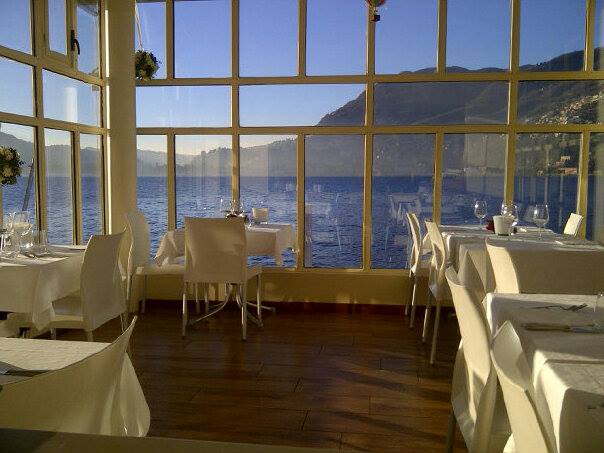 Nicoletta helps him to run the dining room, and the service from everyone I encountered was exceptionally friendly. The napery was white and the glassware was decent. This is not, I should emphasise, a luxury establishment, but it is, nevertheless, an establishment I can recommend wholeheartedly to readers of Bown's Best, for I found the whole experience of eating here thoroughly commendable. A 'surprise' menu of four courses is offered for just 35€. If you choose four courses for yourself, as I did, expect to pay 50€-60€.
I began with a flan with basil, vegetables and cheese. This was like a warm green soufflé, topped with the soft white cheese. It provided a good mixture of tastes and textures. Then came some really fine, lusciously yielding pasta – pappardelle, made with egg, with porcini mushrooms. This was excellent, but it was bettered by my main course. I love beef and this was truly loveable beef – sliced, tender and full of rich, satisfying tastes, and accompanied by some superbly crisp potatoes, diced courgettes and fried onions. As I put down my knife and fork I knew that I had eaten a dish cooked by a man who really cares about food. I finished with a generous portion of sautéed fruit with rhubarb sauce.
Wine at Momi is chosen from a list with 75 offerings. Vintages are not given. Prices run from 18€ for a white from Piedmont (Gavi 'Il Doge') to 200€ for the only non-Italian in the cellar – Dom Pérignon champagne. Most of the wines were unfamiliar to me, but I suspect they are well-chosen, for my Umbrian red was admirable, with soft tannins, notes of ripe damsons and blackcurrants and plenty of residual sweetness (Montefalco rosso, Napolini, 2011 – 30€).
It is splendid that one can still find a restaurant like this, where optimism and joyfulness find their expression in good food and good wine, honestly and simply served. Go to Momi, and give thanks for the enthusiasm of youth.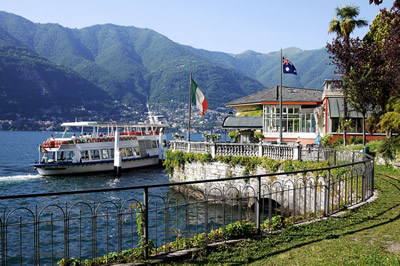 ---
ADDRESSES
RISTORANTE MOMI
Riva Stendhal, Blevio 22020, Lake Como, Italy.
Telephone +39 334 120 2327
Email: info@ristorantemomi.it
www.ristorantemomi.it
Closed: Monday