ITALY
SORRENTO
RISTORANTE MUSEO CARUSO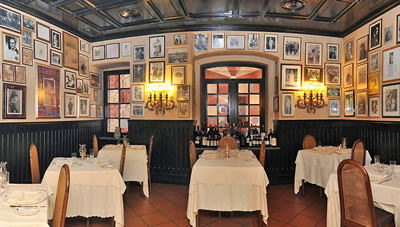 Even I am not old enough to have heard 'in the flesh' the Italian tenor Enrico Caruso. The great man died in 1921, but the flame of his reputation still burns – and nowhere more brightly than in the via San Antonino in Sorrento. At number twelve, there is a shrine to the maestro from Naples which is both gastronomic and historical. It was founded by a restaurateur, Paolo Esposito, and a scholar, Guido D'Onofri. The latter supplied the four hundred Caruso-related artefacts which decorate the rooms, and the former determined that the menu should comprise classic Neapolitan and Campanian dishes.
Today the atmosphere is comfortably old-fashioned. The walls are crowded with pictures of our hero, and his recordings provide the 'canned' music – although the epithet seems inappropriate for the magnificent arias which float in the air as the waiters and waitresses in aprons deliver food to the diners. Here meals proceed at a leisurely pace.
The food is straightforward and well done. Tastes are correct and well-balanced, and portions are generous. Set menus are available from 60€ to 120€. My four courses from the carte were 99€. Beef tartare was served on a round black plate, and came with candied lemon, caviar and a whole egg yolk. The pasta which followed was the highlight of my dinner, for this simple spaghetti with tomatoes 'Caruso style' was perfectly realised – a forceful reminder that Italian food does not have to be complicated to be thrilling. A fillet of sea bass with crisp skin and spinach was another example of the kitchen's ability to cook precisely and well. I finished with a good, indulgent yoghurt semi-freddo with passion fruit, liquorice crumble and berries.
Sadly, I did not have the chance to peruse the wine list. From a distance it looked a substantial volume. I am told it contains many ancient gems.
If you love the recordings of Caruso, and find the prospect of a good meal in their presence tempting, my advice when you visit the lovely city of Sorrento is to head to number 12, via San Antonino.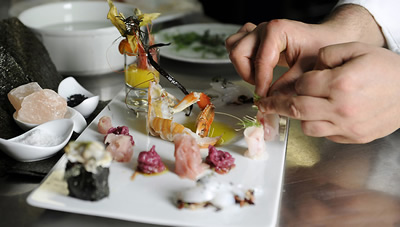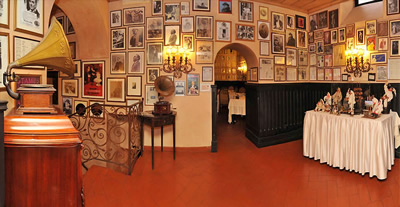 ---