ITALY
SORRENTO
RISTORANTE O'PARRUCHIANO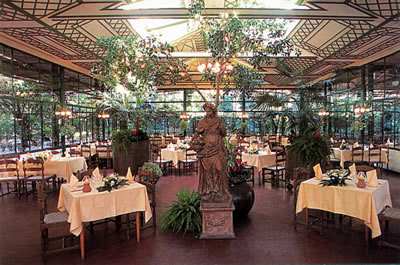 There are some restaurants to which I really look forward. They are not always particularly grand, but they do always offer me two things: good food and the joy of living. Let us call the second by its French name, joie de vivre. One of these restaurants is in Sorrento. It is famous, not only because I like it, but also because in this place, over a century ago, cannelloni was invented. Then it was called strascinati. Now we call it cannelloni, and we love it. And in the restaurant in which it was invented they serve the best version you are likely to find this side of the Pearly Gates. The exact recipe is a secret, but it is no secret that it includes wonderfully soft pasta, fine beef, parmesan cheese, mozzarella cheese and ricotta cheese. The dish is a joy to behold and a joy to eat. And, since joy and the Christian religion are supposed to go hand in hand, let us be content that this dining room is called the Restaurant of the Parish Priest.
Its first name, in fact, was La Favorita – the choice of its founder, Antonino Ercolan. Before he opened his trattoria in 1868, young Antonino had been at the seminary, studying for ordination. But the kitchen called him away to a culinary vocation. His friends, of course, knew about his change of course and gave him his nickname, in Neapolitan dialect, o' parruchiano – the parish priest. As is the way with names, the informal pushed aside the formal, and La Favorita became O'Parruchiano .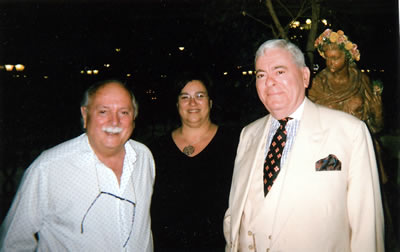 Antonino left the restaurant to his nephew, Giuseppe Manniello, and the establishment is now owned by the nephew's son, Enzo Manniello. With his wife, Tina, and his two sons – Giuseppe Junior and Mario – Enzo runs the place in a manner which would surely make the founder proud. (Tina gives talks about the birth of cannelloni to the many parties of tourists who flock during the day to see this gastronomic shrine.) I present to you a photograph of myself with Enzo and Tina. I think it conveys the sense that we were all enjoying ourselves. And we were. (The name 'La Favorita' lives on, by the way, in the Grand Hotel La Favorita in Sorrento – also owned by Enzo Manniello – see separate article.)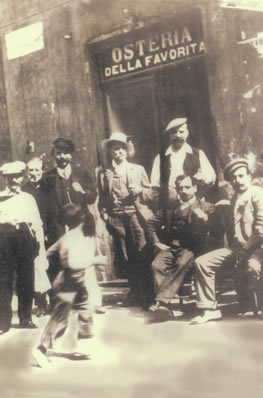 Occupying an 18th Century building and its garden, the entrance on the city's main street is small and quite easy to miss. But once you are inside and up the stairs, you can see that the place is huge. It is also hugely enjoyable. There is much rustic charm: the chairs are wooden (one of a more supportive design was fetched specially for my ailing back), the waiters' waistcoats and the tablecloths are green, and pretty flowers and lemon trees abound.
The menu, given to me by the excellent waiter, Rocco – who looked after me very well throughout the evening – is long and traditional. The quality of the dishes which come from the kitchen is very high indeed, which is a minor miracle, given that the food is prepared on such a large scale. Of course, I had to have the cannelloni, which was splendid – a triumph of its secret recipe. Beforehand, I had tucked into a plate of Parma ham and melon – as good as it was simple. My main course was grilled fillet of beef – wonderfully tasty and tender – with some really good fried onions and lots of super boiled peas. (How I do love fresh, boiled peas!) I finished with, what else? a large and indulgent rum baba – which, when it is on offer, I find almost impossible to resist. (These four courses were 55€.)
The wine list is extensive, with around 500 offerings – most of them from Italy, but France and the New World are both represented. Prices run from 18€ for a white Orvieto Classico to 550€ for the 1999 Margaux. Another first growth claret, Latour, is represented by its 2001 vintage (420€) and that lovely red from California, Opus One, by its 2000 vintage (350€). The following super-Tuscans caught my eye: 2000 Ornellaia (260€), 1998 Sassicaia (280€) and 1995 Tignanello (140€). The ever-reliable Planeta chardonnay from Sicily is available in its 2013 vintage for a very modest 28€.
As I began, so will I end. There are some restaurants to which I really look forward. O' Parruchiano, the birthplace of cannelloni, is undoubtedly one of them. If you are going to Sorrento, it would be a crime against the culinary gods and all that gives joy to life not to have a meal there.
---
ADDRESSES
RISTORANTE O' PARRUCHIANO
Corso Italia 71, 80067 Sorrento, Italy.
Telephone +39 081 878 1321
Fax +39 081 532 4035
Email: info@parruchiano.com
www.parruchiano.com
Closed: Wednesday and from November 15 to March 15