United States
CALIFORNIA
PASADENA
RITZ-CARLTON HUNTINGTON HOTEL & SPA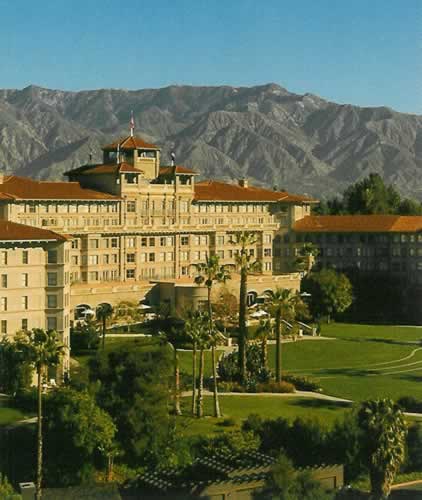 Affluent, well-tended suburbs appeal to me. I suppose something about their pristine orderliness calls to my reactionary spirit. So I love the better areas of Pasadena, particularly those around South Oak Knoll Avenue. And there, right in the middle of all the precisely cut lawns and immaculately trimmed hedges, stands a great citadel of right order and decency – the Ritz-Carlton Huntington Hotel & Spa. Rising up from its 23 acres of perfectly mown lawns, this Spanish colonial style castle draws up its drive the great and the good from near and far.
And the great and the good (among whom I include myself) like to be looked after with speed and efficiency. Good, then, that the young folk who manned the front door proved so very efficient at whisking away my car and returning it whenever it was needed. This prompt courtesy pleased me. I found it in every member of staff I encountered.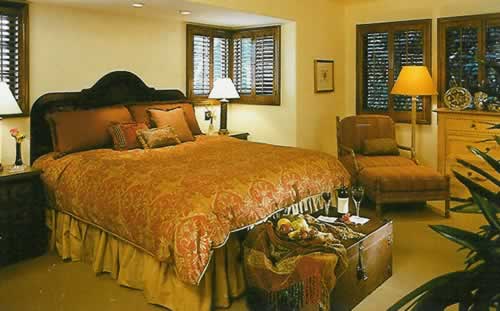 Standing in the entrance hall, surrounded by the elegance of marble and gilt, the impression is very much of a restored 1900s palace. The impression is mistaken. Yes, the hotel was, indeed, erected in 1906. But, after earthquake damage, the place was entirely rebuilt – as an exact replica – in 1991. So it is a modern building, and a jolly fine one. I particularly liked the huge public areas and their vast corridors. Fine 18th century British portraits adorn the walls and there are lots of good reproductions of Georgian mahogany bookcases and armchairs – so, culturally, I felt entirely at home.
As I did in room 404. This was a 'deluxe' – i.e. standard – apartment and therefore $350 a night for two, breakfast extra. Large beds, with silky sheets by Frette, and more reproduction furniture – together with ample space – made this a comfortable billet. From the v-shaped bay window I could look out at palm trees, manicured grass slopes and the surrounding hills. As you would expect, air-conditioning and a private safe were provided.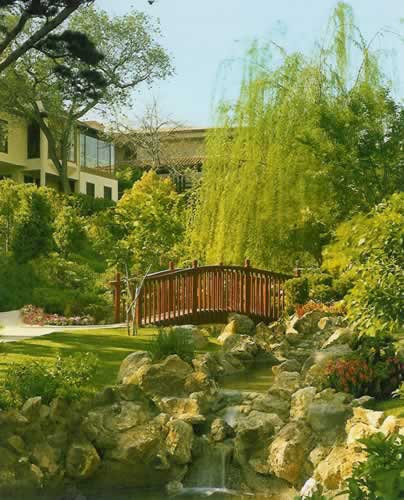 Before dinner, I went on a stroll of exploration in the hotel grounds and discovered America's only covered picture bridge. Those of you who know Lucerne in Switzerland will recall its Kapellbrucke Bridge. This is the Californian version – 232 feet long, with 40 paintings of local life by Frank Montague Moore on its gables. A remarkable piece, and just the thing to stimulate my appetite.
The Huntington has two restaurants. Its Dining Room is highly rated, but closed on Sundays. So I toddled off to the less formal Terrace, next to the swimming pool. A pleasant spot. I selected a wooden table (there are no tablecloths) and sat back to listen to the crickets about their evening assignations. Chef de cuisine Chris Southwick cooks in a straightforward manner and takes some care to ensure good appearance on the plate. From his kitchen the friendly waiters and waitresses (in white aprons) brought four courses ($68). A roasted baby red beet salad, with goat's cheese and watercress was well-balanced; lobster ravioli with sweet corn cream and white truffle oil had good pasta, although I could not detect the truffle oil; and roasted rack of lamb (despite the indifferent accompaniments) was tremendously good – both tasty and tender. The concluding apple and cherry tart was not up to the standard of the other dishes.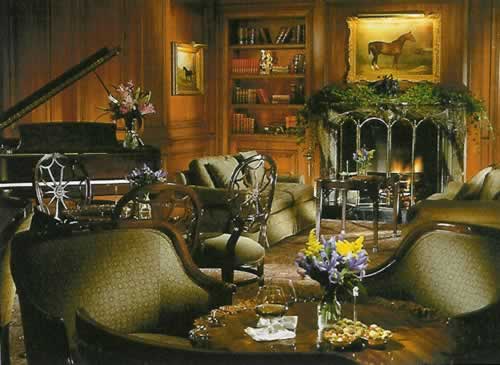 My drinking was excellent. The Terrace has a shorter version of the Dining Room wine list, but the longer one is readily available, if (like me) you ask. Apart from some Californian stars – like 2001 Far Niente chardonnay ($105), 2000 Caymus Special Selection cabernet ($235) and 2000 Opus One ($260) – there is a respectable selection from the rest of the world – like New Zealand's 2002 Cloudy Bay chardonnay ($63), and youthful versions of the finest clarets and burgundies (1998 Latour is $625 and 2001 Romanée-Conti is $775). I quaffed two Napa Valley bottles. The 2001 Grgich Hills chardonnay ($72) was a beautiful balance of creaminess and acidity, and the Franciscan merlot from the same vintage (Oakville Estate - $52) was brilliantly soft, sweet and plummy.
I returned to my room full of the joys of good wine, and happy to be in this tidy heaven, so near and yet so far from the rush and bustle of Los Angeles. As the Temperance Seven used to sing in my youth: 'Home in Pasadena, Where the grass is greener…' Here at the Ritz-Carlton Huntington Hotel & Spa I had found Bliss in Suburbia.
---
ADDRESSES
RITZ-CARLTON HUNTINGTON HOTEL & SPA
1401 South Oak Knoll Avenue, Pasadena, California 91106, U.S.A.
Telephone +1 626 568 3900
Fax +1 626 585 6420
www.ritzcarlton.com
Double rooms from $350, breakfast extra
Ask about special offers