Spain
MADRID
THE RITZ HOTEL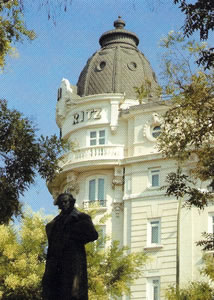 Certain names are able to conjure up an immediate image of style, luxury and exclusivity. In the world of the horseless carriage, just say 'Rolls-Royce' and a cavalcade of motoring splendour comes to mind. In the world of hotels, the word to mention is 'Ritz'. The prestige which attaches thereto is priceless. Yet there are only three real Ritz hotels. To be 'real' in this context means not only to have a connection with the great César Ritz himself, but also to possess the sumptuous magnificence of the Belle Époque. These three paragons are in London, Paris and Madrid. I have been to the last, and I am pleased to report that The Ritz in the Spanish capital is a worthy bearer of its famous name.
As soon as I glimpsed the building from my taxi window, I felt confident that all would be well. It looked familiar. Then I remembered that its architect, Charles Mewès, had also designed (with Arthur Davis) the London Ritz, so the stylistic suggestions of Louis XVI summoned up lots of happy associations. In fact, this hotel was born of real need. In the early years of the 20 th century, Madrid had no hostelry suitable for visiting princes and potentates. King Alfonso XIII therefore gathered a group of friends, consulted – who else? – César Ritz and in 1910 opened, on the Plaza de la Lealtad, an hotel which was soon known as one of the finest in Europe.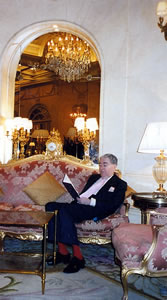 Ownership has changed over the years. From the 1930s to the 1970s the Marquet family held sway. Strict dress codes were enforced: jackets and ties for gentlemen and certainly no trousers for ladies. Quietness was ensured, sometimes by turning away those celebrities and film stars who were likely to attract noisy fans. Even so, most of the rich and famous who were in town passed through the doors. Obviously, the Duke and Duchess of Windsor, Prince Rainier, Laurence Olivier and Frank Sinatra only appealed to folk who behaved decorously. During this period guests were graded, and some unfortunates had their cards marked with three letters – NRT. This will now become part of my own discourse and promises to be extraordinarily useful. It means, of course, "Not Ritz Type".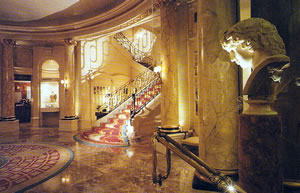 My brogues clicked onto the marble floor of the circular entrance lobby and I felt immediately at home. Why? – because I adore extravagance when it is done with taste and exquisite attention to detail. Across the hall was a large sitting room, in which a grand piano was being played by a lady pianist. All around were columns with gilded capitals, mirrors of carved gilt wood, crystal chandeliers, expensive draperies and carpets of museum quality. But nothing was heavy or cloying, for – and this is the secret of the Ritz style – the whole confection was light and elegant and inviting. This is why I am inflicting upon you two pictures of myself in this context, to illustrate how happily I settled into these surroundings. (I was, of course, being looked after very well – for every member of staff I encountered did credit to the Swiss General Manager, Anton Küng.)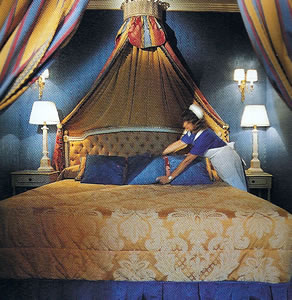 Up on the second floor I was equally content. Room 218 was a 'Deluxe' and therefore 713 euros a night, bed and breakfast for two. From its proper hallway, a door opened into the bedroom, a chamber of pale grey, light green, pink and yellow. High above the beds gilded crowns were mounted on the wall, and from them spilled drapes of pink silk. These added a touch of flamboyance to the apartment's solid and traditional comfort. The fitted wardrobes were capacious and the lighting – provided by 5 wall lights, 3 table lamps and a crystal chandelier – could be controlled to create a restful atmosphere. I particularly liked the switch by my bedside, which – when turned to number one – brought me an uninterrupted supply of classical music. I do know whether Sir Edward Elgar stayed here, but his Enigma Variations brought considerable pleasure to your correspondent as he drifted into his afternoon doze.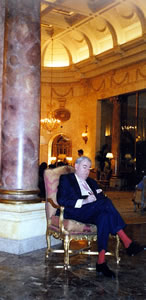 My bathroom was clad in slabs of grey marble. Spotlights shone down upon 2 wash basins, a separate loo and a separate shower. Here I found, to my delight, some of the largest bath towels in Christendom. Two other items, smaller but equally significant, pleased me: the shoe horn and the clothes brush. Too often I take these for granted, but when – as sometimes in lesser establishments – they are absent, I can be mightily annoyed.
The view from my windows was of the main entrance to the Prado Museum. You will therefore realise that The Ritz has, for the visitor who loves pictures (like me), the finest location in Madrid. To its side is the Prado and across the road is the Thyssen Collection. To the former I went to marvel at one of the most remarkable rooms of paintings in the world. Somewhat prosaically, it is called 9A. It contains six huge canvases by El Greco, from the reredos of the church of the College of the Incarnation in Madrid. Their majesty is overwhelming. Incidentally, to avoid the queues, you should always enter the Prado by the Murillo entrance, at the right end of the building, furthest from The Ritz.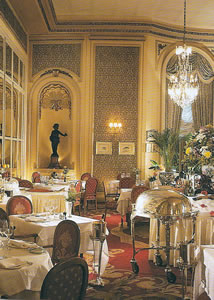 Another Spanish painter has his name attached to the hotel's dining room. The Goya Restaurant is high and imposing, with crystal chandeliers, a marble fireplace, red carpeting and a niche occupied by a bronze cherub. For dinner I sat at table number 4 and looked out of the tall windows at the great obelisk erected in the middle of Loyalty Square in 1840. I observed that my fellow diners in this grand setting were well-dressed and sometimes extremely attractive. Indeed, the young lady at the next table was remarkably beautiful. On my table a single white rose in a silver vase was illuminated by the light of two tapering candles. Glasses by Riedel and by Schott stood on the damask tablecloth. This was a most civilized environment.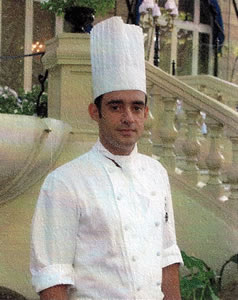 Chef Jorge González (pictured) presents food in the French, Spanish and Basque traditions and likes to show his skill at regional specialities. I was staying during the week of the Spanish Stew Festival and could therefore have tried 'tripe in the Madrid style'. Unadventurous soul that I am, I stuck to the usual menu, tucking into red shrimp carpaccio with lobster oil and sesame biscuit (fishy and delicate), wild mushroom risotto with black truffle from Périgord (gloriously full of flavour), loin of venison with a sweet cereal crust, olive oil and cranberry biscuit (a substantial portion of first class, tender meat, although it would have benefited from a sauce lighter than the demi-glace) and a pear tarte tatin (140 euros for these four courses). These dishes were prepared with care, and I enjoyed them. They were also served properly by courteous and efficient waiters, under the direction of the charming maitre d' Luis Méndez.
The wine list circumnavigates the world, with prices ranging from 24 euros (for a Spanish white from La Mancha) to 2,360 euros (for 1995 Pétrus). From Australia there is 1996 Grange for 560 euros, and from California 2000 Opus One for 535 euros. If you are a fan of '95 clarets, your pulse will race at those on offer: Latour (770 euros), Lafite (690 euros), Mouton Rothschild (610 euros), Margaux (860 euros), Haut Brion (520 euros) and Cheval Blanc (490 euros). Many bottles are in the 30-70 euros price range. Sommelière Pilar Yepes Heras brought to me two Spanish bottles. My white was light and crisp, with a sherbet nose (Electio, Bodegas Parés Balta, 2004 – 65 euros), and my red was young and dry, with both red and black fruit (Emilio Moro, 2004 – 38 euros).
I returned to table 4 of the Goya Restaurant each morning for breakfast. It was a treat to be greeted at the door and shown to my table by the delightful Hostess of the dining room, Betty Gómez González. Her smile made for a happy start to my days, as did the glasses of good orange juice (replenished frequently by my waiter) and the excellent bacon and slices of melon from the buffet.
Stylish, luxurious and exclusive, this hotel certainly lives up to its magical name. The Ritz in Madrid is, without doubt, a real Ritz.
---