FRANCE
FRENCH RIVIERA
ST TROPEZ
RIVEA RESTAURANT AT THE BYBLOS ALAIN DUCASSE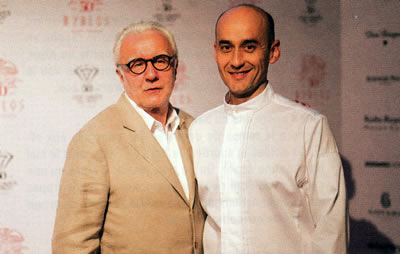 If you are looking for really good food in St Tropez, served in a friendly and informal atmosphere and with some fine wines on offer, I think I have the place for you. It is within that famous centre of chic, the Byblos Hotel, and it has attached to it the name of the great Alain Ducasse (who is the consultant chef). Before I entered its doors, therefore, I already knew that not only would it be a place of style and panache, but also that the cuisine would be based on top class ingredients and sound culinary technique and would appear in healthy portions. And my expectations were fulfilled precisely. The Rivea Restaurant is excellent.
The noise level was a bit high for me. (Folk enjoying themselves in St Tropez can be a bit excitable, and there was canned music as well as the buzz of animated conversation.) But the charmingly vivacious lady who manages the establishment, Kim Casier-Descours, found me a table in a quiet spot next to the glass-fronted wine cabinets. Here I could relax in the supportive armchair, admire the black and white photographs on the walls, note the proper white napery (with wonderfully large napkins) and admire the polished glassware (by Schott and C & S).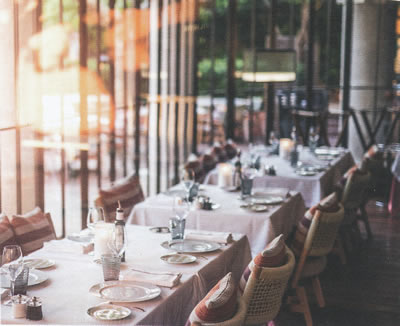 My waiter – Thomas from Strasbourg, in an open-necked blue shirt and a grey waistcoat – looked after me with the care and diligence I like. My napkin was carefully re-folded, when I left the table for a moment. The setting – designed by Antonio Citterio and Patricia Viel Partners – was pleasing to my eye. All was set for an enjoyable Mediterranean dinner – which is what I got.
You will not go hungry at Rivea. Chef Vincent Maillard is a generous man, and each of the dishes I tried was designed to satisfy the appetite of a healthy trencherman. And, with straightforward food so well cooked, his approach is a real blessing.
I would counsel you strongly to have the risotto. Mine, with girolles and truffle, was really impressive – the rice of exactly the right texture and the tastes of the mushrooms and the fungus combining in a most delicious manner. Beef carpaccio with gorgonzola cream and more truffle (I do not believe one can ever have too much truffle) brought strong flavour again, effectively presented on a rectangular white plate. My main course was lamb (a splendid fillet from the Sisteron) paired with luscious and filling haricots d'épaule – just the dish to build up the muscles of an energetic young chap like myself.
I had not encountered a baked Alaska for many a year, so this had to be my pudding. Its combination of theatre, fun and jolly ice cream within the flamed meringue appealed to the schoolboy still lurking somewhere within me. (Expect to pay 90€-110€ for three courses.)
I have mentioned that there are some impressive wines on offer at Rivea. They include many prestigious bottles from Italy – like 2009 Solaia (680€), 2012 Sassicaia (530€) and 2012 Gaja Barbaresco (650€). Then, of course, there is wine from France. There are some lovely burgundies, both white, like 2006 DRC Montrachet (6,200€), and red, including 1998 DRC Richebourg (3,900€). Clarets, however, dominate, with 1988 La Mission Haut Brion (1,800€), 1989 Lafite (2,100€), 1995 Margaux (1,250€), and 1998 Latour (2,100€). My own bottle of red, recommended by the knowledgeable Assistant Sommelière, Anais, was just right for the lamb: a 2012 Côteaux Varois of intense, ripe, earthy, black fruit (Thuerry, Les Abeillons). This was lovely drinking for just 50€.
I left Rivea pleased to have found such an excellent dining room close to the Place des Lices. If you are going to St Tropez, I recommend it to you.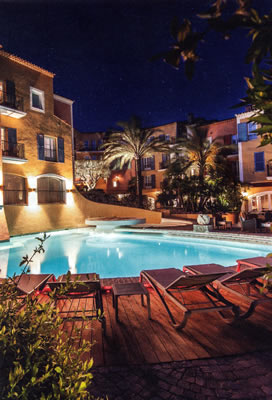 ---