austria
VIENNA
ROTE BAR RESTAURANT
HOTEL SACHER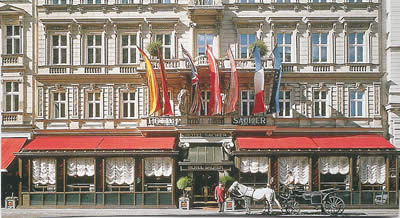 Life needs its sparkling moments. They revive our spirits and help us to survive those periods which are mundane. This is how I view my visits to the opera: as little diamonds sprinkled along the pathway of everyday existence. And no gem can glitter more brilliantly than a performance of The Magic Flute. My recent joy has been to struggle into my wing collar and dress suit and to attend Mozart's masterpiece at the Staats-oper in Vienna. Then, to put this brilliant stone into the most dazzling setting possible, I strolled the few yards to number 4 Philharmonikerstrasse and entered the famous Hotel Sacher, for dinner in the Rote Bar Restaurant. This evening was truly life enhancing.
If you like your cakes – and who, of a sound mind and a healthy constitution, does not? – you will know the name of Sacher, even if you have never set foot in the Austrian capital.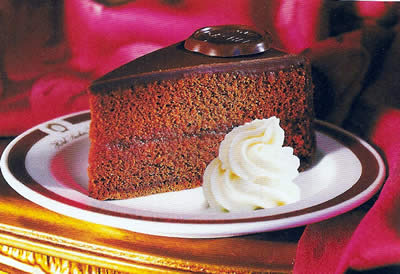 This is the hotel which was founded, in 1876, by Edward Sacher, son of the creator of the Sacher-Torte. It is now run by the Guertler and Winkler families. Apart from keeping the lovers of the true Sacher-Torte (pictured) well supplied with the delicious tart, their hostelry provides a luxurious haven for the rich and famous who visit Vienna. And, of course, it feeds many persons of taste and discernment. Like me.
I was especially glad of its sumptuous décor on this particular evening. Musically, the performance of the opera had been a triumph. But aesthetically… It was as if a white-walled art gallery of the modernist sort, without any pictures, had been invaded by a group of inmates from a prison camp. Their uniforms were grey and their faces ashen. Papageno, the bird-catcher, appeared – without his usual feathers – as a blond, tousled-haired version of Harpo Marx. I closed my eyes and allowed the ethereal quality of the singing and the playing to take away the visual horrors.
So it was a particular pleasure to sink into the red velvet of the banquette in the Rote Bar.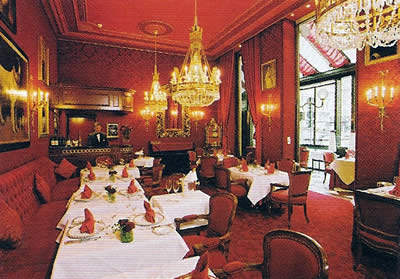 The photographs I here reproduce do not do this room justice. Its red and gilt is much more attractive in real life. Crystal chandeliers, Spiegelau glasses, white tablecloths and fine paintings (to my right of Emperor Franz Josef, above my head of St Bernard dogs) combine to create an atmosphere both intimate and grand. I certainly did not feel over-dressed in black tie, as waiters in red waistcoats lifted silver domes in front of my fellow guests.
The pianist at the baby grand piano tinkled the tunes we expect over dinner – 'I left my heart in San Francisco', 'My way' and 'As time goes by'. Not Mozart, I agree, but they created a relaxed and comfortable atmosphere. As did the service, orchestrated by maitre d' Herbert Koza. Mr Koza looked after me very well indeed. As I sipped my champagne, the world seemed a good place.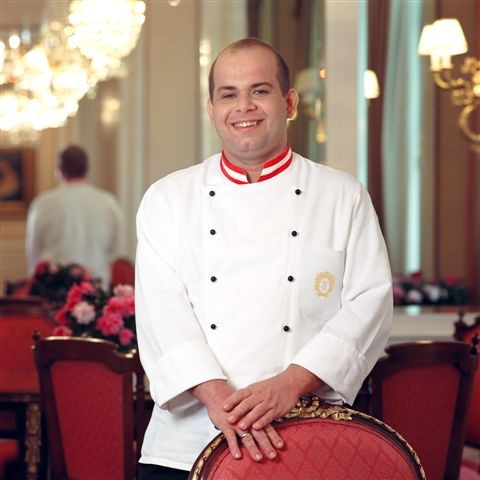 Chef Hans Peter Fink (pictured) sent in four dishes which were hugely enjoyable. He calls his cuisine 'classic Austrian, presented in a modern, creative way', and I am happy to go along with that. First came lobster, with avocado and citrus fruits – prettily presented and well-balanced in its flavours. Then I marvelled at another kind of Sacher tart, of foie gras. This is a dish you must not miss: luscious and full of the gorgeous taste of the goose liver, although the accompanying smoked duck breast was rather a distraction. Next a simple dish of linguini, of just the right texture. And why was I having pasta for my main course? Because this was the season of the white truffle from Alba. Mr Koza donned white gloves and sent shavings of the fungus drifting down onto my plate. The result was earthy, pungent and glorious. To finish, it had to be the Sacher-Torte, served with Sacher parfait and pear mousse – a finale which was unashamedly rich and sweet. (119 euros for these four courses.)
On the wine list I spotted a few prestigious and keenly priced 'foreigners' (like 1970 Mouton Rothschild at 890 euros), but, of course, the bottles in the cellar are mostly from Austria. From my own drinking, I would commend to you a Grüner Veltliner, which was bright and acidic, with a nose of green apple (Bründlmayer, Langenlois, Kamptal, 2005 – 25 euros, half), and a Beerenauslese packed with flavours of apricot (Schröck, 2005 - 17·5 euros, glass).
Good food and wine in a luxurious setting after a performance of a Mozart opera: the Rote Bar Restaurant after the Vienna Opera House. Life does not get much better than this.
---