ENGLAND
SOMERSET
BATH
THE ROYAL CRESCENT HOTEL
A Relais & Chateaux property
To stay in The Royal Crescent Hotel in Bath is to stay in a work of art. Of all the manifold architectural achievements in the 18th century of this most beautiful of English cities, the acknowledged masterpiece is The Royal Crescent. This 500-foot curve of tall stone houses, designed by John Wood the Younger in 1767, is so lovely that to look upon it for the first time gives anyone with an aesthetic sensibility a momentary shortness of breath. And right in the middle of this monumental wonder is one of the most famous hostelries in England – The Royal Crescent Hotel.

Occupying the two central houses, the hotel is a spacious and extensive complex. There are 45 bedrooms and suites, ranging from the modestly sized standard rooms at the top of the building to the palatial apartments with stuccoed ceilings on the first floor. But what comes as a real surprise is the delightful garden, which is much larger than one would have supposed possible from the street side. And, at the far side of the gardens, are stone villas with classical columns, wherein are to be found the spa (called the Bath House) and the restaurant (called the Dower House). This is an hotel which offers not only an abundance of style and elegance but also that delicious sense of being within an exclusive and luxurious retreat.
Public spaces in hotels are important to me. I like to sit about and think my thoughts. At The Royal Crescent I was able to indulge these pursuits in the elegant drawing room and in the cosy library. These rooms are to the left of the entrance hall and are chambers full of good furniture and handsome portraits, including a more than life size representation in oils of George III. Somehow, our Georgian ancestors knew how to arrange the proportions of a room so that they would harmonize with a fellow's natural rhythms. Comfortably ensconced in the welcoming chairs and sofas of these rooms, I felt at ease with the world and with my lot. And so I did in my exquisite accommodation.
This was the Percy Blakeney Suite (a Master Suite, and therefore £1,100 - £1,400 a night, bed and breakfast for two, according to season). I used to read of this fictional gentleman in my youth. Known as the Scarlet Pimpernel, Sir Percy – created in her play and novel by Baroness Orczy – rescued members of the French nobility from the vile excesses of 'The Terror' during the Revolution. I have no doubt this admirable fellow, had he ever existed, would have been delighted to know that this beautiful set of rooms had been named after him.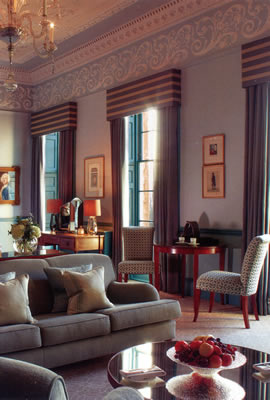 I went up to the first floor in the lift (saving the handsome staircase for a later descent) and entered my billet through its inner and outer doors. Then I was in a magnificent drawing room of beige and grey and white, with a ceiling of superb stucco work and three tall casement windows overlooking the Crescent. These last were adorned with swagged and tailed silk curtains and were possessed of working shutters. Oil paintings in gilt frames, polished mahogany furniture, a sofa and easy chairs, a crystal chandelier and an abundance of table lamps combined to create a sense of comfortable luxury. Having summoned some tea (complimentary tea and coffee are supplied to the suite from 11.00 a.m. to 7.00 p.m. each day), I took a copy of Northanger Abbey from the bookcase, sat down by my fireplace and flicked through the book's pages. My eyes fell upon these words written by Jane Austen: "The person, be it gentleman or lady, who has not pleasure in a good novel, must be intolerably stupid." It occurred to me that I could substitute 'The Royal Crescent Hotel' for 'a good novel' and the words would be equally true.
Through another door was the dressing area, which led into the bedroom, a chamber decorated with pink wallpaper and graced with a four-poster bed and a second sofa. Here the windows afforded a view of the hotel gardens. Its bathroom was well equipped, with two wash basins, a tub with a shower over, a loo and toiletries by Floris. Here I could enjoy my customary pre-prandial soak. But there was something else I could do before dinner which was even more relaxing: to sit in my drawing room and watch the sun set over Bath. To look at such elegance surrounded by such elegance was a rare privilege.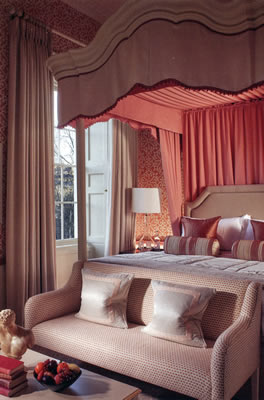 Then, happily be-suited and stiff-collared, I went downstairs and across the garden to the Dower House Restaurant for dinner. I found a warm and welcoming place of white tablecloths, good glassware (by C & S) and good cutlery (by Arthur Price), a colour scheme of grey and dark blue and soft spotlights. The Restaurant Manager, Anthony Rizzo, is from Nice. He is courteous, efficient and friendly – and sets the tone for his waiters. Here I might pause to record my appreciation of the service I found throughout the hotel. In every department I found high standards. The men and women who work at The Royal Crescent are a credit to their General Manager, Jonathan Stapleton.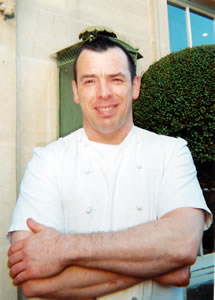 Chef David Campbell (pictured) is a very talented cook, who has a sharp eye for the presentation of his food. He offers a 6 course tasting menu for £72. I chose four courses from the carte (for which you should allow around £70), which constituted a hearty Hymn of Praise to the Duck. The slow cooked duck egg – with celeriac and artichoke velouté, crisp chicken skin and duck fat croutons – was both luscious and carefully balanced. Next, the duck foie gras brought me a new experience, for it came with pickled onions. I thought this might be a little odd, but the element of sharpness actually worked very well indeed. My main dish was certainly the highlight of the meal, for each element was so well judged and so well executed. The roasted duck breast came with roasted fig, vanilla creamed potato and pistachio. Delicious. I finished with a good raspberry millefeuille.
Head sommelier Jean-Marc Leitao presides over a list of around 300 offerings, which is full of interest. Prices range from £28 for the house wines from the Languedoc-Roussillon to £1,600 for the 1996 Mouton Rothschild (from a section entitled 'les Trésors de la Cave'). In the main part of the list, most bottles are in the £40-£80 range. There are some good clarets – like 1989 Ducru Beaucaillou (£750), 1998 Haut Brion (£1000) and 1998 Lynch Bages (£450) – and some gems from outside France, like 2012 Sassicaia from Italy (£450) and 1990 Vega Sicilia Unico from Spain (£1,200). Aided by the enthusiastic commis sommelier, Luke Jones, I drank the red house wine (La Campagne, 2015) which yielded plenty of ripe black fruit for the roast duck, as well as some of the intriguing 'Nocturne' champagne from Taittinger.
I returned to the Dower House for breakfast, and was pleased to find the atmosphere as cosseting as it had been in the evening. This was a thoroughly civilised place in which to start the day. Everything I obtained from the buffet was of the highest standard – including excellent brioche, fruit salad and cereals. And from the kitchen were brought comestibles of equality quality. Apart from a splendid 'English' (sausage, bacon, tomato, mushroom and poached eggs), I indulged in the fare with which my Grandfather always broke his fast – porridge (made with water), brown bread and butter and sliced raw onion. Wonderful.
Good food, attentive service, luxurious surroundings, magnificent architecture – for what more can one ask? Truly, to stay in The Royal Crescent Hotel in Bath is to stay in a work of art.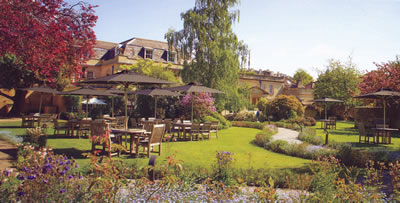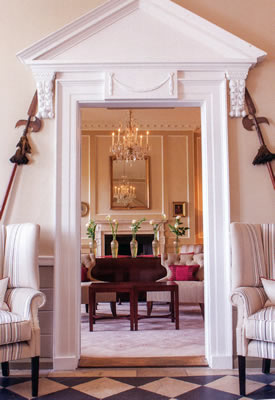 ---