ITALY
SAN REMO
ROYAL HOTEL SAN REMO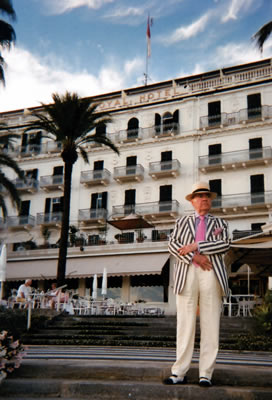 Grand hotels in seaside towns are one of the joys of life. If they have been cared for properly, they speak to me of comfort, salt air, invigorating breezes and long, lazy days in the sunshine. They are living symbols of a healthy civilisation. And so it is in the elegant seaside town of San Remo. Here there is exactly the sort of hotel in which persons of taste and refinement will wish to stay – The Royal. Opened in 1872, and still owned by the Bertolini family, its 126 rooms have welcomed many of the great and the good over the years. Since my first visit, when I was considerably younger than I am now, the railway line – which used to separate The Royal from the sea – has been moved inland. This means that the hotel's 16,000 square metres of gardens are now undisturbed by the sound of rattling carriages – which is as it should be for a famous palace hotel.
Every time I stride into the main entrance, I am struck again by the pleasing sense of spaciousness. It derives, I think, from the public rooms, which are large and plentiful. Underfoot, they have Persian rugs upon wood-block floors. Modern furniture stands easily besides ancient oil paintings and columns of polished granite. There can be no doubt that this is a grand hotel. Downstairs is a swish spa and outside is a large, heated, sea-water swimming pool.
Room 531 was on the fifth floor and was a "Deluxe Sea View Junior Suite" (460€-742€ a night, bed and breakfast for two, according to season), which is the level of accommodation I would recommend at The Royal. This was a bright and airy apartment, decorated in tones of sea-blue. It was also, as I like, pristine and effectively air-conditioned. The hallway contained fitted wardrobes (with a private safe) and doors to the bathroom and the bed-sitting room. The former contained one wash basin, a tub of decent size, a separate shower (with a sliding door), a loo and a bidet. The latter was large enough for two wooden armchairs, a sofa and a writing desk, as well as the substantial bed.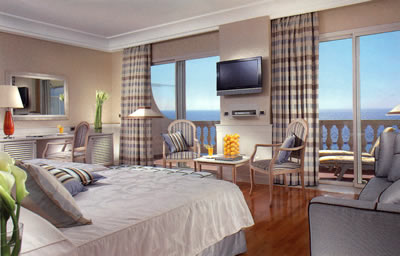 But most splendid was what was beyond the wall of plate glass: my own private terrace. Its sun blind was operated electrically, and could shield the table and the four chairs (two of the 'lounger' type) from the hot rays from the sky. I found this to be the ideal spot for a light luncheon, followed by a doze, while white yachts drifted across the Mediterranean panorama far away beyond the balustrade. (There are, of course, grand suites available, should the fancy take you. I peeped at two of them on the first floor, and liked the fact that the recent renovations had retained their original ambiance.)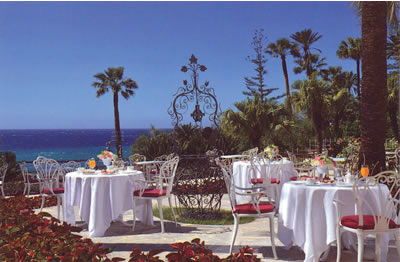 Eating at The Royal is done at the Corallina Restaurant (by the pool), in the à la carte Il Giardino Restaurant (in the garden), or in the dining room called Fiori di Murano. I dined at Il Giardino. Here I sat on the terrace in a white metal armchair, well-added with cushions, looking out through the palm trees to the sea.
I was looked after very well by the maitre d' Massimiliano, smart in his black tie. The service was correct, courteous and properly old-fashioned. Executive Chef Moreno Picchietti produces dishes which are traditional and based upon really good ingredients, expertly handled. Allow me to share with you some highlights of my meals. Lobster was precisely cooked and beautifully accompanied by three sauces – raspberry, mango and yoghurt with honey – each of which was delicious. Fassone beef carpaccio with Parmesan shavings was a lovely version of an old favourite, as was the soft and tasty tagliolini carbonara. And the chateaubriand with béarnaise sauce was splendid, with really top quality meat. (Expect to pay 120€-160€ for four courses.)

The wine list has around 160 offerings. Most are Italian, although France and the New World are represented. Prices run from 26€ for a white from Umbria to 2,100€ for the 2013 vintage of La Tâche. Other bottles to catch my eye were: 2011 Margaux (1,250€), Krug Grande Cuvée (325€), 1996 Penfolds Grange (525€), 2012 Ornellaia (210€), 2010 Sassicaia (270€), 2011 Solaia (270€) and 2014 Cervaro della Sala (80€). I am grateful to the knowledgeable sommelière, Ramona, for two fine bottles: a big, vanilla-laden chardonnay (Franciacorta, Ca' del Bosco, 2014 – 44€), and a fruity, well-balanced Tuscan red (Sassoalloro, Jacopo Biondi Santi, 2010 – 47€). This was good drinking for modest expense.
Lots of my fellow guests chose to have breakfast outside, but I have to be careful to avoid the direct rays of the sun, so I confined my breaking of the fast to the Fiori di Murano dining room, where I enjoyed the careful attentions of the waiter Amir. To my table were brought pots of coffee and buckets of ice cubes, and from the buffet I secured Corn Flakes, slices of tart (strawberry and apple), ample supplies of brown bread and butter with marmalade from our old friends, Wilkin & Sons of Tiptree, bowls of pineapple and plates of bacon and tomato. All of these were very good, but I was most taken with the glasses of apple juice – made before my eyes by a young lady at her own 'juice station'. Delicious.
The Royal Hotel in San Remo confirmed my belief: grand hotels in seaside towns really are one of the joys of life.

---