FRANCE
PARIS
SAINT JAMES PARIS
A Relais & Chateaux property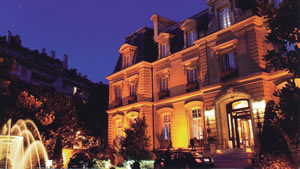 I never expected to stay in a chateau-hotel in the heart of Paris. But there I was, in the fashionable 16th arrondissement, at a mansion built of stone in the neo-Classical style, with a garden, entrance pavilions and a sweeping drive to the flight of steps leading to its impressive entrance. It felt slightly strange, in the best possible way. And it was strange – or let me say unusual – for there is only one chateau-hotel in the whole of the French capital. And this was it: the St James Paris. I expect you will already be booking your ticket on the Eurostar, for there can be few more tempting combinations in the world of hospitality than a chateau and Paris. Moreover, I can report that the marriage is a very happy one indeed. The St James Paris is a splendid hotel.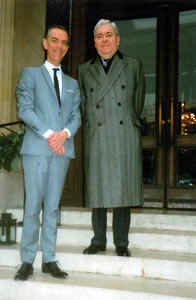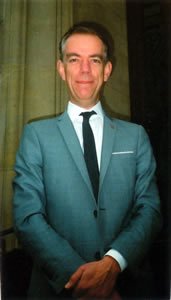 The building dates from 1892. It was built on the site of the first airfield in Paris by Madame Dosne-Thiers, the widow of Adolphe Thiers, President of the French Republic. It was a foundation for scholars and a memorial to her late husband. Now the scholars have gone, and the grand reception rooms, the monumental staircase and the 48 bedrooms and suites are open to those persons of taste and refinement who seek an hotel near the avenue Foch, between the Arc de Triomphe and the Eiffel Tower. (The hotel is also used by members of the exclusive St James Club.)
The interior designer Bambi Sloan has recently waved her magic wand over the interiors at the St James and left them full of rich colours, bold contrasts, sumptuous fabrics and well-chosen antiques. The initial effect upon visitors is marked. I saw more than one walk into the entrance hall, look around at the swirling velvet drapes and the lofty balustrades and murmur 'Golly' – or some Gallic equivalent. I took to it immediately and felt entirely at home – not least because the splendid General Manager, Yves Monnin (pictured both alone and with your correspondent), proved such a genial and friendly host.
My room was on the top (3rd) floor. Number 505 was a Junior Suite – for which the rack rate is 950€ a night, although you should check all the rates for specific dates on the hotel website. I entered what appeared at first to be a conservatory, with potted palms, turquoise and brown tiles on the floor, a pitched glass roof, drapes of red velvet and mirrored 'windows'. In fact, this was my sitting room. It was possessed of a low sofa, a television, two gilt hanging lamps, a round table and two bentwood chairs. From here I passed through an arch and down a step into the bedroom.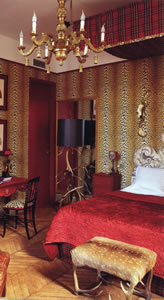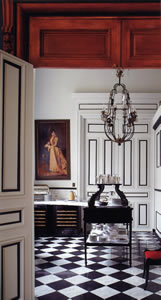 I like spacious bedrooms and this was a spacious bedroom, despite its sloping ceiling. At first I thought it had parquet flooring, but it was 'wood effect' carpeting. An easy chair, a writing desk with a chair upholstered in faux leopard skin, a walk-in wardrobe with a safe and my very own espresso-making machine ensured that this was a comfortable environment. The warm palette used in the public rooms was evident here, too, and made for a cosy atmosphere once the sun had set and I had dimmed the wall lights of turquoise crystal. This was, indeed, really a room which came into its own in the evenings, for its only window (apart from those in the ceiling) was a tiny pothole overlooking the front entrance.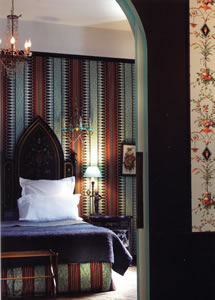 The bathroom was tiled, with 2 wash basins, a loo, a bidet and a bath tub with a shower overhead. The toiletries were by Lanvin. I was grateful to members of the Housekeeping staff, who kept me well supplied with the hotel's lovely white towels – and, indeed, went to exceptional lengths to ensure that the bed was soft enough for my ailing back.
That back needs particular support when I am dining, so I was pleased to find among the various seating arrangements in the restaurant a good, solid armchair. Firmly ensconced, I was able to survey this grand chamber and admire its high, painted ceiling and the fine woodwork of its wall cabinets. (There was also lots of magnificent woodwork in the adjacent library, now used as the bar.) The crisp napery was white and the waiters were in black. The light from the chandeliers made the glassware (by C & S) gleam and the gentle conversation of my fellow diners made me sit back in contentment. And there was no silly canned music to spoil this civilized calm – an indication that the management is sensitive to the requirements of grown-up dining. (I have lost count of the number of beautiful dining rooms I have found vulgarized by loudspeakers from which came damnable music.)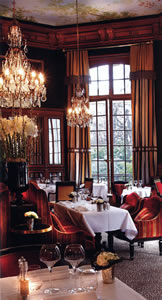 The cuisine of Chef Virginie Basselot is delicate, well-balanced and delicious. She has arrived here after being the Premier Sous Chef for Eric Frechon, the three-star chef at the Bristol, and her rigorous training shows through in dishes which are finely executed and prettily presented. I began with an excellent plate of vegetables with white and red quinoa. This appeared simple, but it required skill and discipline to ensure that all the ingredients came together properly cooked and harmoniously combined. Then it was a generous helping of cold duck foie gras, wrapped in green jelly and served with golden apple sauce, an effective and interesting combination. My main course was fillet of venison – a superb piece of meat, superbly set off by preserved kumquats, although it would have been even better with some green vegetables and some potatoes to prolong the pleasure. I finished with a ravishing reminder of the old days – an apple charlotte, drizzled with Gewurtztraminer and served with beer ice cream. (These four courses were 114€.)
The wine list is of modest length. All bar four of the 124 bottles are French. There are 11 half-bottles and three magnums and 13 wines are offered by the glass. Prices run from 40€ for a red burgundy to 990€ for the 2001 Mouton-Rothschild. Of the champagnes, Cristal 2004 is 390€ and Dom Pérignon 2003 is 430€. Cloudy Bay chardonnay 2007 is 85€, Ch Pape Clément 2000 is 420€ and Ch Langoa Barton 2006 is 175€.
The sommelier, Micaël Morais, is a fine young fellow from Portugal. He brought to me a gorgeous glass of blanc de blancs champagne (Armour de Deutz, 2005 - 35€, glass) full of cream and yeast. Then he suggested a splendid Condrieu, which gave forth a typical medley of melon, lychees, pineapple and grapefruit (Le Grandes Chaillées, Dom du Monteillet, 2010 - 125€), followed by straightforward red burgundy (Nuits-St-Georges, J.Drouhin, 2009 - 59€, half).
I returned each morning to my table in the dining room to break my fast. There was a buffet, but I found the waiting staff very eager to bring things to my table – like pots of coffee, dishes of ice cubes, carafes of orange juice, baskets of bread and brioche and truly tasty onion omelettes. Still, I did manage to stagger over to the buffet tables to secure bowls of Corn Flakes, plates of ham and fresh mango and helpings of first rate smoked salmon – all in the price of the buffet breakfast (35€). You will gather that I did not go hungry.
Indeed, one does not go hungry at a well-run chateau. And that is what the St James is: a well-run chateau. In the heart of Paris it is a unique establishment. I commend it to you.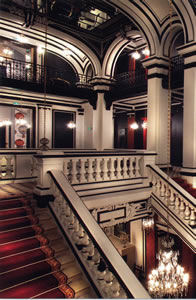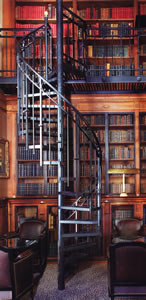 ---
ADDRESSES
ST JAMES PARIS
43 avenue Bugeaud, 75116 Paris, France.
Telephone +33 (0)1 44 05 81 81
Fax +33 (0)1 44 05 81 82
Email: contact@saint-james-paris.com
www.saint-james-paris.com
See the hotel website for room prices for specific dates
Reservations can also be made through Relais & Chateaux
Telephone 00 800 2000 00 02
www.relaischateaux.com