Spain
MADRID
RESTAURANT SANTCELONI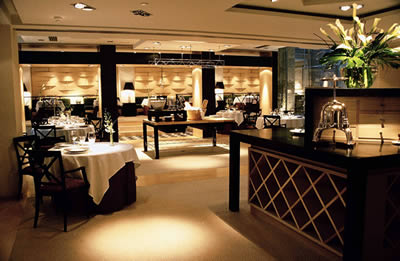 Those who run the great restaurants of the world are deeply interested in their work. Indeed, it would be fair to talk of their occupation in terms of vocation. They have a sense of calling which takes them on the pilgrimage road towards perfection. This makes them eager to experience the food of fellow practitioners: they have to see what there is to learn from their rivals. And this is why the tables in the finest dining rooms are often occupied by those 'in the business' – waiters, sommeliers and, of course, those who man the stoves. I was therefore not at all surprised to be told by the chef of the magnificent Restaurant Santceloni, in Madrid, that he had last seen me when we were both enjoying food from the best kitchen in Rome, at La Pergola.
That kitchen is on the top floor of Rome's Hilton Hotel. Chef Oscar Velasco's own domain is below street level, down a flight of steps off Madrid's Paseo de la Castellana. Down this wide staircase I tripped with some enthusiasm, for the Restaurant Santceloni has two Michelin stars and is much admired.
Waiting for me was a large room of modern elegance. Spotlights, light wood, large tables covered with off-white cloths, members of staff in dark grey suits and red ties – I felt immediately that this was a sophisticated environment for sophisticated food. Most of my fellow diners were dressed formally: all were dressed expensively. As I noted the fine Riedel glassware and the rustic table in the centre of the room, stocked with cheeses, my expectations rose higher and higher. The friendliness and courtesy of the waiters also struck me. I made a note that the charming maitre d', Abel Valverde, must be running a happy ship.
My own waiter, Alvaro Barbas, looked after me in an exemplary manner. The team at Santceloni is young, but it is highly professional. Within seconds of my companion leaving the table for a moment, the used napkin had been replaced, and not once did I need to summon help to replenish my glass. The pace of my meal was right, too – from the moment I chose the local potato bread from the proffered basket of loaves to the draining of my last cup of coffee, it was neither too slow, nor too fast, but exactly as I wanted it. Such smooth efficiency creates an atmosphere of calm, which aids digestion and heightens pleasure. And so does the absence of ghastly mobile telephones. I was delighted to read the instruction at the bottom of the menu that they must be turned off.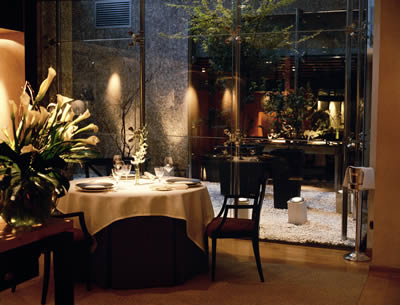 The establishment is under the 'gastronomic direction' of Chef Santi Santamaría, of the famous three-star restaurant, El Racó de Can Fabes. That is in a town near Barcelona called Sant Celoni – hence the name of this dining room. Oscar Velasco was previously the second chef at El Racó and is now the Head Chef here. Judging on the evidence of my meal, his talent is prodigious. Each of my dishes was remarkable for the quality of its ingredients, the careful balance of its tastes and textures, the precise skill of its preparation and the painterly care of its presentation. My eyes, my nose and my palate all shared in the joy of the occasion.
Two set meals were offered, at 119 and 160 euros. I chose four courses from the carte, for 136 euros. (Tax at 7% has to be added to these prices.) Given the quality of the food, the service and the surroundings, I judged the value to be excellent.
I began with a Te Deum to vegetables. Presented in a round pot and prepared with pine nuts, port wine and black truffle, this was a hugely enjoyable vegetable casserole. It would not be hyperbole to call it a small miracle of delicate flavours. And if the magic came from the divine fungus, it waived its wand again over my second course. Black truffle on top of toasted onion bread, with foie gras and apple, was long and thin and as delicious as it sounds, with all tastes present and correct. Then came pigeon, roasted with pumpkin and more black truffle. (Yes, I am a truffoholic, but I make no apology for my addiction.) The meat was tender and tasty, and put into sharp focus by the sweetness of the pumpkin. My pudding brought together three of my favourite flavours – banana, nougat (ice cream) and coconut (soup) – and was as irresistible in the eating as it was in the contemplation. This was a wonderful meal.
I should add that there were many other dishes I could have chosen with equal enthusiasm – like baked sea bream with fennel and black truffle stew, or roasted monkfish with pig's ear and bone marrow or roast loin of suckling pig with thyme. This menu is full of good things.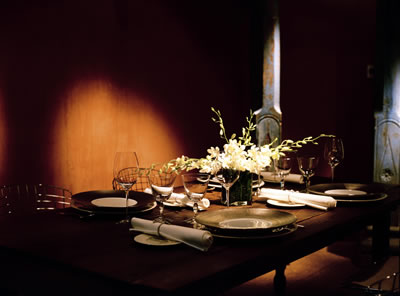 And so is the wine list. It comes in two substantial volumes (one for red and one for white). Prices for Spanish wines begin at 31 euros and climb gently up to 1,250 euros for Vega Sicilia Unico from the 1942 vintage. The rest of the world is well represented. Krug Grande Cuvé is 210 euros, 2002 Montrachet (Leflaive) is 290 euros, 1998 Opus One is 400 euros and a half bottle of 1998 German riesling eiswein (Emrich-Schönleber, Monzinger Halenberg) is 162 euros.
My two Spanish wines were recommended by Tomas Alvarez, the affable 2nd Sommelier, whose enthusiasm and knowledge were impressive. My white came from the Rueda region and was made from the Verdejo grape. Carefully balanced, it yielded smokiness, perfume, lychees and a long, lingering aftertaste (Belondrade & Lurton, 2005 – 48 euros). My red was from the region of Conca de Barberá. Young, virile and tannic, it was an ideal partner for the pigeon (Grans Muralles, Miguel Torres, 1998 – 96 euros). Good drinking.
A restaurant as distinguished as Santceloni is sustained by the creativity, enthusiasm and dedication of a fine body of people. They take their work seriously and are keen to visit other great dining rooms. I am keen, too – to return to this gastronomic powerhouse and sample more of its culinary delights.
---