United Kingdom
England
LONDON
SARTORIA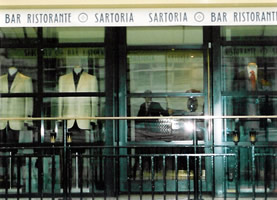 Savile Row attracts the best-dressed gentlemen in the world. And so it should, because it is home to our planet's finest gentlemen's tailors. You can read about them in Bown's Bespoke. It is a street with which I am familiar, and the prospect of a visit always awakens within me a tingle of excitement. Few things raise my spirits more effectively than the prospect of a new suit. But now I have another reason to go to 'The Row', and another cause of pleasurable anticipation. I have been to dine at the very good Italian restaurant at number twenty. Appropriately, it is called Sartoria.
Sartoria has been open since 1998, but the chef is quite new. He has the finest pedigree possible for a chef who has been cooking Italian food in London: he has worked with Michelin-starred chef Giorgio Locatelli. His name is Pasquale Amico, and he was born in Naples. As I settled into a comfortable armchair at my corner table, I looked forward to some good food.

I was shown into this cool, sophisticated place by Roberto Taddia (pictured), the dashing young man from Bologna who is the restaurant's Assistant Manager. He looked after me exceptionally well throughout the evening, displaying exactly the right mixture of courtesy and friendliness. Indeed, I was impressed by the professionalism of all the waiters and waitresses in their white aprons. I noticed how well they coped with the arrival of a very large party, which caused the service to the rest of us to deteriorate not at all.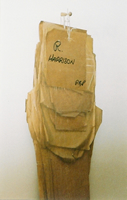 I surveyed the menu, which lists the dishes in both Italian and English, and then looked around the room. Its colours (white and grey) and its careful lighting (spotlights and small candles) I found relaxing. I approved of the white tablecloths, for I like to be able to see the true colour of my wine. The tailoring theme has been used to add some visual interest – the ash trays are in the form of coiled tape measures and, framed on the wall, are the tailors' paper patterns used for the suits worn by Mr Rex Harrison in the film My Fair Lady. I reproduce a picture of the patterns here.
A three-course set meal is available at lunch or pre-theatre for £24.50. My four courses from the main menu cost £43.50. I found Chef Amico's approach very much to my taste. He takes first class ingredients, prepares them with care and sends from his kitchen dishes which are straightforward and full of flavour. Marinated wild mushrooms with speck and a radicchio salad proved well balanced and tasty. My pasta course was full of sweetness and yielding textures: pansotti, filled with pumpkin and amaretti, with butter and sage – super with the white wine. Roast fillet of beef was a fine piece of meat, pink and tender, and was served with herbed potatoes and sprouting broccoli. A side dish of green beans and shallots (an extra £3) was so well done that it deserves an honourable mention. I finished with a refreshing nougat parfait.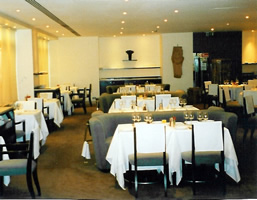 Wine here is, quite properly, Italian (apart, of course, from the champagnes – Krug 1990 is £250). About 350 offerings comprise the list. They range in price from £17 for a white from Puglia (Gravina Bianco, Botromagno, 2003) to £510 for the 1982 vintage of the grandest of 'super Tuscans', Sassicaia. In between there is much of interest throughout the price range. Assistant sommelier Andrea Asciamprener was both enthusiastic and knowledgeable. He directed me to two excellent bottles from Sicily. My white was from a producer I much admire, Planeta. The Cometa is made from the fiano grape. In its 2004 vintage I found it big, bold and firm with sherbet, lots of mineral and even hints of coal (£50). My red was a syrah, luscious and thick with a lovely intensity of ripe black fruit (Sole di Sesta, Cottanera, 2002 - £59).
I left Sartoria having had a splendid evening and a thoroughly good dinner. So now Savile Row will draw me back on two counts: not only for the finest tailoring, but also for a restaurant which can offer me Italian food and Italian wine of high quality.
---
ADDRESSES
SARTORIA
20 Savile Row, London W1X 1AE, England.
Telephone +44 (0)207 534 7000
Fax +44 (0)207 534 7070
Email: sartoriareservations@conran-restaurants.co.uk
Closed: Sunday lunch