POLAND

KRAKOW

SHERATON HOTEL KRAKOW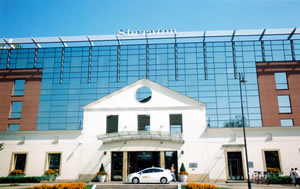 Krakow is a city which deserves its popularity. It attracts crowds of Venetian proportions, and they come because its churches are impressive, its squares are enchanting, its Royal Castle is huge and its Jewish ghetto is moving. Indeed, in many ways Krakow still looks like a capital city. But, in fact, it lost that title four centuries ago, when King Sigismund III of Poland moved the royal court to Warsaw. This is a place, then, which will rightly attract all those who are interested in art, architecture and history. Such discerning and intelligent travellers – among whom, of course, I include you, dear Reader – will need a good hotel. So let me suggest one to you – the Sheraton Krakow.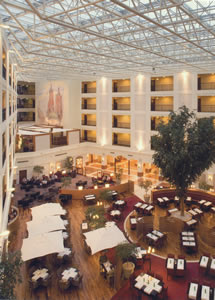 The Sheraton is a modern hotel with 232 rooms, a huge atrium and an indoor swimming pool. It has 5 stars in the official rating and it has a location next to the River Wisla, close to one of Krakow's most important attractions, the Royal Palace. This means that it is a ten minute walk (or, if you are me, a twenty minute walk) from the city's main square. But this need not be a problem, for taxis are cheap and plentiful. (Like taxi drivers the world over, the taxi drivers of Krakow can occasionally be 'difficult' about short journeys. I therefore made it my habit only to mention my destination when I was safely ensconced in the back seat of the motor car.)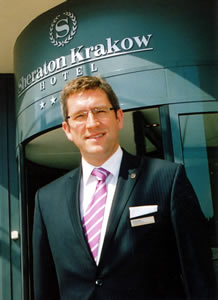 The impression upon entering the Sheraton is good. There is an abundance of open space and the décor is discreet and restful. The vast glass roof of the atrium allows lots of natural light to flood down onto the sitting and dining areas below – although there is a regiment of electrically powered blinds which ensures that the rays of the sun do not disturb the guests. Those guests are cared for by a staff which is both keen and efficient. Much credit for this must go to the General Manager, Stijn Oyen (pictured), from Belgium.
My billet, room 215 – a Deluxe, from 436 PLN a night – was on the second floor at the front of the hotel. I would make two recommendations with regard to the accommodation you book. First, go for one of the larger rooms, called Junior Suites (from 1065 PLN a night). And second, make sure that you are on one of the higher floors, and well away from the entertaining rooms (which are on the ground floor to the left as you look at the front of the hotel), for the locals are enthusiastic party-givers and like their revels to end only with the rising of the sun.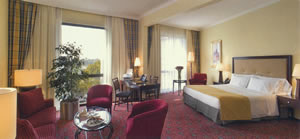 My apartment was well-equipped and the modesty of its size was disguised by the clever use of mirrors. It had coffee-making equipment, a private safe, very effective air-conditioning, an iron and an ironing board and an extendable clothes line over the bath. Its two armchairs were upholstered in red. The bed was made splendidly soft, at my request. Beige tiles covered the walls in the bathroom, wherein I found one wash basin, a tub of adequate size (with a shower over it) and the loo.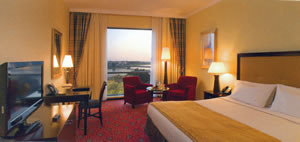 Although the hotel has a sort of 'pub with food' off the main lobby, I did my eating in the main dining area under the atrium – The Olive Restaurant. Here I was looked after in a most pleasant manner by the waiters and waitress in their beige waistcoats. One in particular – Barbara – deserves particular praise for her good-natured courtesy. The wicker armchairs were comfortable, the square tables were capacious, the glassware (by Walther) was good and the large mural high up on the wall (of the famous Church of Our Lady in the city's main square) was impressive. Music was played in the evenings, and one lady pianist – at my request – launched into a marvellous rendition of a piece by her famous compatriot, Frédéric Chopin. This delighted me, and confirmed that I was in a truly civilized environment.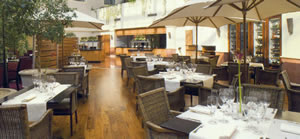 The food also pleased me. It described itself as 'Mediterranean cuisine with Polish specialities', and I am happy to concur. I found it straightforward and based upon good ingredients. Its preparation and its presentation were consistently good. Indeed, at times, this food could rise to considerable heights. Of the various dishes I tried, by far the most impressive was the one with tortelloni filled with mushrooms and cheese and served with a creamy truffle sauce. This was good enough – in its light, tasty lusciousness – to have graced any table in the world. I also enjoyed particularly the beef carpaccio with capers, sun-dried tomatoes and Parmesan and some first class meat, in the form of both rack of lamb with a nut crust and Argentinian beefsteak. The former came with super Brussel sprouts and the latter came, at my special request, with fried onions and boiled peas (both delicious). (Expect to pay around 180 PLN for a four course meal.)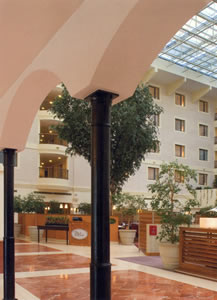 The wines list has just 68 bottles (20 of which are available by the glass) and vintages are not given. Prices run from 95 PLN for prosecco to 1,500 PLN for Dom Pérignon champagne. Cloudy Bay sauvignon blanc is 350 PLN, Louis Jadot Pommard is 550 PLN and Castello Banfi Brunello di Montalcino is 950 PLN. I confess that, before my visit to the Sheraton Krakow, I did not know that Poland produced any worthwhile wine. But the Hotel's Food & Beverage Superviser, Rafal Mielczarek, brought to my attention a chardonnay and a pinot noir, both of the 2010 vintage and both from the Adoria Vineyards. The white (275 PLN) was the more impressive, a restrained wine but one with those buttery elements one expects of a decent chardonnay. The red (325 PLN) was light and elegant, with red fruit, but it reminded me more of gamay than pinot noir. Mr Mielczarek also directed me to a bottle of really good Rioja Reserva, with a lovely, complex combination of flavours, including black cherries and leather (Marqués de Riscal, 2007 – 335 PLN).
I returned to The Olive Restaurant each morning for breakfast, and each morning a kind member of staff turned down the canned music for me. To my table were brought pots of decent coffee, dishes of ice cubes and my concluding cappuccini. And from the buffet I secured dishes of Corn Flakes and of melon and pineapple and plates of bacon, tomatoes and mushrooms and slices of top class crusty bread with marmalade.
If you are going to this ancient city (and you should), I can recommend the Sheraton Krakow. It is a good hotel. You will find it a pleasant and comfortable place in which to stay.
---