United Kingdom
England
LONDON
SHERATON PARK TOWER HOTEL & SARTORIA RESTAURANT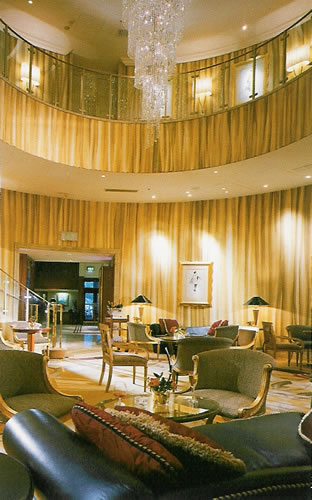 The desire to shop brings the crowds to London. And the discerning will want to open their purses and their wallets in two places. For ladies, the pull is to Knightsbridge and Sloane Street – for Harrods, Harvey Nichols and those designer boutiques which are so grand their windows are virtually empty. For gentlemen, the temptations are the outfitters of Jermyn Street and the most famous tailoring thoroughfare in the world, Savile Row. But even shoppers need to sleep and eat. So I have just tried an hotel in Knightsbridge and a restaurant in Savile Row.
Actually, the main entrance to the Sheraton Park Tower is not in Knightsbridge, but in the altogether quieter Lowndes Square. Here there is a small driveway, so my arrival in the Silver Cloud was dignified and stress-free. The building is in the form of a large, cylindrical, concrete tower. It was opened in 1973 by the then Prime Minister, Edward Heath. Inside, I found a spacious and welcoming entrance lobby, with views to a round sitting room. In the latter I could have ordered tea next to a sweeping staircase of Hollywood proportions and nibbled my scones under a gigantic crystal chandelier in the modern style.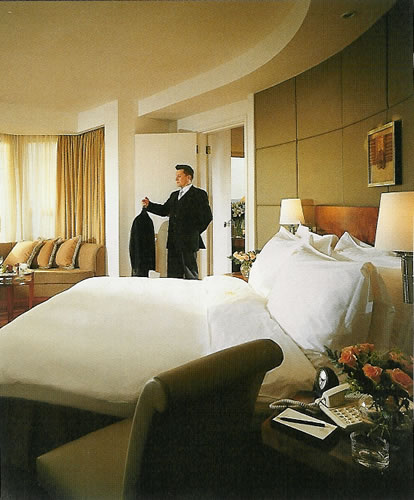 Instead, I went up to room 804 on the 8 th floor. Classified as an 'Executive', and therefore £517 a night for two (breakfast extra), this apartment makes clever use of its unusual shape. With scarcely a right angle to be seen, I enjoyed its sense of space and its high level of fittings. Sprawled on the golden velvet of the curved seating in the window, I looked out onto an interesting townscape. It included not only the neighbouring roof of Harvey Nichols, but also the tower of Imperial College and the dome of Brompton Oratory. It seemed right that my inclination to spend was being tempered by the call of Learning and by the thought of Higher Things. Back in my billet, considerate touches were all around. Both my telephone and my fax machine had private numbers. Behind a polished wooden door was my own safe. On the bedside table was a proper clock. When I opened the doors of the fitted wardrobe, an automatic light illuminated the interior. The rest of the lighting, a mixture of spotlights and table lamps, could be adjusted to my liking. In the grey marble bathroom, I found a walk-in shower and a tub of acceptable length.
Yes, I liked this accommodation. Having adjusted the air conditioning, I sat at the oval writing desk and set to work on some shopping lists. Between 'Six pairs of red socks' and 'One cashmere scarf – black', I noticed that my bed was covered with a duvet. Under this device of the devil I cannot sleep. I lifted the telephone receiver, pressed the button marked 'Guest Services', and spoke half a dozen words. Ten minutes later, blankets had been tucked into their proper position. Whenever I had occasion to encounter members of staff at the Sheraton Park Tower, I found this same efficient and prompt service.
Morning comestibles are had in the One-O-One Restaurant on the ground floor. (This is where Chef Pascal Proyart serves his much-admired seafood. But I was not able to have dinner here on this visit.) For my £21.50 breakfast, I tucked into good, old-fashioned sausages with mushrooms and tasty bacon. This I took from the buffet, where – to my relief – I found proper, large plates. (Buffets are so often ruined by the provision of kiddy-sized plates, as if those in charge are terrified that their guests might help themselves to giant portions.) The grapefruit juice was good, too. This light, spacious room and its friendly, helpful staff gave me a good start to the day.
Which is what you want before a day of shopping. And, afterwards, you want to dine in style. So whoever thought of opening a restaurant in Savile Row deserves a medal. I can think of few greater pleasures than ordering a few suits from one of the bespoke tailors in the Row and then adjourning for food in the very same street.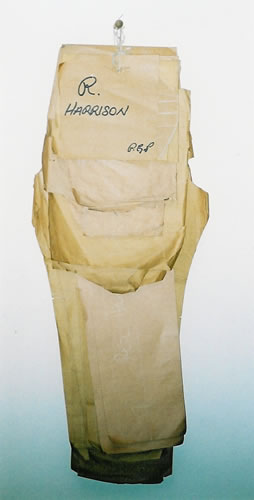 Sartoria is at number 20. It is much larger than it seems from the outside, and can seat 160. On the evening of my visit, it was both busy and buzzy. As you would expect of a Conran restaurant, its interior is stylish. Its clean, austere lines and grey and white colour scheme owe something to the rationalism of 1930s Italy. But an appropriate tailoring theme finds expression in ash trays like curled tape measures and a collection of paper patterns – the very ones used to make Rex Harrison's clothes for the film My Fair Lady – used as wall decoration. Less explicable are two figurative sculptures by Jessica Worrall, which rejoice in the titles of 'Fat Cow' and 'Lardy Boy'.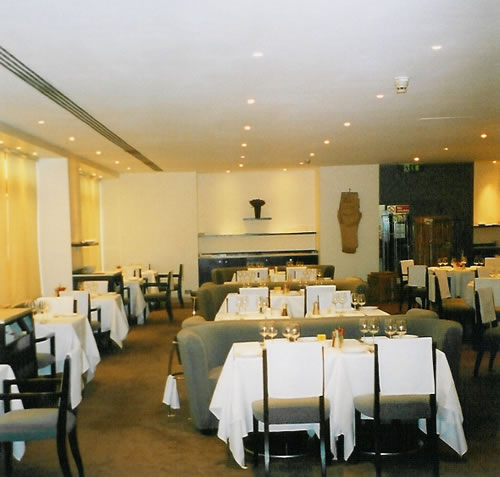 As the sound of the pianist drifted through from the bar, I settled myself into a comfortable armchair before a white tablecloth and chatted to Roberto Taddia from Bologna. A charming fellow, he is now the assistant maitre d'. With his advice (and that of assistant sommelier Antonio Demaggio), I lighted upon two enjoyable wines. The first was the always reliable Planeta chardonnay from Sicily – in its 2002 vintage, with more sherbet and less cream than I usually find (£47). And my red was from Sicily, too – a big beast of blackcurrant and caramel (Rosso della Rose, Masseria del Feudo Grottarossa, 2001 - £48). Riedel glasses appeared for my red.
These were from a list which, apart from the champagnes, is entirely Italian and is arranged by region, with both white and red offerings printed under each heading. 12 wines are offered by the glass, with a 2001 chianti at £6.50. Prices of bottles begin with a merlot and a chardonnay, both from the Veneto, at £14.95. Lots of prestigious wines appear, with considerable strength among the 'super-Tuscans' – 1982 Tignanello is £350, 1998 Ornellaia is £280 and 1982 Sassicaia is £650. Signor Gaja is also well represented – his 1996 Barbaresco, Sori San Lorenzo, is £380.
Chef Piero Boi's menu is described as 'modern Italian'. A set meal is available for lunch or dinner at £17.95 (for 2 courses) or £21 (for 3 courses). Eating à la carte, as I did, will cost around £45-£50 for four courses. To my table, waiters in white aprons brought good carpaccio of beef, with a mustard, lemon and olive oil dressing, ravioli of osso bucco, tasty roasted rump of lamb (with a side order of roasted potatoes with rosemary) and a truly excellent (and elegant) version of tiramisu.
I left and sauntered down Savile Row, pausing to look into the shop windows – brightly lit façades in front of the now-quiet fitting rooms and workshops of the bespoke tailors. How fortunate is London to have emporia of this quality. Such places elevate the spending of money to a high plane. If you intend to visit London for some shopping, you too might want to stay at the Sheraton Park Tower and to eat at Sartoria. I think you will enjoy them both.
---
ADDRESSES
SHERATON PARK TOWER
101 Knightsbridge, London SW1X 7RN, England.
Telephone +44 (0)207 235 8050
Fax +44 (0)207 235 8231
Email: central.london.reservations@sheraton.com
www.sheraton.com/parktower
Double rooms from £470, breakfast extra
Ask about special offers
SARTORIA
20 Savile Row, London W1X 1AE, England.
Telephone +44 (0)207 534 7000
Fax +44 (0)207 534 7070
Email: sartoriareservations@conran-restaurants.co.uk
www.conran.com
Closed: Sunday