United States
CALIFORNIA
LOS ANGELES
SOFITEL LOS ANGELES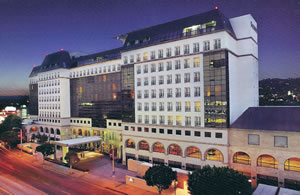 I think I have found the secret of rejuvenation. Before I am besieged by those readers of more mature years, I should explain that this elixir of youth comes not as a medicinal pill or a chemical tincture, but rather in the altogether more attractive form of a very good hotel in California, very close to Beverly Hills. Here is a place which exudes the mystique of youth and seems to have testosterone in its every architectural angle. It can certainly have had few more fuddy-duddy guests than your correspondent. Yet it still managed to cosset and charm me and – more important now that I qualify for the free travel pass – it enabled me to leave with the feeling that I had lost a few wrinkles. This small miracle was performed by the Sofitel Los Angeles.
You will see from my picture that the exterior of the building is decent, in the way of the late 1980s (which is when it was built), but it gives little hint of what is within. Indeed, it was only when I stepped across the threshold – accompanied by a member of staff, for they are solicitous folk here, and take care to rush out to greet new arrivals, a sign that that the General Manager, Günther Zweimüller, heads a good team – that I was able to take in the effect of the recent $40 million makeover. George Yabu and Glenn Pushelberg were responsible for the style of the public spaces, and I judged their efforts a resounding success. I am not by inclination a Modernist, but the stainless steel and black of the lobby (pictured) I found remarkably welcoming. The warm colours of the bar and the lofty ceilings of the dining room (both pictured) also made this guest grateful for what today's designers can achieve, when they are bright and talented.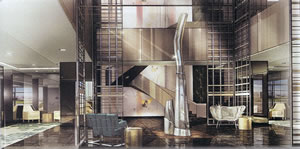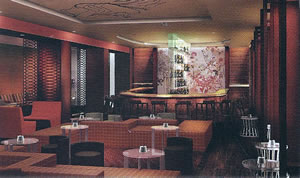 I arrived quite late and therefore received another blessing, a greeting from Matthew Atkins. Mr Atkins rejoices in the title of 'Evening Front Office Operations Manager'. This friendly and hard-working fellow went out of his way to ensure that my stay was enjoyable, and his reward was to be dragged out into the sunshine one morning to be photographed with your correspondent. The resulting double portrait I present for your edification.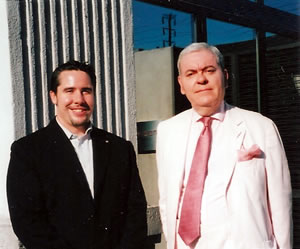 My accommodation was on the top (10th) floor. I would strongly recommend that you go for a room on one of the higher floors, with a lower room number (for example, 901 rather than 945) and on the Hollywood Hills side. Los Angeles is a busy place, and the traffic noise can be a nuisance. Following my advice will ensure that you will enjoy a billet which possesses both quietness and a lovely view – like mine.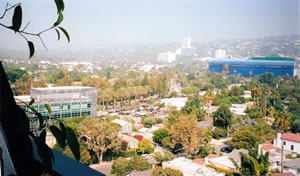 Room 1017 was a 'Presidential Suite' (and therefore, according to season, $1,000-$2,000 a night, breakfast extra). Like all the rooms, this was the work of designer Cheryl Rowley. Double doors led into a hallway of polished black granite. Straight ahead was a French window to a balcony with that view of the Hollywood Hills (pictured). In the hazy distance I could just make out the capital letters of the famous 'Hollywood' sign. To the left was my sitting room, where the large windows took advantage of the same panorama. Even in the evenings, I did not feel the need to lower the electrical blinds to obscure this precious vista. I liked the hints of Art Déco here – like the upholstery of striped black and silver velvet and the patent black leather of the desk chairs. With virtually all the lighting (from table lamps, spotlights and a standard lamp) dimmable, it was possible to create a most pleasant atmosphere. With Mozart on the cd player (I now travel with my own discs, although the local classical radio station – on 91.5fm – is good) and the air-conditioning blissfully quiet, I was able to sit on the sofa and doze away the Californian afternoons.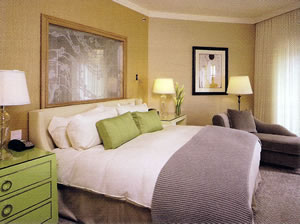 I am a fan of sliding doors, and here there was one from the hallway to the bedroom, wherein there was another chance to enjoy the view. The stylish bathroom, with much use of chrome and limestone, was enormous. The Sofitel and, I suppose, young people prefer showers to baths and so there was no tub. I am not at one with them on this, for I like the womb-like security of immersion to the bracing effects of the torrential downpour. Still, if a shower it must be, this was the sort of shower to have. In fact, it was two showers in one, with seating, Roger & Gallet toiletries and soft white towels to help along the cleansing.
Thus abluted, I made my way down to the hotel's restaurant, Simon LA. The Simon in question is Chef Kerry Simon (pictured), for this is one of his establishments. The Restaurant Manager, Klaus Doelling from Germany (pictured), followed the house style by ensuring that I was looked after very well indeed. This meant having a table on the patio – for although the room is certainly handsome, the patrons like their canned music and not enough years had dropped off for me to have lost my desire for quietness with my dinner. Chef de Cuisine Michael Fiorelli arrived in these kitchens from New York. He provided a meal of straightforward, well-balanced dishes with clear flavours – brought to me by the charming waitress, Rebecca. Roasted young beets with goat's cheese were followed by beef tartare with artichoke chips and lemon aioli. For my main course, it was more good beef, this time fillet, with mushrooms, truffled mashed potato and steamed asparagus and then I concluded with an apple tart. (These four courses were $77.)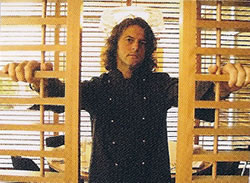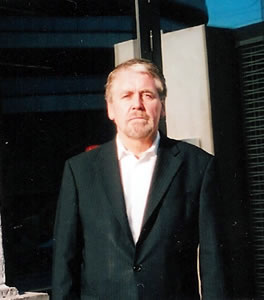 It was good to see Australian wines in the cellar, with the 2002 vintage of Penfolds Grange available at $350. The list is organized by grape variety, which makes for some startling neighbours. France is well represented. 1998 Dom Pérignon is $330 and 1999 Ducru Beaucaillou is $250. I began with a lovely German Riesling of apples and pears (Bex, 2006 – only 10% in alcohol and only $40 in price) and then moved on to a sumptuous Napa Valley cabernet, with oodles of black fruit, soft tannins and a lingering taste of liquorice (Newton unfiltered, 2005 - $97). This was good drinking.
Breakfast was pretty good, too. Back on the patio, each morning I tucked into orange juice, cornflakes, crisp bacon, a bowl of blueberries and pineapple, toast and coffee – all of excellent quality and brought for me, not by me. This was a bargain at $29.
Oh dear. Re-reading my words, I am not sure that I have communicated sufficiently the ease with which I slipped into the youthful ways of this attractive place. Still, I did, I promise you. And you will, too. The secret of rejuvenation is (at least in part) the Sofitel Los Angeles.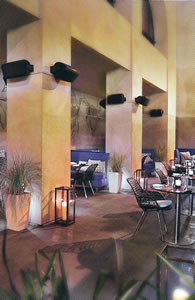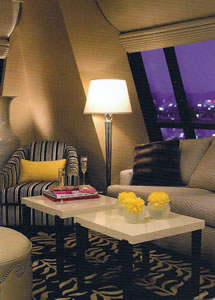 ---