United States
CALIFORNIA
HUNTINGTON BEACH & DEL MAR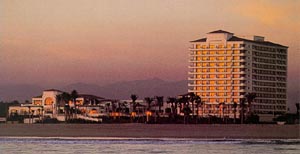 Going to Southern California, I thought I should travel in style. So I did – not only for the flit across the Atlantic, but also after I had arrived.
In the Virgin Clubhouse at Heathrow, Mr Grey burnished my brogues while I nibbled on some strawberries and waited for the moment when my curls would be trimmed by the hairdresser. Travelling Upper Class with Virgin Atlantic enables one to look one's best. And on the aeroplane, the on-flight masseuse, Claire, was ready to make me feel pretty good, too. The neck and back massage from her gentle hands put me in the right frame of mind for a good meal. From the 'Freedom Menu' (from which passengers can order at any time during the flight) I chose two of the best dishes I have ever eaten in the skies: pan-seared salmon, with new potatoes and asparagus, and beef fillet with mashed potatoes and courgettes. Tastes and textures all spot on. As always, the bold white wine showed best in the clouds – here, the fat and creamy 2001 La Crema chardonnay from Sonoma County.
Thus fortified, I adjusted my red and purple throne to just the right degree of recumbency and drifted in and out of the Land of Nod until I awoke fully and finally – to peer through the porthole at the lights of Los Angeles below. Throughout the night my every whim had been satisfied with the utmost courtesy by the purser, James Curtis, and his team. Around £6,000 return seemed a fair price for so much space, comfort and attention – but the Apex offers available (ask the airline for details) slash this by thousands and strike me as astonishingly good value.
I then picked up my hire car with so little fuss and bother that I began to realise that the Good Fairy of Travellers was on my case. For the modest sum of £30 a day, Holiday Autos had arranged a sparkling silver Buick Century (classified as the 'intermediate' size) for my use. At night, in a foreign country, in an unfamiliar car – I was slightly nervous. But this spacious saloon virtually drove itself. With its automatic gearbox, electric windows and air conditioning, it swept me along in style while its sound system – tuned to 105·1 FM – surrounded me with Mozart.
Ever the one to live the Californian cliché, I headed for the sea, sand and … surf. Indeed, Huntington Beach – 30 miles south of LA – is so popular with the muscular youths who ride the waves that it is known as Surf City. And it takes its title seriously. Which other town can boast a civic statue of a great surfer, or claim to be the home of the 'International Museum of Surfing'? I found the former by the entrance to the pier; the latter I sought, but without success. I think it must be rather small.
No one, however, can miss the Hilton Waterfront Beach Resort, for its 12 stories dominate the 8 miles of sandy beach. Arriving jet-lagged, I immediately perked up when I walked into the hotel's impressive entrance. I like fountains, high ceilings and stylish furniture, and here they all were. Between the hotel and the sea is the Pacific Coast Highway, but the building's clever design means that the road impinges not at all on the cool and comfort within. And my initial impression of a fine, well-run hostelry was confirmed by my contact with members of the friendly and well-motivated staff. General Manager John Gilbert is clearly running a happy ship.
Upstairs, I liked room 626 on the 6th floor. This was an Ocean Front suite (£270 a night, breakfast extra), with marble floors, beige colours, bright oil paintings of the local area, plenty of comfortable seating, wonderful bedding and a balcony which wrapped itself around the corner of the building. It was a real treat to wake up early, draw open the curtains and look straight out at the Pacific Ocean. This and a proper breakfast of crispy bacon, rye toast and fresh pineapple (allow £10-£12 each) set me up for my surfing – that is, for sitting in the sunshine on the pier while the young folk below balanced on their boards.
Then it was back for dinner in the hotel's Palm Court Restaurant. In this room of peach tones, whirling fans and palm trees bedecked with fairy lights, chef Jeff Littlefield provided me with an enjoyable meal of straightforward dishes: lobster salad (enlivened considerably by its shavings of fennel), smoked salmon, grilled steak and orange essence chocolate cheesecake. (About £40 for four courses.) The wine list offers keen prices (a Mondavi chardonnay can be had for £13.50), and Restaurant Manager Edmund Browning III brought me a magnificent bottle for £90. The 1997 Howell Mountain Merlot, from Beringer in the Napa Valley, reminded me of a really good super-Tuscan – elegant, luscious, with a refined structure and an enormous depth of black fruit. Lovely drinking – at a lovely hotel.
After the vaguely Art Déco style of the Hilton, 70 miles of gentle cruising southwards in the Buick brought me to the 'modern Tudor' of L'Auberge Del Mar. Del Mar is famous for its horse racing, but for me its attraction is its small scale, its calm, its ravishingly beautiful coastline and its perfectly maintained lawns and pathways overlooking the sea. Yes, I liked Del Mar.
And I liked the Auberge. Its 5 acres of gardens are exquisite – breakfasting by a waterfall, surrounded by flowers and palms, was quite magical. Modestly proportioned, but beautifully turned out: thus the inn and thus my room. Number 234 was in the south wing of the 120-room property and designated a deluxe (£225-£320 a night, according to season, breakfast extra). Attention to detail was evident all around – I appreciated particularly the notice-board next to the writing table and the proper clock with a dial by my bed. (The latter even glowed a soft green after lights out…) From my wooden balcony I looked across the swimming pool, through the trees to the waves of the Pacific.
Never having been knowingly under-dressed, I suppose that I must have cut an unusual figure in laid-back Del Mar, with my starched collar and tie, summer suit and panama. On my afternoon stroll an elderly lady stopped me. "Are you here to provide the entertainment?" she asked with a smile. A few steps on and another lady (somewhat younger) enquired, "Are you in a theatrical production?" Since both my interlocutors were so utterly charming, I decided that I had been the recipient of compliments – California-style.
In the Auberge's restaurant – named J.Taylor's, after one of Del Mar's founding fathers – there was more Californian style: in the size of the portions. You will not go to bed hungry here. Executive Chef Tom Atkins presents an attractive menu, which he describes as "a blend of Mediterranean, Mexican and American". Sitting in a wing chair next to a fireplace, I looked around at the high ceilings, subdued lighting and waiters in white shirts. In this pleasant and relaxing environment I tucked into a salad of local greens, fried foie gras with duck confit ravioli and citrus caramel duck breast with super baby carrots. Thereafter I could manage only a portion of vanilla ice cream. (£35 for these courses.) And here was another very good Napa Valley merlot, with a hint of a vegetal nose – Duckhorn Vineyards, 2000 - £32, half.
Before I left the excellent Auberge, I walked across the Pacific Highway and up the steps to the top of the Del Mar Plaza. I recommend you do this, too. For then you will be at the Pacifica Del Mar Restaurant, where chef Christopher Idso serves his "creative coastal cuisine".
From my table on the terrace, with the stars above and animated diners all around, I gazed across the roofs of the Auberge towards the blackness of the sea. Ann, my waitress, brought me four carefully prepared dishes: a delicious salad with blue cheese and dried cranberries, pancetta-wrapped scallops with lemon and basil, beef fillet with a zinfandel sauce and, to finish, a refreshing blackcurrant and cabernet sorbet (£35). Expect clear tastes and more large portions. On Thursdays, every bottle of wine on the list is half price – so my splendid chardonnay (1999, Potelle – yeasty, full-bodied and long-legged) was £21, instead of its normal £42. This arrangement will allow you to drink some real bargains – like one of the greatest of red burgundies from a good vintage, 1996 La Tâche, knocked down on Thursdays to a remarkably low £225.
Back at L'Auberge, I drifted into sleep with thoughts of that burgundy being poured into my glass … You, too, can look forward to such dreams if you do Southern California in style.
---
ADDRESSES
VIRGIN ATLANTIC
Upper Class Reservations Telephone 01293 747 500
Check prices change according to season. Samples:
Heathrow to Los Angeles full fare £6,112.10
42 day Apex – to be booked at least 42 days before travel, must stay a Saturday night - £2,025.70, including taxes.
HOLIDAY AUTOS
Telephone 0870 400 4453
HILTON WATERFRONT BEACH RESORT
21100 Pacific Coast Highway, Huntington Beach, California 92648, U.S.A.
Telephone +1 714 960 7873
Fax +1 714 960 3791
www.waterfrontbeachresort.hilton.com
Double rooms from $275, breakfast extra
L'AUBERGE DEL MAR RESORT AND SPA
1540 Camino Del Mar, Del Mar, California 92014, U.S.A.
Telephone +1 858 259 1515
Fax +1 858 755 4940
www.laubergedelmar.com
Double rooms from $260, depending on season
PACIFICA DEL MAR RESTAURANT
1555 Camino Del Mar, Del Mar, California 92014, U.S.A.
Telephone +1 858 792 0476
Fax +1 858 792 0848
www.pacificadelmar.com
Open daily for lunch and dinner