UNITED STATES
CALIFORNIA
SAN FRANCISCO
SPRUCE RESTAURANT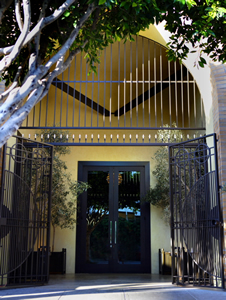 Spruce is one of the best restaurants in San Francisco. In a city which is justly famous for the number and quality of its eateries, Spruce stands out not only for its food, its stimulating atmosphere and its efficient service, but also for its exciting approach to wine. I have eaten veal sweetbreads many, many times. But at no other restaurant on this planet have I been encouraged to drink with them… a glass of Madeira. And now I know what I have been missing. If this had been the only blessing bestowed upon me in this dark and lofty dining room, it would have been sufficient reward for taking the cab from central San Francisco to affluent Presidio Heights. But there were more, many more.
Spruce inhabits a space designed by Stephen Brady. It has walls covered in chocolate-coloured mohair, chairs upholstered in faux ostrich skin and paintings by the contemporary Japanese artist, Shiraga. It also has loud 'thumping' music in the background. My regular readers will therefore suppose that I found it utterly uncongenial. In fact, rather to my own surprise, I did not. Admittedly, I had one of the best tables, next to the wall and therefore slightly – but only slightly – set apart from the centre of the noise and the bustle. But I had the sense that everything here was being done with such a sense of stylish good humour that I felt entirely happy, even if I did have to raise my voice to speak to my companion and strain slightly to hear the words of the sommelier.
I was particularly keen to hear his words clearly because he was such a knowledgeable and enthusiastic fellow. He was Christopher Gaither, Lead Sommelier (pictured, without a tie). I felt he had something of the wine artist about him. He recommended all the wines I drank, and his recommendations were all excellent. Of course, he had a wonderful palate from which to choose his colours. The wine list at Spruce has two and a half thousand offerings, and they include (mirabile dictu!) no fewer than 160 German rieslings. And there are 50 fortified wines by the glass. The Wine Director and Partner, Andrew Green, is to be congratulated on building up this impressive cellar. Prices range from £28 for a muscadet to $4,950 for the 2005 DRC Montrachet, $6,400 for the 1998 Pétrus and $6,500 for a magnum of 1985 Sassicaia. One helpful feature of the list is the inclusion of a section of bottles of red and white wines priced at under $80.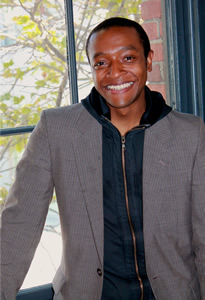 Mr Gaither played, quite rightly, to the list's strengths. Thus I quaffed a bright and piercing German riesling kabinett from the Mosel with just 8∙5% alcohol (Joseph Rosch, Leiwener Klostergarten, Cuvée Bacchus, 2010 - $11, glass), the wonderful 1978 Madeira (the details of which, in my astonishment, I omitted to note, but it was one of the fifty fortified wines available by the glass), a brilliant, thrillingly dense, blackcurrant-laden cabernet blend from the Napa Valley (Lail Vineyards, Blueprint, 2007 - $80, half) and a smooth, firm, riesling spätlese from the Rheingau with captivating hints of petrol in the nose (Schloss Vollrads, 2005 - $15, glass).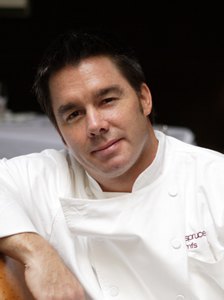 The food of Chef and Partner Mark Sullivan (pictured) and his Chef de Cuisine John Madriaga attracts a star from the Michelin inspectors. It is first class. I began with a salad of Heirloom tomatoes. I love tomatoes – but not those apologies for tomatoes which are grown on water (hence their complete lack of taste) and offered in our supermarkets. These were lovely, and balanced so well with corn bread croutons, basil and watercress. Then came those gorgeous veal sweetbreads, with cauliflower, baby artichokes and sauce Africaine. I thought it remarkable that in such a busy restaurant the kitchen could cook this dish with absolute precision. This means there is iron discipline at the stoves.
I was quite clear that this would be the highlight of the meal – until my main course arrived. Duck from Liberty Farms is always good. This was superb. I was overjoyed that it was so tender and so full of ravishing taste and that it came with exactly the right companions – savory bread pudding, wild arugula, blackberries and potatoes roasted in duck fat. At the end of my dinner I shot back to the days of my youth with a seriously jolly pudding – peach ice cream float with ginger soda and blackberry granitée. (These four courses were $75.)
All this was brought to my table by David, the friendly waiter who ensured that my evening proceeded at the proper pace, neither too slow nor too fast. Like the rest of the waiting staff, he wore a black waistcoat and a white apron. This was a smart uniform. And the rest of Spruce was smart, too: the white damask tablecloths, the good glassware (a mixture of Stölzle and Spiegelau) and the diligence with which the napkins of those diners who left their places for a moment were re-folded. Clearly, Partner and Owner, Tim Stannard, knows how to run a good restaurant.
And that is what Spruce is: a good restaurant. In fact, it is a very good restaurant. It is one of the best restaurants in San Francisco.
---
ADDRESSES
SPRUCE
3460 Sacramento Street (at Locust Drive), San Francisco, California 94118, U.S.A.
Telephone +1 415 931 5100
Email: info@sprucesf.com
www.sprucesf.com
Open for lunch Monday to Friday, and for dinner every day