United Kingdom
England
LONDON
STAFFORD HOTEL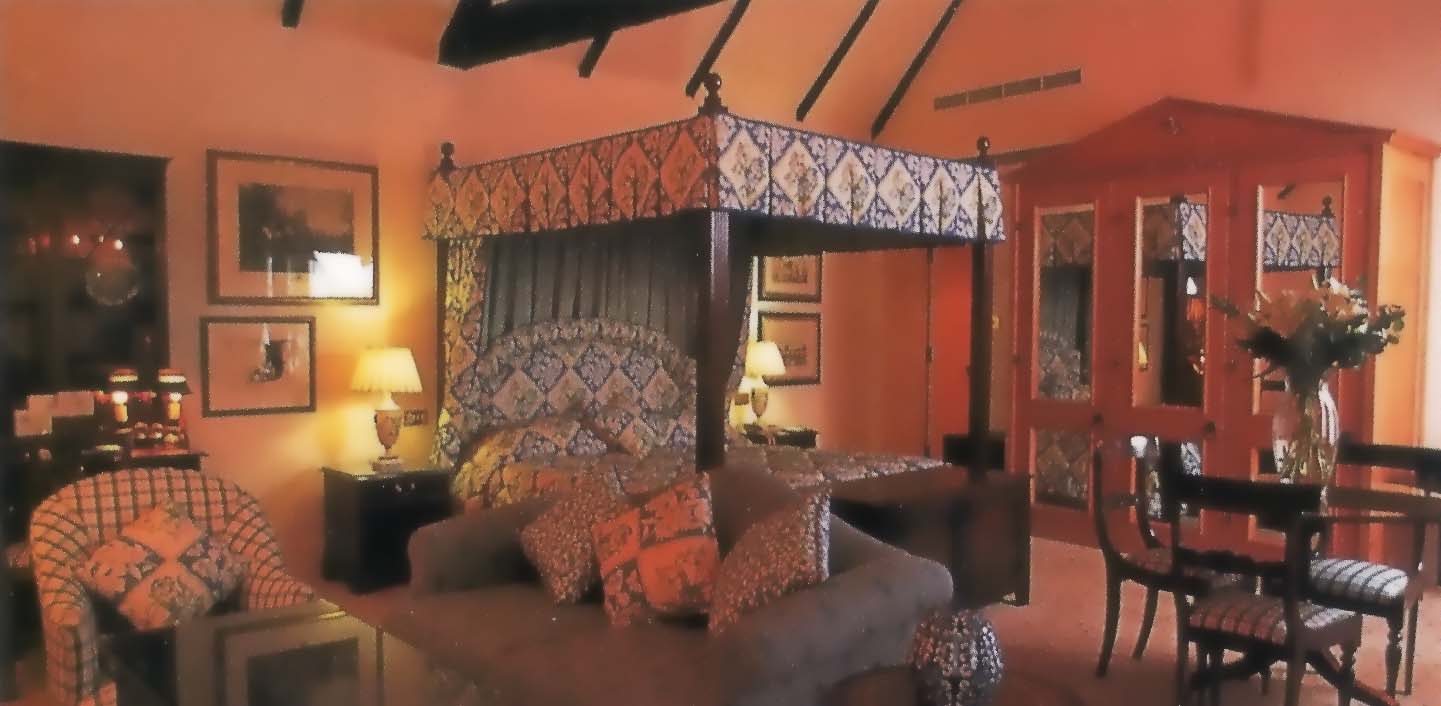 Here's a pleasant stroll in London. Enter Green Park by the gates next to the underground station on Piccadilly. Walk straight down the wide path in front of you and – after about 200 yards – take the narrow passage which leads under the tall buildings which frame the left-hand side of the Park. You will emerge in the delightful little cul-de-sac which is St James's Place. And right opposite you will be one of London's most civilized hotels.
The Stafford is a gem. Made from a trio of townhouses, it has for 90 years provided a discreet and luxurious hideaway for persons of quality who wish not only to relax away from the public gaze but also to remain very close to the centre of things. (I suspect it is not insignificant that several portraits of the Queen Mother adorn its walls…) I parked the Royce outside the regal portals of Spencer House, only a few steps away, and when I glanced back I fancied I could discern a contented smile across her radiator. It occurred to me that I had not seen her look so happy since she was at that excellent hotel in Rutland, Hambleton Hall.
This turned out to be an appropriate thought, for the friendly resident manager who greeted me as I checked in was Rupert Elliott – whom I last met when he was working at the said Hambleton. Clearly, he has determined that his career should take him only to the best places. Good for him.
Mr Elliott took me on a brief tour of the sitting rooms (classically elegant in the manner of a decent country house, and full of plump sofas and elegant knick-knacks – a bronze horse here, a dish of ostrich eggs there). The bar intrigued me, for from its ceiling hang hundreds of ties and hats – many of them with sporting and American connections. Then it was out into Blue Ball Yard at the back of the hotel, where some 18th century stables have been converted into very swish guest rooms. And the swishest – a duplex arrangement called 'The Guv'nor's Suite' – brought me up with a start. For I realised that I had been in this chamber 15 years previously. Then, it had been part of a flat occupied by a friend of mine, and had been his print room. Time Marches On.
Back to today. My own apartment was on the fourth floor of the main building, and a pleasing and comfortable billet it turned out to be. Room 405 is classed as a 'deluxe' and therefore comes in at £310 a night for two, breakfast extra. From its hallway I passed into a bedroom with cream and red wallpaper, fitted wardrobes, a safe, effective air conditioning and pieces of furniture (including a chest of drawers and a pedestal side table) in polished mahogany. Its 8 controllable lamps (2 wall, 2 picture, 1 standard and 3 table) enabled me to adjust the lighting to my desired level. Like all welcoming rooms, this one had a focal point – a fireplace, with pine cones in its grate and obelisks on its mantelshelf. On the writing table was a list of plays currently at London theatres, with critical reviews attached – a thoughtful provision, much appreciated by this guest. I also liked the bathroom in white marble, with its separate shower cubicle and Floris toiletries.
Down for dinner, I was glad I had made an effort to dress decently, for the Stafford possesses a most elegant dining room in blue and white, with swagged-and-tailed curtains and Doric pilasters. I seated myself in a fauteuil upholstered in red damask. Before me was a table of good size with a white cloth and a brass candlestick. I awarded two gold stars immediately: for the absence of canned music and for the good glasses by Spiegelau.
Food at the Stafford is resolutely traditional. But do not therefore suppose that the kitchen is resting lazily upon its laurels. In fact, chef Christopher Oakes is turning out some appealing dishes. Smoked salmon with brown bread and butter was simple and straightforward – but it was also good. A creamy scallop and langoustine ragout was full of flavour, although perhaps marginally over-salted for my palate. Grilled entrecote steak was tremendously tasty. And pistachio ice cream with meringue and strawberries made a refreshing conclusion to what was an enjoyable meal. These four courses from the carte cost £64.50. (A three course set dinner is available at £32.50.) I felt well looked after by Restaurant Manager Mustapha Begdouri and his waiters in their red jackets. (Indeed, every member of staff I encountered at the Stafford was helpful: I conclude that Executive Director Terry Holmes is running a happy and efficient ship.)
Given the presence of the Spiegelau glasses, it was no surprise to find a wine list full of interest – with great clarets like 1982 Lafite (£850) and 1989 Pichon Longueville Comtesse de Lalande (£189), the best Italians like 1997 Solaia (£138) and red burgundy from one of my favourite producers, Domaine de l'Arlot (its 1995 Nuits-St-Georges 1er Cru is £64.50). What I did not expect was to drink so well so cheaply. I tried the house chardonnay at £19.50 and found this particular vin de pays d'Oc full-bodied and well-structured, with layers of crisp lemon and hints of toast. Thus encouraged, I went – for the same modest outlay – for a Chilean cabernet, and it was even better. 1998 Los Vascos was plummy in the nose, with a whiff of farmyard, full-bodied and laden with cherries in the mouth and possessed of excellent length. I wish every cellar could offer such a wine for under £20.
I returned to the dining room the following morning for breakfast. (The full English version is £16.50.) It was a bit slow in coming, and I began to be impatient. But when it did arrive, it was quite splendid. The smoked haddock was succulent and delicate and, in my own portion and in that of my companion, not a single bone could be found. Near miraculous. Together with good coffee and orange juice, super marmalade with my toast and a dish of fresh raspberries, this constituted as fine a start to the day as I have enjoyed for some time.
Food and drink here does not, of course, have to be a restaurant meal. For £17 you can enjoy the delights of afternoon tea. What better of a Sunday afternoon than to spend an hour in a deckchair in St James's Park, listening to the band (ideally, playing some Gilbert and Sullivan), before sauntering back past St James's Palace to dainty sandwiches (of cucumber, beef and smoked salmon), pretty pastries and scones (with clotted cream and strawberry jam) at the Stafford? Which is precisely what I did. Sitting on a red striped sofa, next to the fireplace in the drawing room, with the long-case clock striking in the hall, it felt good to be in England.
When I returned to the Royce, I thought I might have to revise my opinion. Stuck on the windscreen was a notice. I began to rehearse a few choice exclamations. But what did it say? "What a joy – just to see such a car!" Thirty-nine years old, and she can still attract such admiration. A bit like the Stafford, really – ninety years old, and still admired. So here is my message to her: What a joy – just to visit such an hotel!
---