ITALY
FLORENCE
THE ST REGIS FLORENCE HOTEL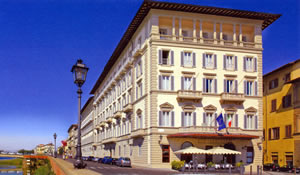 I do like hotels to give me a bit of personal attention. When I arrived back at the wonderful St Regis Florence, I found that, on the bed of my suite, had been carefully laid out ten pictorial representations of the Ten Commandments which adorn that other website for the discerning, Bown's Bespoke. For example, with the legend, "No device has done more to promote the vulgarisation of our public spaces than the portable telephone", was a picture of one of the nasty things with a red line through it. The fine gentleman responsible for this thoughtful and amusing welcome was my butler, Andrea Nigi, whose picture I present to you. The butler service comes with the higher categories of accommodation, and is one of the reasons – and there are many – that the St Regis Florence is an exceptional hotel in this exceptional city. The charming General Manager, Valentini Bertolini, is rightly proud of his property.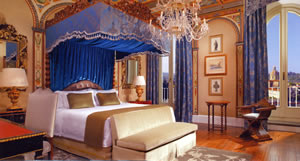 I always knew this was a good hotel. I visited it on one of my very first trips to Italy, more years ago than I care to remember. Then it was called The Grand. Now it is the St Regis and it has been so wonderfully restored that I bow my head in admiration for its comfort, luxury and style. I emphasise the final word because 'restoration' sometimes does not result in style: too often it obliterates it. It was therefore such a relief to march into this palace (the exterior of which was designed by the great Brunelleschi for the Giuntini family) and see immediately that there was no sign of that silly modernity which has spoilt so many other grand hotels. I am tired of those 'designer interiors' which have been concocted to look fascinating in hotel brochures and in glossy magazines, but which are virtually unusable in practice. There is none of that nonsense at the St Regis. It looks – and is – triumphantly traditional, and is therefore both magnificently stylish and supremely comfortable.
Its 100 rooms are models of what I want to find in a luxury hotel, for they are full of those details which make the difference between a good hotel and a great hotel. They are also packed with costly velvets, gilded wood and glittering crystal. My own apartment was one of the junior suites and therefore 1,425€ - 2,305€ a night, bed and breakfast for two, according to season. (The word 'junior' might be misleading, for it was anything but modest.) Room 108 was the Botticelli Suite. Elegant, refined and spacious, with 12 foot ceilings, wood-block flooring throughout and a colour scheme of white, grey and dark blue, this was exactly the sort of apartment I like when I am in Italy. And, of course, it had a view, for its terrace overlooked both the Arno River and the piazza Ognissanti. (This square contains the eponymous All Saints' Church, a gorgeous gem wherein the old Latin Mass is still celebrated and in which is to be found a painted face by Ghirlandaio of Amerigo Vespucci, after whom America is said to have been named.)
In the proper hallway was a fitted cloakroom. Then the sitting room provided plenty of space for a sofa, two easy chairs and a substantial writing desk. On the walls were paintings and engravings of Florence. Cushions were as they should always be – abundant. Above a chandelier twinkled, while table lamps glowed all around. Through an archway was the bedroom, with a bed of kingly size and regal comfort, two more easy chairs, lots of mirrors (how strange it is, that some hotels think one does not require a mirror in the bedroom), a second television and dvd machine and a second chandelier, this one with a dimming facility. On the way to the bathroom was a walk-in wardrobe with a private safe. The place of ablutions itself was a chamber of white marble and grey stone, with two wash basins, a decent tub, a separate shower and a bidet.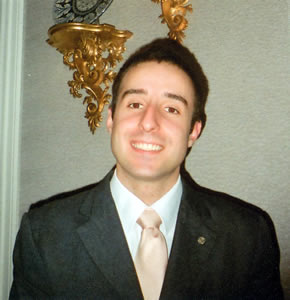 I could have dined in my suite, but there was an even more magnificent chamber waiting for me downstairs. The Restaurant Winter Garden by Caino, together with its bar, occupies a high, stately hall with one of the largest crystal chandeliers I have ever seen. Here, reclining in an armchair before dinner, to the sound of a tinkling pianist, I quaffed a glass or two of Pommery champagne – the top of the bottle having been expertly sliced off with a sabre by one of the barmen. Then I was taken to my table by the Maîtresse d', Anna – who, together with Claudio (who dealt with the wine) and the other members of her team, looked after me with the utmost charm and courtesy during the evening.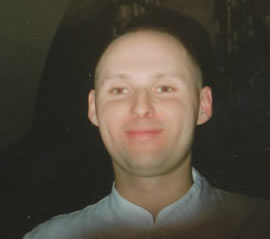 Michele Griglio (pictured) is a very talented chef. His cuisine – which has been awarded the accolade of a Michelin star – is based on ingredients of the highest quality, which he handles with sensitivity and intelligence. The menu is the result of a collaboration with Chef Valeria Piccini, whose two-star restaurant is in Montemorano and is called 'Da Caino' (hence the name here). Mr Griglio's plates are attractive to the eye, which is a characteristic which always pleases me. A five-course tasting menu is offered at 95€. My three courses from the carte were 85€.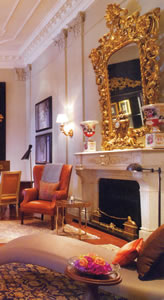 I began with roasted pigeon, with raspberry jelly, lemon, celery and terrine of foie gras – the whole confection displayed artistically on a white oblong plate. My pasta was soft and yielding tortelli, stuffed with pecorino cheese. Broad beans and crisp bacon added to the interest. But, without doubt, the finest dish of the evening was the roasted rack of lamb. Lamb in Italy is really so much better than it used to be. I do not know why this is, but I am happy to rejoice at the improvement. This meat was beautifully pink, tender and tasty. It appeared wrapped in sweet pepper and accompanied by yogurt and crumbled mint.
Schott glasses stood on the yellow patterned tablecloth and suggested that good wine was to be had. It was. Most of the 321 offerings on the list are Italian and French, but there are also temptations from elsewhere – for example, a 2007 riesling eiswein from Germany (Kerpen, 120€, half). 28 wines are available by the glass, including the excellent red Tuscan, Piaggia (2011), for 14€. Prices for bottles run from 35€ for a Piedmontese red to 4,100€ for the 2010 vintage of Pétrus. Other bottles to catch my eye were: Krug Grande Cuvée (340€), 2011 Sassicaia (295€), 2012 Ornellaia (250€), 2012 Masseto (950€), 2006 Margaux (1,250€) and 2011 Opus One (780€).
For breakfast I returned to these impressive surroundings. But this time I was not at ground level but in the gallery. Here, in a typical act of kindness by the friendly staff, the canned music was turned off for me. Thus I sat, surrounded by stone columns and with stained glass overhead, in restful calm and tucked into comestibles of top quality from the buffet – raspberries, melon, pineapple, corn flakes, bacon, tomatoes, croissants and onion omelettes (made at the omelette station), washed down by freshly squeezed orange juice and silver pots of good coffee. Breaking the fast at the St Regis was a joy.
And, indeed, the whole of my stay was a joy. If, like me, you want your hotel to give you a bit of personal attention, this is the place for you. The St Regis Florence is an exceptional hotel in an exceptional city.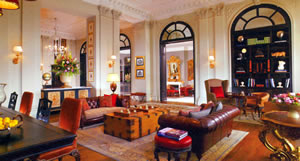 ---