Italy
ROME
THE GRAND HOTEL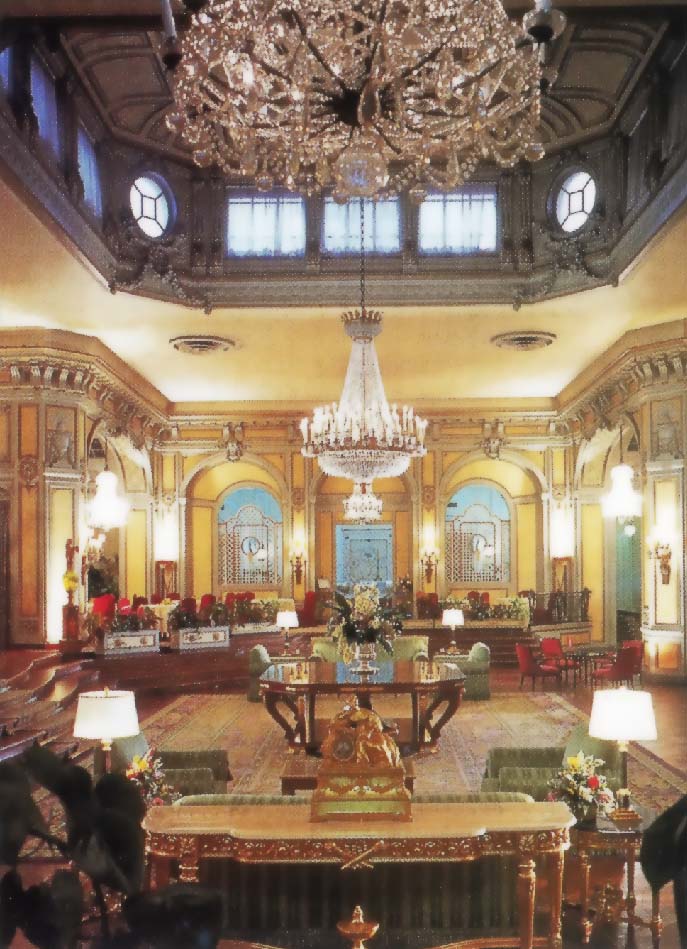 All that glisters is not gold. Words, as I am sure you know, from The Merchant of Venice. As usual, the Bard was right: one must not be misled by outward show. But gold leaf is fun, and I am sure that Shakespeare himself – were he to reappear – would enjoy a couple of night's at Rome's newly restored St Regis Grand Hotel. Our Will would certainly be surrounded by much that glisters – and gleams and sparkles.
César Ritz opened the Grand in 1898 and employed the famous Escoffier to found its kitchen – so there is a serious weight of tradition here. But the glory had faded by the 1990s, and the old dear was looking decidedly sad. Still, it is remarkable how £25 million can spruce up an elderly dame. Now she is back to her prime and ready to take on the best of them. I strode into the entrance and was delighted to find how well the work has been done. The marble floors, the Napoleon III bronze clocks, the crystal chandeliers, the painted ceilings, the gilt candelabra, the potted palms, the fluted Ionic columns – all restored, and all combining to create a setting which is once again both majestic and luxurious.
Outside is a busy road, and Rome's drivers are not famous for their quiet courtesy. Yet not one decibel of traffic noise penetrated to disturb the restful calm. And there is one enormous advantage to the Grand's location: it is but a couple of steps from the Church of Santa Maria della Vittoria, in which is to be found the ultimate masterpiece of Roman Baroque sculpture. Bernini's Ecstasy of St Teresa of Avila seems to overturn the nature of its material. How can hard, cold marble look so like delicate skin and ruffled cloth?
Room 324 was designated a Deluxe and was therefore £400 a night, bed and breakfast for two. It was not particularly large, but it was well turned out. Cream and yellow walls for the bedroom and beige marble for the bathroom, a Murano crystal chandelier as well as spotlights, a safe, air conditioning, a fresco over the beds and pieces of furniture in the French Empire style. Only one armchair, though. But a call to the front desk and another one arrived in double-quick time.
Down in the Vivendo restaurant, the formal grandeur of the public rooms gives way a smaller, more intimate scale and to a contemporary elegance. Lavender coloured hangings contrast with Corinthian columns, and the grey jackets of the waiters tone in with the silver upholstery of the armchairs. Four framed pieces of antique gold bullion embroidery (I would guess, from the dalmatic and tunicle of a High Mass set of church vestments) add a touch of flamboyance. I felt very comfortable.
Then I had a shock – of the pleasant sort. I opened the wine list. Now, if there is one sort of wine one does not expect to find on an Italian wine list, it is wine from Australia. But here I immediately spotted two familiar and much loved 1998 chardonnay friends at bargain prices: the Petaluma from the Adelaide Hills (£23) and the Cape Mentelle from the Margaret River (£20). And there were many more (plus excellent bottles from the States and, of course, from Italy). What was going on? A word to the restaurant manager and all was revealed. Federico Galligani used to work at the Royal Commonwealth Club in London, and there developed his enthusiasm for Australian wine. Good for him, and good for his customers. (Even before seeing the list and talking to Federico, I knew someone here really cared about wine, because of the good Schott glasses and the care with which the staff did not over-fill them.)
For my own drinking I went to the Napa Valley for the 1997 Beringer Private Reserve Chardonnay (£53). This gave out an astonishing farmyard nose, which gradually revealed hints of fruitcake and rum. Otherwise, it had the length and power I have admired before. My red was one of the 1998 'super Tuscans', Tignanello (£64) – a tobacco nose, full of black fruit in the mouth, rich and supple.
Chef Umberto Vezzoli displayed his gift for attractive presentation and confident handling of good ingredients by supplying me with four very enjoyable dishes (£40 from the carte). Slices of lobster and foie gras worked well. Game tortelli with toasted nuts and pecorino cheese was full of taste. Peppered beef entrecôte came with wonderful boiled potatoes interleaved with slices of truffle. And chocolate millefeuille with rice, coconut and coriander parfait had beautifully clear flavours. A good meal.
All that glisters is not gold. But the St Regis Grand in Rome glisters mightily and, in my judgement, the hospitality it provides is genuine 24 carat.
---
ADDRESSES
ST REGIS GRAND HOTEL
Via Vittorio Emanuele Orlando 3, 00185 Rome, Italy.
Telephone +39 06 47091
Fax +39 06 4747 307
www.stregis.com/GrandRome
Double rooms from £350