France
PARIS
HOTEL SAN RÉGIS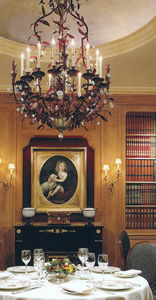 If you are looking for a small and exclusive hotel in the 8th arrondissement, close to the finest fashion houses of Paris, I have just the place. An extended town house, originally built in the 1850s, it has been an hotel since the Roaring Twenties. Crammed full of antique furniture and precious objets d'art, now it sparkles like a jewel box and its 44 rooms offer hospitality of the highest order. Its interior design is in the hands of Pierre-Yves Rochon, whose taste appeals to me very much indeed. But I found that I had yet another reason to be glad, on my recent trip to the French capital, that I was staying at the wonderful Hotel San Régis: it is a very good place in which to fall over.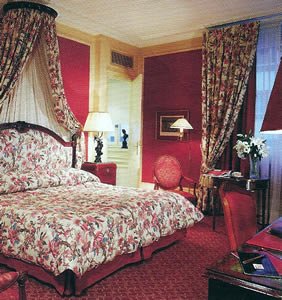 Let me assure you at once that I am not in the habit of examining the floor in such detail. My excuse was that I had been out for dinner and that I had, through circumstances beyond my control and with which I will not bore you, been obliged to consume more wine than I had intended. The alarming result was that, having safely returned to my billet, I fell over backwards. Now, in many hotels, this might have meant serious injury to yours truly. But, at the San Régis, the carpet being so thick and the unencumbered space in my bedroom being so extensive, the only harm done was to my dignity. I picked myself up, brushed myself down, and resumed my progress towards the bathroom.
This happy incident took place in room number 14, a junior suite and therefore 635 euros a night for two, breakfast extra. From the intimate corridor, a door of bleached oak led into my little hallway. Thence another door opened into my elegant and spacious bedroom. On the walls was golden silk. The carpet and the sofa were blue. From the high ceiling was suspended a five light chandelier of gilt bronze. I surmised that the writing desk and the chest of drawers dated from the Second Empire. Two tall windows looked out onto the inner part of the building. The bedside lamps were of bronze, in the form of handsome young ladies. I liked this room.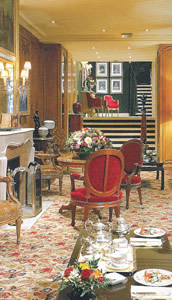 From it another door led to the second hallway, with the dressing room and bathroom off. The former was capacious, with a safe and lots of hanging space, well lit by spotlights. Off the bathroom, a handsome chamber of brown marble and yellow wallpaper, was a separate loo with a bidet. My ablutions were accomplished with the assistance of Hermès toiletries and white towels of delicious softness.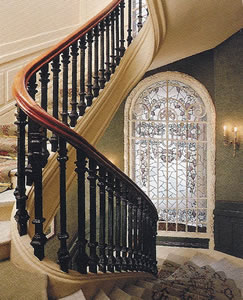 My dinner at the San Régis was not that which caused my momentary loss of balance. Rather, it was a quiet and seemly affair in the hotel's exquisite little dining room. The theme here is that of a library, for the walls are covered with the leather spines of faux books. I found this space – with just seven tables – enchanting. The chandelier of red metal, the good oil paintings (of flowers and of St John with a lamb), the fireplace of black marble, the mahogany dining furniture, the white tablecloths, the fine Barnardaud crockery – all contributed to the feeling of being in an exclusive club.
And the menu was club-like, too, with straightforward and attractive dishes, like sole meunière, fillet of beef, sea bream with fennel and crème brûlée. Said, the smiling maitre d', looked after me very well, bringing to my table dishes from Chef Christophe Lericolais which were carefully prepared and presented. A salad with duck foie gras, walnuts and parmesan was followed by the star of the evening, tagliatelle – with its grated parmesan and basil cream sauce in separate silver boats. A medallion of veal with pineapple and honey was well balanced, and the concluding croustillant of chocolate was full of rich flavour. (These four courses were 77 euros.)
Thirty French wines are available, ranging in price from 20 euros for a 1999 Médoc (Pont Royal) to 188 euros for the 2002 vintage of Pichon Lalande. I began with a half bottle of bright and breezy Laurent Perrier champagne (40 euros). Next, it was a golden and honeyed Meursault (Ch. De Blagny, 1999 – 35 euros, half). For my red I went for a Margaux. The 1998 Brane Cantenac was still young and rather stern, giving off a nose of damp oak (122 euros).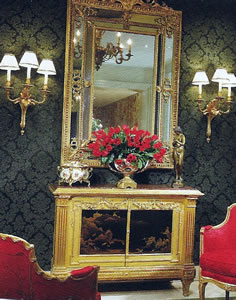 I returned to this lovely room each morning for breakfast. In its continental version (22 euros), this included super croissants, excellent orange juice, pots of good coffee (which Said was happy to replenish) and little jars of jam and marmalade by Wilkin & Son, of Tiptree, in the County of Essex.
With hotels, sometimes I like big and exclusive, and sometimes I like small and exclusive. If you want the latter in Paris, you will do no better than the brilliant San Régis.
---
ADDRESSES
HOTEL SAN RÉGIS
12 rue Jean-Goujon, Paris 75008, France.
Telephone +33 (0)1 44 95 16 16
Fax +33 (0)1 45 61 05 48
Email: message@hotel-sanregis.fr
www.hotel-sanregis.com
Double rooms from 425 euros, breakfast extra
Ask about special offers