FRANCE
FRENCH RIVIERA
CANNES
TABLE 22
I have long regarded the rue St-Antoine as one of the prettiest streets in Cannes. It runs up a steep hill in the Old Town and is full of eating establishments, many of which have employees stationed outside to try to persuade passers-by to spend their euros within. But Table 22 (formerly the Restaurant Mantel) has no need to stoop to such blandishments. It is known to be one of the best restaurants in town, and therefore 'those in the know' book their tables in advance and turn up on time. Its entrance used to be down a couple of steps at a corner, and was so discreet that you needed your wits about you to locate it. But now that has changed. The adjacent property has been incorporated into the establishment and so, given clement weather, the dining room is open to the passing world.
I like this arrangement, for a spot of people-watching can aid the digestion. I therefore settled myself into a metal-framed armchair on the terrace. Inside, Marilyn Monroe looked out from framed black-and-white photographs hung on the white walls, and the spotlights caused the glassware (by Lehmann) to sparkle in a satisfactory manner. The buzz of the place is pleasing, and I knew that, although every table was occupied, the efficient Restaurant Manager, Demetrio Argibay (who is also a partner in the business) would ensure that I was looked after well by the waitresses in white blouses.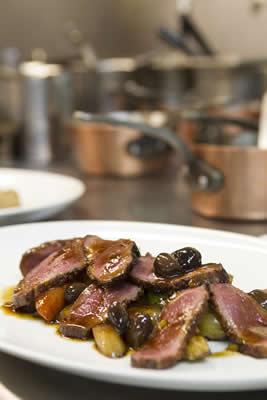 Chef Noël Mantel worked in some of the greatest kitchens on the French Riviera – including those at the Negresco in Nice, La Résidence de la Pinède in St-Tropez and the Louis XV in Monte Carlo – before opening his eponymous restaurant in Cannes in 2002. Such a pedigree raises expectations, and – I am pleased to be able to report – they are amply fulfilled. Of course, the food here is different from that served at those gastronomic shrines. It is simpler and more straightforward. But Monsieur Mantel's cuisine is based on the finest ingredients and on expert culinary technique. I found that his food spoke directly and with admirable clarity, and that it delivered huge quantities of honest pleasure.
The set menus begin at 35€ (a bargain for such good food in this part of the world). I went for three courses from the carte, for which you should allow around 90€.
I began with a luscious, yielding risotto, soaked in veal juice and topped with many slices of black truffle. The pungent aroma of the divine fungus was captivating. With it, a glass of bright Sancerre went down excellently. My main course arrived on a rectangular white plate. This was lovely, tender fillet of beef – full of taste and accompanied with some precisely cooked vegetables. Mr Argibay suggested that a full-bodied, spicy, Provençal blend of cabernet sauvignon and syrah would fit the meaty bill, and it did (Crienne, Les Auréliens, 2012). I finished this enjoyable meal with a raspberry tart with red fruit coulis.
The wine list has around 100 offerings, with prices running from 25€ for a 2012 Rhône (Dom. Martin) to 2,100€ for the 2001 La Tâche. The latter is on a page of 14 wines from the Domaine de la Romanée-Conti. Other bottles to catch my eye were the 2005 vintage of the pop stars' champagne (Cristal – 350€), a grand white burgundy from 2008 (Bâtard-Montrachet, Leflaive – 420€) and clarets from some of the best chateaux – Lagrange, Giscours, Lynch Bages, Angelus and Haut Brion.
As I walked back down the pretty rue St-Antoine, the other eateries were still doing their best to entice customers to their tables. But I was content that I had been to the best. I had been to the excellent Table 22.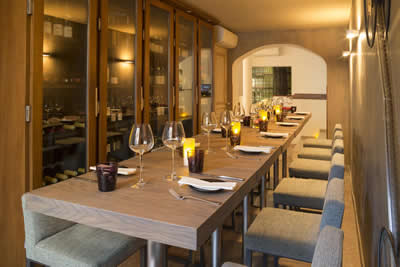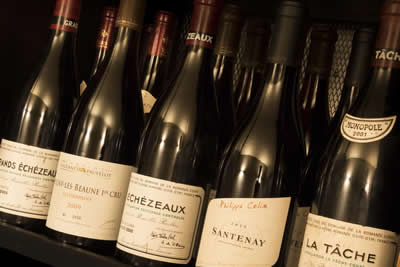 ---
ADDRESSES
TABLE 22
22 rue Saint-Antoine-le-Suquet, 06400 Cannes, France.
Telephone +33 (0)4 93 39 13 10
Email: bm@restaurantmantel.com
www.restaurantmantel.com
Closed: lunch on Tuesday, Wednesday and Thursday, dinner on Wednesday
Menus: from 35€ (3 courses)