United Kingdom
ENGLAND
LONDON
THE CHESTERFIELD HOTEL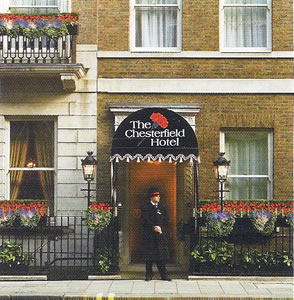 To decide upon your hotel in central London, you must first make a decision about the type of streets in which you wish to lodge. London covers a vast area, and what we might reasonably describe as its 'central' part is itself the size of a major town. Here, then, is some advice which will ensure that you do not go far wrong. Stay in Mayfair. Mayfair is full of grand houses. True, many are now used for commercial purposes or have been split into luxury apartments. But the original use of these magnificent properties is beginning to return here and there, as the wealthy remember that it is convenient to have a large and impressive home in the heart of the capital city. Mayfair is still elegant, refined and welcoming – in fact, just like one of its best hotels, The Chesterfield.
The Chesterfield occupies a discreet site at number 35 Charles Street. It would be easy to pass by, for it does not shout its presence, as do so many lesser establishments. Yet my dear old Royce looked very much 'at home', parked outside. (I think she might have spent some of her early years in Mayfair.) I walked in and felt at home, too, for the general approach of this place is to have warm colours, polished furniture in the traditional style and lots of staff to fuss over the guests. From the outside, the hotel looks tiny, but the spacious entrance lobby hints of slightly bigger things. In fact, The Chesterfield has 98 rooms and 12 suites – not massive, but large enough to offer the services of a grand hotel.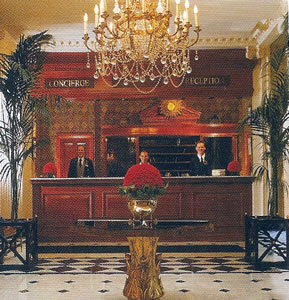 My room, number 427, was classified as a junior suite and was therefore £600 a night for two, breakfast extra. Its walls were covered with damask of beige check and its window, overlooking Charles Street, was oval. The four-poster bed, the writing desk and the bedside cabinets were in silvered wood, and so too was the large structure in the middle of the room – which housed the mini-bar and from which (at the touch of a button) rose the television receiver. The wall behind the bed was mirrored. These hints of Art Déco were softened by the crystal chandelier, the pair of wing chairs in golden velvet and the traditional painting of tulips. In the top draw of the desk I found a tray, full of useful items – paper clips, pencils, a stapler and such like. This is an example to other hotels. These little things are useful, and they indicate that thought has been taken over the details. Further evidence of such care was in the two wardrobes: an iron and an ironing board and equipment for making tea and coffee. Yes, of course, there was room service and a laundry service; but sometimes even I just want to make a hot drink or iron a cuff for myself – so well done, The Chesterfield.
Up a step was the bathroom – a place of off-white marble tiles and beautifully soft white towels. It was small, with only one wash basin, but it did have a separate shower and a tiny television set. I was thus able to enjoy the soporific effects of daytime television with my afternoon soak.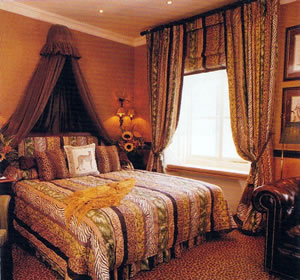 Still, I did wake up in time to go down for tea. And I was glad I did, for it was jolly good. I settled into one of the leather chairs in the panelled Library and felt this was the ideal place for soft scones with clotted cream and a pot of Earl Grey. And so it was, but there was far more: a glass of Louis Roederer champagne, lovely sandwiches (including super turkey and cranberry), mince pies and fruit tartlets – all brought to me by Ashish, the charming waiter from Delhi. (This Christmas Tea was £31.95; the normal afternoon tea, without champagne, is £19.50.)
I saw Ashish again at dinner, for he looked after me in the hotel's dining room, called Butler's Restaurant. In this large, low chamber I was shown to a round table with a good armchair upholstered in red velvet. Potted palms and soft lighting created a relaxing atmosphere. On the white tablecloth was a single candle and good Spiegelau glassware. The menu indicated that Executive Chef Ben Kelliher, a Londoner, had put his confidence in the food of his native Britain. And that confidence was well-placed, for my meal revealed careful and skilled preparation of high-quality ingredients.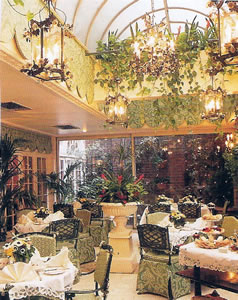 I began with pan-fried scallops, with truffled potato purée, crisp pancetta and red wine jus – all tastes present and correct. Then it was smoked salmon, both Irish and Scottish – properly dry and meaty – carved by the table and served with the usual accompaniments of capers, chopped onions and chopped egg. My main course was lamb. These minted lamb cutlets with rosemary jus were really tasty. With the sautéed potatoes and wilted spinach, I had an extra portion of runner beans. To end this thoroughly traditional and enjoyable meal I decided upon – what else? – sticky toffee pudding with vanilla ice cream. Delicious. (Allow around £70 for four courses from the carte.)
Sommelier Antoine Depierre, a knowledgeable gentleman from the French Alps, went out of his way to ensure that my evening went well. His list offers around 120 bottles and 30 wines by the glass. Prices run from £20 for a bottle of Argentinian malbec to £390 for the 1995 Margaux. Among the clarets, I noticed 1986 Beychevelle for £165 and 1988 Montrose for £175. Wines are grouped by their characteristics – "soft and elegant" reds, "fresh and lively" whites, and so on. I do not find this arrangement particularly helpful myself, but I suppose it might be useful for those who are less familiar with wine lists.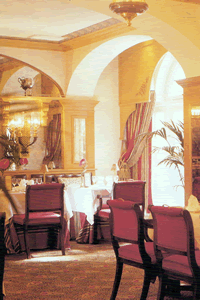 My white, as so often nowadays – for I am captivated by their characteristics and by their low alcohol – was one of those dry German rieslings (Kabinett, Gunderloch Nackenheim, Rheinhessen, 2005 - £32). The list gives notes on each wine, and I am happy to concur with those for this bottle – "zesty, with bright, tart peaches and sweet tropical fruit". Its alcohol level was 10.5%. For the red, I went with a claret – a St Emilion Grand Cru from the excellent 2000 vintage, with oak, perfume and solidity (Grand Corbin - £53).
I returned to Butler's Restaurant for breakfast (£22). Now it was brightly lit, and somewhat less to my taste. Nevertheless, I tucked in heartily to a bowl of porridge, smoked haddock with mushrooms and good croissants. Much of the breakfast food is on a buffet, but some of the hot dishes are brought from the kitchen by the waitresses.
Mayfair is one of my favourite parts of London. It is very stylish and very English. And so is The Chesterfield. If you are looking for a discreet, comfortable and friendly hotel in the heart of Mayfair, you will find it at number 35 Charles Street, W.1.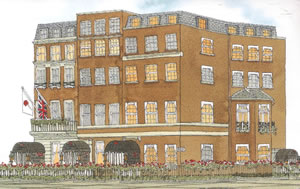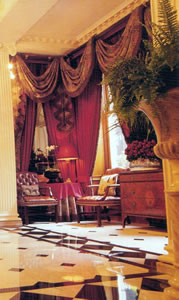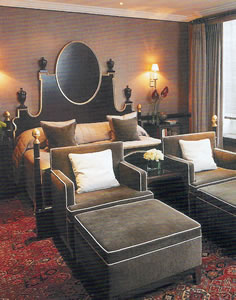 ---
ADDRESSES
THE CHESTERFIELD HOTEL
35 Charles Street, London W1J 5EB, England.
Telephone +44 (0)207 491 2622
Fax +44 (0)207 491 4793
Email: bookch@rchmail.com
www.chesterfieldmayfair.com
Double rooms from £375, breakfast extra
Ask about special offers