United Kingdom
HERTFORDSHIRE
CHANDLER'S CROSS
THE GROVE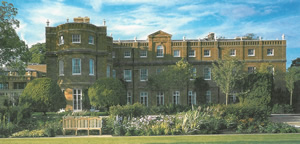 Is it possible to find a proper (and luxurious) country house hotel within 20 miles of London's Hyde Park Corner? If you had asked me that question a few years ago, I would have answered emphatically in the negative. But in 2003 a great and mighty wonder appeared: The Grove. Since then this former home of the Earls of Clarendon – now with over 200 guest rooms – has received much praise. The Royce and I simply had to go and see what was going on.
We found the grand entrance gates with surprising ease. They are on the A411, very close to exits 19 and 20 of the M25. This means that The Grove is remarkably accessible for anyone travelling from London. Into the long drive we trundled, and the Silver Cloud likes long drives. Down the hill and then up again we made our stately progress, with the red brick mansion aloof on the horizon, surveying its 300 acres of Hertfordshire. An 18 th century house, much expanded in the 19 th, and now with a large new wing in a sympathetic style, The Grove looked the sort of destination I like – a place upon which have been lavished vast sums of money to ensure the comfort and convenience of its guests.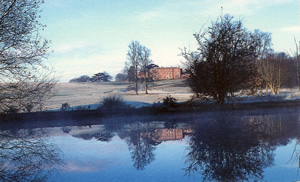 The reception area was a surprise. A sweeping curve of bright modernity, it was full of light. It was also full of people eager to help me. I will begin therefore with some comments on the staff. Seldom, particularly in a relatively new hotel, have I encountered a more motivated and efficient workforce. Matthew Dixon, the General Manager, must be very proud of these people. They are cheerful, positive, helpful and friendly. Here is an example of the care I received. I mentioned, in passing, to Anton Gillis (the Guest Relations Manager) that I liked the atmosphere imparted to the public rooms by the flames of the numerous real fires about the place. Without a word to me, he made some arrangements while I was having dinner. I arrived back to find my room lit by no fewer than 21 flickering candles.
This billet, number 16 (£375 a night for two, breakfast extra), was on the first floor of the original building, The Mansion. From its casement window I looked out across lawns to a handsome bridge over the Regent's Park Canal. With a proper hallway, this accommodation was pleasingly spacious. Like the rest of the hotel, the décor of my apartment mixed the old and the new. A 19 th century mahogany chest of drawers looked across at a wall-mounted plasma television screen above a marble fireplace. The writing table, made of clear perspex, was stylish, and I liked the fact that three of the seven table lamps could be dimmed. White was the prevailing colour throughout – relieved in the bedroom by some decent modern paintings and in the bathroom by surfaces of beige marble and dark wood. I entirely approved of the coffee-making facilities, so seldom found in proper luxury hotels.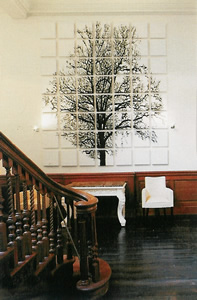 And there was no doubt in my mind that The Grove was a proper luxury hotel. I had already glimpsed the drawing rooms. Now they were tempting me for tea. There are four of them, all comfortable and all displaying that old/new interior design I had found upstairs. This could so easily be raucous and discordant, but instead the designer, Martin Hulbert, has achieved a careful harmony. Who would have thought that a video installation of 'The Naked Gardener' would seem so perfectly at home in a Georgian corridor? Odd, but the whole thing really does work very well.
I settled on a sofa in front of a log fire and appreciated the crystal drum chandelier overhead and the rose petals sprinkled about the glass table in front of me. Soon I was tucking into afternoon tea (£21), brought to me by Simone, a charming and courteous young gentleman from Sardinia. He poured my Jasmine tea from a silver teapot through a silver strainer, as I nibbled excellent ham sandwiches and spread cream onto some really good scones.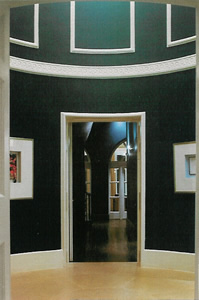 You might call this comfort food: it certainly comforted me. And I was to have more comestibles in this category when I dined at The Stables. The Grove has three restaurants. Its gastronomic dining room, Colette's, was closed for refurbishment during my visit, so I tried the other two. First, it was to the 18 th century home of the horses. Note, however, that these were not any old horses. These were horses of distinction, painted by none other than Britain's finest painter of horses, George Stubbs. Mr Stubbs would walk here from his home in Edgware, sit down at his easel and produce his equine masterpieces – any one of which will now cost you a king's ransom.
Strangely, my first thought as I strode in was of California. This impression might have been caused in part by the travelling arrangements. For The Stables are a bit of a trek from the main entrance. So, for persons disinclined to walk, a ride in a golf buggy is provided. This is very Californian. And so was the room, with its open roof, light wooden floor, wooden tables without cloths, open kitchen and dark brown leather banquettes. I eased myself onto one of the last and looked around at the pictures on the walls. No Stubbs, of course, but black and white photographs of – of course – horses.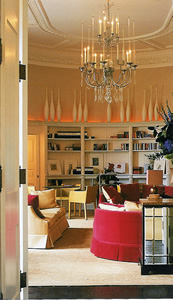 Manuel Santos, the Restaurant Manager, and his team maintain an atmosphere which is relaxed. The food is straightforward, with good ingredients treated simply and well. I started with fried salmon, buttered salsify, cabbage, pancetta and sautéed potatoes. All tastes were present and correct. Next came a warm goat's cheese and pepper tart with a sun-dried tomato dressing. This was terrifically well done and was easily the highlight of the meal. A good piece of pink fillet steak followed, with flavoursome béarnaise sauce. And to finish – I did tell you this was comfort food – cinnamon rice pudding with raspberry jam. (£50 for these four courses.)
These dishes were brought to me by Marcin, another delightful member of staff – this time from Poland. He also dealt with my wine. The list at The Stables is short and to the point, and is mostly in the £16 to £40 price range. However, I had been studying the more substantial volume provided for Colette's, the gastronomic restaurant. This is a well-presented and intelligent list, with helpful comments on most of the 300 wines offered. These include some great clarets – like 1961 Latour at £1,500 and a magnum of 1982 Pétrus at £4,000 – and also some real bargains, like 1976 Yquem for £620 and a magnum of 1985 Vega Sicilia for £350. I arranged to drink two bottles from this list: a massive, vanilla-laden Californian chardonnay (Ramey Hudson, Carneros, 1999 - £75) and a tannic yet soft Chilean red, oozing ripe black cherries (Caballa Loco, Number 7, non-vintage - £55). This was good drinking.
I have mentioned the Polish waiter, Marcin. The following morning I met his equally charming wife – in the third restaurant, The Glasshouse. She brought me my coffee, before I set off for the breakfast buffet. I say 'set off' for The (aptly named) Glasshouse is a large chamber and I had chosen a table on its lower, quieter level, away from the breakfasting families. From the many and varied offerings of the truly gigantic buffet, I can recommend to you the bacon, the mushrooms and the slices of dark red plums. All delicious.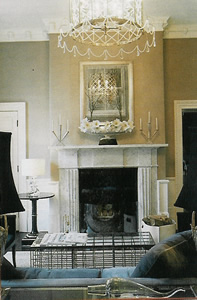 Thus fortified, I set off for a jaunt in the Royce. Those of you who care for ecclesiastical architecture will be pleased to know that a ten minute drive from The Grove will bring you to the church of the Holy Rood, Watford, a 19 th century marvel by John Francis Bentley, designer of Westminster Cathedral. I stood and gazed at its gloriously colourful gothic interior, and then drove back to The Grove for lunch.
This was again in The Glasshouse, the offerings of its buffet now dominated by seafood and roasted meats. I tucked into a traditional repast: whitebait, roast beef and Yorkshire pudding and bread and butter pudding. I could have eaten much, much more, for the £35 price allows for as many visits to the food counters as one can manage. But enough is as good as a feast – or so I was taught as a boy. I did not drink at this meal. Had I wished to do so, the wine list divides its entries into types – for example, 'medium bodied with rustic spice'. Prices start at £21. I would probably have gone for two Californian bottles – the 2002 Au Bon Climat chardonnay (£40) and the 2002 Frog's Leap cabernet (£60).
On my post-luncheon stroll, I came across the swish spa (called Sequoia), I looked over the green expanses of the fine golf course, I watched the swimmers in the large indoor pool and I winced at the exertions of those in the spacious gymnasium. These facilities are impressive. Yet what pleased me most about The Grove was the comfort, the first rate staff and the sense of being in the countryside. Here, in truth, is a proper country house hotel within 20 miles of Hyde Park Corner.
---
ADDRESSES
THE GROVE
Chandler's Cross, Rickmansworth, Hertfordshire WD3 4TG, England.
Telephone +44 (0)1923 807807
Fax +44 (0)1923 221008
Email: info@thegrove.co.uk
www.thegrove.co.uk
Double rooms (in the West Wing) from £282, breakfast extra; (in the Mansion) from £375, breakfast extra