United Kingdom
LONDON
THE LANESBOROUGH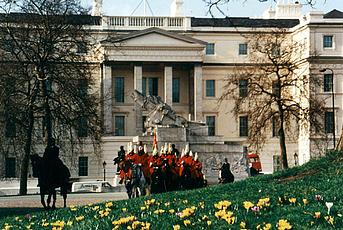 The Lanesborough Hotel on London's Hyde Park Corner has just given me a shock. I had expected a run-of-the-mill luxury hotel. (Is this an oxymoron? No, it is not.) I was prepared for pleasant accommodation, passable eating and decent service. Instead, I found one of the best-equipped bedrooms I have ever encountered, truly excellent food and a staff both highly motivated and pleasingly efficient.
William Wilkins built this handsome Greek Revival pile in 1828 to house the St George's Hospital. After the doctors and nurses had long gone, I remember passing by and thinking how sad it was that so noble an edifice in so important a position was being left empty and unused. Then the news came that it was to become an hotel, and it was remarked (in hushed tones) that each of the rooms – there are 95 – had cost a million pounds. This was a few years ago, and I have been very dilatory in paying my first visit. This was sheer foolishness, for now I know that The Lanesborough is one of London's finest hotels.
Let me at once declare an interest. In the dining room of my tiny London home is a French bronze, circa 1890, of a Gallic warrior, stretched out on his shield and holding aloft a palm of victory. It is a handsome piece, in impeccable taste. And what did I spy as I strode through the stone entrance hall of The Lanesborough? To my left, the very same piece – albeit on a larger scale – adorning one of the public rooms. I felt at once that this was my sort of hotel.
When the lift doors opened at the second floor, my feeling was reinforced. The corridors, panelled in dark wood, are quite beautiful – and my regular readers will know that I regard the state of its corridors as a sure sign of the quality of any establishment I am encountering for the first time. Into my junior suite (£570 a night for two, breakfast extra), and there was more of the wood, lending a clubby feel to this sumptuously decked apartment. My butler showed me how to control the electronic wizardry. (Butler? Of course, for there is one of these helpful gentlemen allotted to care for the occupants of every room in the hotel. He will unpack, arrange for your clothes to be pressed – the first pressing comes free – and generally try to ensure that your needs are met, before retiring discreetly.) I needed his help, for the music I sought was to come, not from the usual cd player, but from a computer – controlled via the television screen.
Thus was I able to bathe my Regency furnishings – some originals, most high-quality reproductions – with a little Mozart. (I selected him from the section entitled, 'Greatest Composers', and was startled to discover that this particular pantheon included Rimsky Korsakov but not Johann Sebastian Bach…) I sat in a leather chesterfield next to the fireplace and contemplated my room. From the 10 foot ceiling hung a chandelier, to supplement the quartet of table lamps. Two proper clocks ticked the passing seconds. Over the heavily canopied beds peered reading lamps on flexible stalks. Inside the pedestal desk was a safe and a fax machine; on its leather-tooled top were sheets of writing paper and business cards, each printed with my name and the legend, 'In Residence'. And there, too, was a very useful first: never before has an hotel provided me with my own stapler.
On the bookshelves were some 300 books, ranging from The Manual of Surgery, Volume II: Head and Neck to The True Book About Atomic Energy. A treasure trove for insomniacs. Among whom, mercifully, I am not numbered – particularly when I am staying in such a quiet billet. My window looked onto the inner courtyard and was therefore well away from any possible traffic noise.
In the white marble bathroom, most to my liking were the very sensibly positioned handles next to the tub, enabling me to hop in and out with ease. (I do dislike those hotels which assume in their bathroom design that each and every guest will be possessed of the agility of a mountain goat.) At a switch, the bath water could be agitated. I think this is called a 'spa' effect, but it is not really my cup of tea. Otherwise, there was one wash basin, a bidet and a separate shower compartment, together with a hair dryer, shaving mirror and all the usual toiletries.
As I prepared to go down for dinner, I noticed the dreaded duvet on my bed. But a word to my butler (it's easy to get into swing of this…) and blankets were substituted.
If you like exotic surroundings, you will love The Lanesborough's Conservatory Restaurant. Its confection of pink, green and white includes fan vaulting, glass roofs, potted palms, Chinese lanterns and large Oriental figurines. It is odd, but it works. A pianist tinkled out 'Night and Day' as I eased myself into a comfortable wooden armchair at a round table of good size. The glassware is of acceptable quality, the tablecloths are properly white and most members of staff wear striped waistcoats. My Italian waiter, Alessandro Pionbino, was a most affable fellow and looked after me very well.
Chef Paul Gayler cooks in a style described as 'modern eclectic'. A four course set dinner (including a glass of champagne and coffee) is offered for £49.50, but I went for the carte and did very well indeed. Mr Gayler clearly likes robust flavours and clarity in his combinations. He is producing some fine dishes. Accurately cooked scallops came with cèpes and super roasted garlic pureé to make a delicious and well-balanced first course. Then the contrasting lusciousness of pan-fried foie gras with apple, raisin and turnip tatin – the apple, in particular, proving a lovely complement to the liver. Fillet of beef, simply grilled and served with new potatoes, mushrooms and béarnaise sauce was straightforward and full of good tastes. If standards dipped a little with the dessert – a white chocolate and brioche pudding – I nevertheless judged this a thoroughly enjoyable and well-executed meal (£70).
Sommelier Peter Huy from Switzerland controls a list with about 250 choices. It spans the world, but its French section, particularly the bordeaux, is by far the strongest section. Do not expect bargain basement prices for the great vintages. Mouton Rothschild is £1400 for the '82 and £2550 for the '61. Still, there are some inexpensive bottles, and I tried two. The 2000 sauvignon blanc from the Côtes de Duras (£22) was uninteresting, with none of the cat's pee and gooseberry one looks for in this grape; but the 1998 cabernet from Chile was quite a find, with soft black fruit, pleasant tannins and an intriguing smokiness (Cousiño Macul antiguas reservas, Maipo Valley - £28).
The next morning I returned to the Conservatory for breakfast, and found that the room had taken on a completely different character. Now there was the sound of water dribbling through the mouths of stone boars' heads and the light was the sunshine streaming through the glass roofs. Quite delightful. I am pleased to report that there is no buffet. Instead, pleasant waitresses whisk whatever you desire to your table. In my case, following my gastronomic exertions of the previous evening, this was merely a bowl of Allbran with banana, a dish of raspberries, blueberries, blackberries and strawberries and coffee (£18.50). All excellent.
As was everything and everyone at The Lanesborough. I brought the Cloud round to the main entrance and stowed my globetrotter in the boot. I slid back onto the leather of the driving seat. The doorman closed my door. And I drove away a happy and contented man.
---
ADDRESSES
THE LANESBOROUGH
Hyde Park Corner, London SW1X 7TA, England.
Telephone +44 (0)207 259 5599
Fax +44 (0)207 259 5606
Email: info@lanesborough.co.uk
www.lanesborough.com
Double rooms from £370