UNITED STATES
NEW YORK
THE MARK HOTEL
By David Harris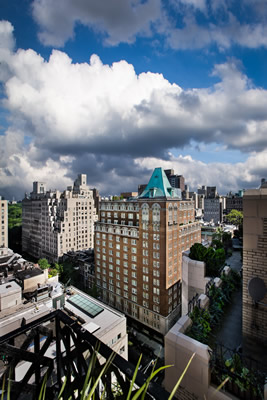 Manhattan is hardly short of luxury hotels, but for somewhere that combines style with discretion you would be hard pressed to better The Mark. In the 20 years since I last stayed it has undergone a major re-design and a clutch of general managers but this New York institution, opened in 1927, has retained the ability to wear its wealth with modesty.
My wife, daughter and I checked in early, thanks to a dawn arrival past the Statue of Liberty on the Queen Mary 2 from Southampton, but the welcome was properly warm.
The Mark is in the affluent Upper East side, on 77th St and Madison Avenue, a situation that is hard to improve upon. Central Park is a stately two minute stroll away, the Frick Gallery just two blocks and the Met, the Guggenheim, the Neue Gallerie New York and the Cooper-Hewitt nearly as close. In both size and atmosphere The Mark is somewhere between a very smart boutique hotel and a grande dame. Its re-design by Frenchman Jacques Grange has given it a modern feel with Art Deco flourishes, perhaps most notably the black and white floor which greets guests to the hotel and is echoed throughout. The Mark has 106 bedrooms, 56 suites and a penthouse.
Its reputation as both smart and discreet makes it no surprise that this is the sort of place frequented by Hollywood A listers and the great and good in many fields of life. At one point we found ourselves standing in the lobby as the men's world tennis number one – waiting to the US Open to begin - strode past. It was also the hotel chosen for the bridal shower of the Duchess of Sussex, who occupied the penthouse suite, which at $75,000 a night is said to be the costliest accommodation in the city.
The re-working of the hotel has given it a nice combination of old world comfort and modern technology, although my wife and I took some time to cope with the Crestron panel system that controls the air-conditioning. However, once we had mastered it, it did the job splendidly.
We were in a Seventy Seven Junior suite (from $1595 per night, breakfast extra), which at 800 sq ft offered plenty of space, including a separate sitting room, where my daughter slept on a sofa bed. One of the attractive features of the suite is an excellent full marble bathroom with double wash-basins and separate shower, as well as a second full shower-room off the hall entrance. This was particularly helpful with three of us in the suite.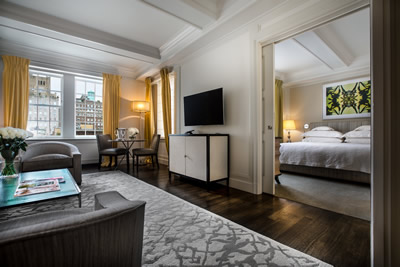 The bedding, as you might expect, is top notch. The hotel uses Italian Quagliotti linen and the beds themselves are extremely comfortable. The details help too. The toiletries are made exclusively for The Mark, and there is an appropriately filled Sub-Zero fridge if you can't wait for room service. There is even a nicely stocked bookshelf – with mostly good books rather than shelf warmers.
To get quality like this and the space to enjoy it is unusual for New York hotels, where rooms are often on the tight side. The Mark's smallest rooms are a reasonable 400 sq ft, so you are unlikely to feel too cramped anywhere in this building.
This includes the hotel's spacious and well-equipped gym, on what we would call the first floor but the Americans call the second. Guests can get into the gym with their room key. For those really determined to keep in shape there is a personal trainer in residence.
Just outside the gym you can get your shoes brightened by a John Lobb shoeshiner and there is a suitably exclusive hairdresser on the same floor.
We took breakfast downstairs in the Jean-Georges Vongerichten restaurant. Everything is served at the table, so if you dislike the ubiquitous buffet then this is the sort of place for you. The standard Mark breakfast ($51 plus tax and service), will give you eggs, potatoes and a choice of various forms of bacon and ham, with which you can drink fresh juice and coffee or tea. Apart from the set breakfast there is a wide choice, with healthy organic bowls to the fore. Should the inclination take you, you could try something more exotic such as toasted egg yolk with caviar ($54).
We settled for the puritan option of oatmeal porridge with sour cherries and brown sugar, alongside a bowl of fresh berries ($23). I can drink nothing but tea first thing in the morning. On our first day this did not go particularly well (not hot enough, too weak, pots that don't pour properly,) but The Mark bounced back from this small setback admirably. Those first pots were immediately replaced and on all subsequent mornings the first brew of the day was as it should be. Great hotels may occasionally get things wrong, but their strength is that they soon put them right.
That I had no real complaints about The Mark is all the more impressive because it is currently without a general manager. The long serving Olivier Lordonnois left earlier this year and a replacement is being sought. But Monsieur Lordonnois has not so much left a ship without a captain as a well-oiled machine. His old hotel is purring along smoothly and I am pleased to be able to say that it is in robust health. I only hope it will not be another 20 years before I return.
---