UNITED KINGDOM
ENGLAND
SOMERSET
BATH
THE QUEENSBERRY HOTEL & OLIVE TREE RESTAURANT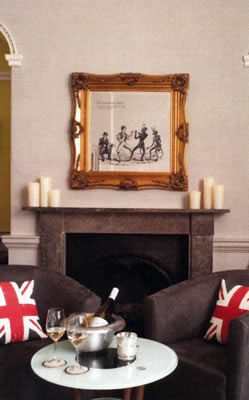 There is no doubt in my mind that some of the very best food in Bath is now to be found at The Queensberry Hotel. And not just the food is good in the hotel's Olive Tree Restaurant – so is the service, and so is the wine. Those responsible for this happy state of affairs are people who care about high standards and work hard to maintain them. They are the owners – Laurence and Helen Beere – the Chef – Chris Cleghorn – and the lady Restaurant Manager – Selam Nafekegu. The dining room is in the basement, but it is spiritually the heart of the hotel. And where there is a splendid dining room, there is – almost always – a splendid hotel. And that is what The Queensberry is: a splendid hotel. But why is it called The Queensberry?
The 9th Marquess of Queensberry will be known to those readers who are pugilists, for he devised the Rules which bear his name and to which all you respectable boxers adhere. He is also famous – if that is the right word – as the father of 'Bosie', Lord Alfred Douglas, and as the persecutor of the same son's close friend, Mr Oscar Wilde. But it was the 8th Marquess, a less controversial figure, who deserves the thanks of those of us who like our hotels, for in 1771 he had built for himself a handsome town house in the city of Bath. This is now the charming and elegant Queensberry Hotel.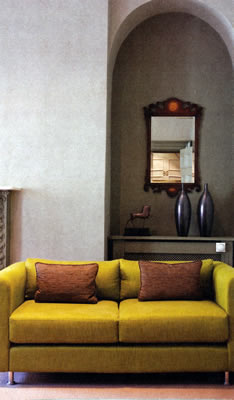 It is located in Russell Street, in the midst of Georgian splendour, a few steps from the Assembly Rooms and but a tiny stroll from The Circus and from The Royal Crescent. There can be few pleasanter places in England. Within the hotel, a modern atmosphere has been created by the interior designer Alistair Graham, but it is not such as to frighten the horses. For example, in the Drawing Room, to the left of the entrance hall, there are dark colours and low sofas. (Here guests can make tea and read newspapers.) In the bar – at the back of the building, overlooking the pretty little garden – there are period prints of boxing matches, to remind sippers of pre-prandial sherry of the Queensberry connection.
My room was on the first floor, overlooking the rear garden. Number Ten is a 'Deluxe Double'. (You will need to check the hotel website for the rates for specific dates.) I liked its dark, warm colours – burgundy for the walls and grey for the carpet, as well as its supremely comfortable bed. A period cornice surrounded the white ceiling and a gilt-framed mirror hung over the white marble fireplace. There was enough space for a decent sofa and a generous amount of hanging space in the fitted wardrobe. Four table lamps provided gentle lighting, and within a box labelled 'Service en Chambre' was all I need to make a cup of coffee or a pot of tea. Through a door was the bathroom, with its own casement window. This was a bright chamber, in light grey and white, with white towels, two white wash basins, a loo and a big white bath (with a shower over). Even the toiletries were by 'Mrs White'.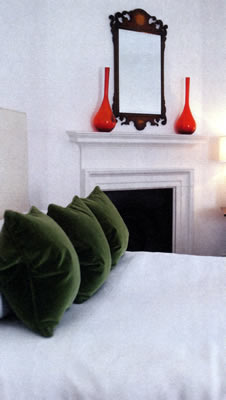 From this comfortable billet I sallied forth happily to admire the Georgian glories of Bath. It also provided a comfortable setting for my preparations for dinner. Bathed and properly suited, I could then take the gentle lift down to the basement to assuage my hunger.
The Olive Tree Restaurant is a sophisticated place of wooden floors (it is on two levels), light grey walls, modern paintings and polished wooden tables. It has canned music, but this was turned down immediately at my request. The cheerfulness with which this was done was a sign of the kind friendliness which marked the service here. Three tasting menus are offered in the evenings, designated Vegetarian (£55), Seasonal (£65) and Signature (£78), but it is possible to construct a meal with fewer courses, should appetites be small. I chose the middle option, the Seasonal, and ate exceptionally well.
The first of my five courses was pumpkin soup, with sage, frozen goat's cheese and pumpkin seeds – a confection which was both intriguing and successful. Then came an illustration of the fact that the kitchen is not afraid of complication: super breast of pheasant (moist and tender) with not only confit of leg, which one might expect, but also iberico ham and… popcorn. This last ingredient was as amusing as it was effective. Pan-fried halibut was lovely fish, set off charmingly by cauliflower, mushrooms and broth. The beef – sirloin- was equally good and equally well served by its companions on the big white round plate – yeasted mash, shallot and nasturtium. Nor did standards slip for the pudding – apple, treacle, spiced bread and vanilla ice cream (which tasted then as good as it sounds now). A thoughtful detail which I much appreciated was the small menu card in a frame which was left on the table. At my age, such an aide mémoire is very useful.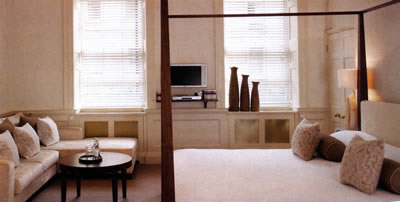 I decided to have the wine pairing (for £40), which was dealt with by the splendid lady Restaurant Manager, Selam Nafekegu. She looked after me tremendously well throughout the evening, and is a real asset to the restaurant. The chosen wines included an elegant 2007 Alsatian pinot blanc with notes of petrol, a bright and clear 2017 Poilly fumé, a big and impressive South African chardonnay blend and – ideal for the beef – a peppery 2013 Châteauneuf-du-Pape (Dom. Boissons). I am not usually a great fan of wine pairings, but when they are good as this, they can work very well.
Indeed, I was impressed by the obvious care with which the whole wine list has been compiled. It is not huge – there are around 140 offerings – but I judged that one could choose any bottle from it with confidence. Prices run from £23 for a white Côtes de Gascoigne to £320 for the 2001 Romanée-St-Vivant from Robert Arnoux. If you like your claret, there are some fine ones from good years at very attractive prices, like 1986 Cos d'Estournel (£210), 1998 Giscours (£125), 1998 Palmer (£260) and 2000 Lynch Bages (£175).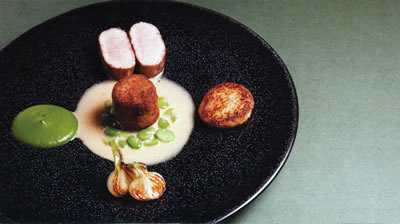 I returned to the restaurant for breakfast, and found the morning comestibles the equal of their evening cousins. From the buffet I secured brioche, fruit salad, cereals, cheese and ham – all of high quality. And brought from the kitchen was smoked haddock with mushrooms, the fish perfectly cooked and full of flavour. So contented was I with these dishes that I thought it safe to order the ingredients for my 'Grandfather's Breakfast' – porridge made with water, sliced raw onion and brown bread and butter – and thus concluded this start to my day in magnificent gastronomic style.
Indeed, the whole of my stay at The Queensberry was rather magnificent. Its location, its building, its bedrooms and – most particularly – its Olive Tree Restaurant impressed me no end. Truly, it is a splendid hotel.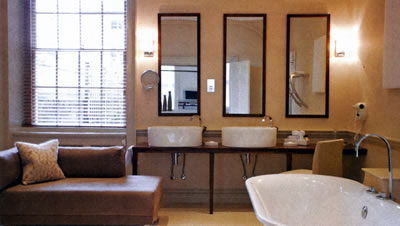 ---