ITALY
MILAN
THE RESTAURANT, ARMANI HOTEL MILANO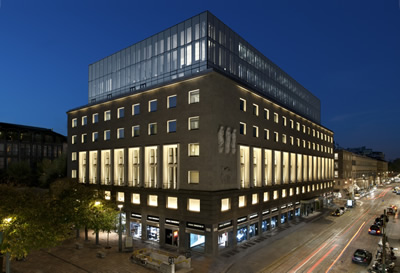 If you would like to eat ultra-modern food in an ultra-modern setting in the great city of Milan, you should head for the via Manzoni. There you will find the Armani Hotel. This temple of modernity has, on its top floor, a restaurant which has attracted a Michelin star. And it has attracted me. For this is a place which has caused even the most determined reactionaries – and I am of their number – to put aside our aversion to modernity and enjoy its remarkable pleasures.
The view from the dining room – through its plate glass walls – is delightful. Dominating the panorama, as always in this town, is the Duomo. On my visit its pinnacles and spires were floodlit and showed virgin white again the darkening sky. Inside there was more clever lighting, under the black and white floor. I was taken to my table after a short period in the adjacent bar. The stay there was short, because it is immensely popular and is blessed with canned music, making it therefore rather 'too much' for your correspondent. In contrast, in the dining room all was calmer.
If, like me, you have hearing which is not perfect, you will need to be careful about which of the tables is given to you, or you might find yourself sitting opposite and quite a long way away from your conversational partner. But my problem was dealt with courteously (courtesy being the hallmark of the service here) and, after a few moments, my table had been re-laid – so that I was sitting on the angle next to my companion.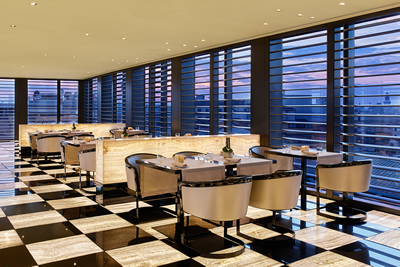 I was told that everything in the building had been designed by Mr Armani himself. This included, of course, the glassware (made by Spiegelau), the light grey napery and the dark suits of the staff. The atmosphere is therefore harmonious.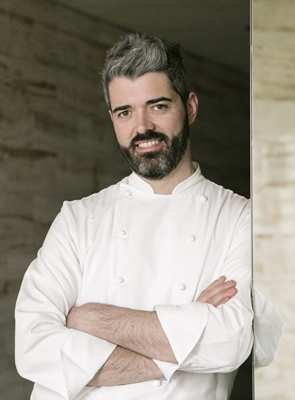 Executive Chef Francesco Mascheroni (pictured) offers a carte and two set menus. I chose the shorter of the two – four courses for 110€. I began with an egg, cooked at 65 degrees, served in a black bowl with rocket, bread chips and parmesan foam. The contrast between the delicate taste of the egg and the intensity of the cheese pleased me. My round local pasta, corzetti, brought some really strong flavour – with its rabbit, green olives, marjoram, sweet and sour fennel and toasted pine nuts. As I was in Milan, it seemed right to eat a modern version of Veal Milanese – which came in the form of a large pink cutlet, sliced by the table, with fried potato fingers and béarnaise sauce. I ended with an apple dish which reminded me of an up-dated tarte tatin.
The wine list is a substantial volume, full of offerings from Italy and France. Prices run from 45€ for a number of Italian wines to 7,800€ for the 2011 vintage of the great La Tâche from Burgundy. For those of you who prefer your grandeur to come from Bordeaux, 2013 Pétrus is 4,500€. My favourite Italian sparkling wine, Annamaria Clementi, Ca'del Bosco (in its 2008 vintage) is 260€ . Among the other tempting bottles from Italy I noted 1998 Sassicaia (700€) and 2006 Masseto (1,900€). My own drinking included a 'hot', alcoholic Valpolicella Classico Superiore of firm structure and dark black fruit (Verjago, Domini Veneti – 75€).
The Restaurant at the Armani Hotel Milano awaits your visit, with ultra-modern food in an ultra-modern setting.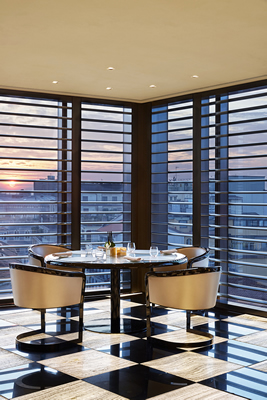 ---
ADDRESSES
THE RESTAURANT
Armani Hotel Milano, Via Manzoni 31, Milan 20121, Italy.
Telephone +39 02 8883 8888
Email: milan@armanihotels.com
www.armanihotels.com
Open for dinner Tuesday to Saturday