UNITED STATES
CALIFORNIA
RUTHERFORD
THE RESTAURANT
AUBERGE DU SOLEIL RESORT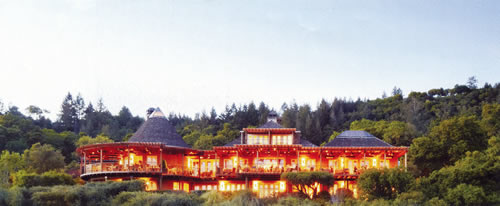 L'Auberge du Soleil was opened by Claude Rouas over 30 years ago in what must be the loveliest location in the Napa Valley. High on the hillside, it blends remarkably well into its surroundings, and its terraces command wonderful views over the whole valley. Initially, it was only a restaurant, but by the time of my first visit it had already grown into a smart and sophisticated hotel. Now it has so many facilities that it is a 'resort'. Having left an interval of far too many years, I was greatly looking forward to my recent journey to its dining room. What was there, after all, to which one should not look forward? L'Auberge du Soleil has a Michelin star; it has a highly regarded wine list; and, in its Wine Director, it has one of the real characters of the Wine Country. I was full of eager anticipation.
As soon as my taxi deposited me at the front door, I became aware of the high level of service which is maintained here. I was greeted in the friendliest of fashions, and shown to my table by Yannick, a charming fellow from Nice. As my Auntie Maud used to say, a smile costs nothing. But what a pleasant impression it imparts. And Yannick was full of smiles. And so was the waitress who was waiting at my table, the excellent Melissa. There was a good wooden armchair, but I expressed a desire for more support for my lower back, so Melissa rushed off and brought back a rolled towel to act as a firm cushion. Like her colleagues, she was smart in her brown waistcoat. I sat back, examined the orange/brown napery and the Riedel glassware, and was content.
This was on the terrace of the restaurant. Inside, I would have been surrounded by the warm tones of wood, exposed beams and abstract paintings. But outside was even more to my taste, for before me was laid out the Napa Valley. I find that the better the panorama the better my appetite. At L'Auberge du Soleil I felt very hungry indeed. I could have chosen the 6 course tasting menu ($150), but I do not generally go for these nowadays. I think I probably over-indulged myself on them in my youth, pursuing the Michelin stars across the regions of La Belle France. Today I prefer to make my own choice from the menu and have fewer (and larger) dishes.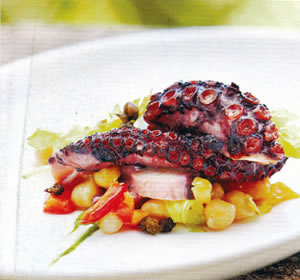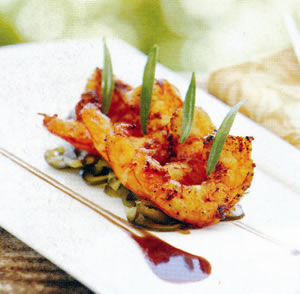 My four courses cost $120. They illustrated well why Executive Chef Robert Curry collects his awards. His ingredients are first rate. His approach to the combination of flavours and textures is intelligent and is, clearly, the result of a refined and educated palate. And his execution is skilled and precise. I began with a cocktail glass, filled with poached Maine lobster, watermelon and basil. This was well-balanced, bright and perky, and its amusing presentation made me add my own smile to all those around. Next came really satisfying veal sweetbreads, enticingly accompanied with chanterelle mushrooms, apple, horseradish and watercress. Each of these ingredients was there for a well-judged purpose – which is why, after all, ingredients should always be in any dish. Then came the meat course, which was certainly the highlight of the meal. Duck can so often disappoint, but this breast (from a Liberty Farms duck) was as tasty as it was tender, and it was very tender. Again, the other items on the plate – peach, endive salad, almonds and (at my request) peas – played effective supporting roles to the main performance. I ended with some lovely strawberries, with sweet coconut cream, lime and strawberry sorbet.
This was a splendid meal. My only advice to Chef Curry would be about presentation. I would have preferred all my dishes to be on large round plates. They allow the emphasis to be on the quality of the food: the alternatives can sometimes be a distraction.
Nothing, however, distracted me from the excellence of the cellar. It holds 1,500 different wines, which range in price from $26 for a 2010 grüner veltliner (Walter Glatzer) to $18,500 for the 1995 Romanée-Conti, with 1955 Haut Brion at $3,625 and 1997 Sassicaia at $1,050 along the way. The list is arranged by grape variety and then by origin, which makes for some interesting companions on each page.
I have already mentioned the Wine Director, Kris Margerum. It is fitting that the gentleman who presides over this encyclopædic wine list should himself be a walking encyclopædia. I observed that this friendly fellow was never happier than when he was imparting his knowledge – with massive amounts of enthusiasm – to the fortunate guests of L'Auberge du Soleil. He directed me to one of Hermann Dönnhoff's magnificent German rieslings to accompany the lobster and the sweetbreads. This spätlese was one of 10 Dönnhoff wines on the list (itself a sign that it had been compiled by a true wine enthusiast). With just 8∙5% alcohol, it was a piercing, riveting, utterly delicious example of a great winemaker's art. The dense, spicy syrah also recommended by Mr Margerum was glorious with the duck, although I fear that I failed to note its details – probably, by this time, too consumed by the pleasure created by such clever matching of food and wine.
I left determined not to allow so long a gap before my next visit. Restaurants as good as this deserve to be cherished. Its setting, its food, its wine and the engaging friendliness of its staff make L'Auberge du Soleil one of the most attractive gastronomic destinations in California.
---
ADDRESSES
THE RESTAURANT, AUBERGE DU SOLEIL RESORT
180 Rutherford Hill Road, Rutherford, California 94573, U.S.A.
Telephone +1 707 963 1211
Fax +1 707 963 8764
www.aubergedusoleil.com

Lunch: Monday – Friday
Dinner: daily