ENGLAND
SUFFOLK
LAVENHAM
THE SWAN AT LAVENHAM
PLEASE NOTE: THERE HAVE BEEN CHANGES TO THE MANAGEMENT OF THE HOTEL SINCE THIS REVIEW WAS WRITTEN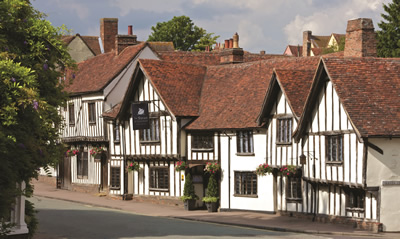 Hotels do not have to be pretty, but it helps. You certainly will not find a prettier inn than the Swan at Lavenham. Its confection of half-timbered buildings, most of them from the 15th century, nestles in the middle of what many regard as England's most beautiful mediaeval village. A short walk up a gentle slope in one direction is the magnificent church of St Peter and St Paul. A modest stroll in the other direction will take you to the charming village square. Everywhere you look, it is as if the architectural nastiness of post-War brutalism has been banished by the Good Fairy. Lavenham is a hymn to harmony, contentment and visual delight. It is appropriate, then, that the Swan is the hotel of many a dream: relaxing, well-run and luxurious. And, mirabile dictu, it is not too expensive.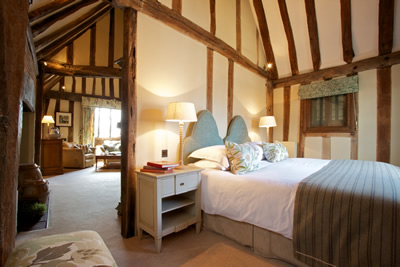 The Royce purred to a halt outside the main entrance and immediately felt at home. But she had to move, for the dreaded yellow lines have invaded even Paradise. She and I therefore lurched sedately round to the back of the building and into the hotel's car park, where I found a sign to gladden my heart. It read, "Reserved for Mr Bown". This was but the first of many examples of good service I was to enjoy at the Swan. Indeed, the members of staff I encountered were all exceptionally helpful and friendly, and were a credit to the hotel's impressive General Manager, Mr Ingo Wiangke.
Of The Swan's 45 rooms, mine was a 'Gainsborough' (£180-£297 a night, bed and breakfast for two, according to season), the highest category before the suites. It had its own name: Clare. Practical, comfortable and decorated in restful tones of green and cream, this apartment possessed those features so loved by our American friends: exposed beams to the walls and leaded lights to the windows. A small hallway with a fitted wardrobe – equipped with a safe, an iron and an ironing board – led into the spacious bed-sitting room. Here a sofa and two easy chairs provided the seating and three table lamps, a standard lamp and overhead spotlights afforded the artificial lighting. Up three steps was the bathroom, with more spotlights, a wash basin, a loo and a good-sized bath tub with a shower overhead.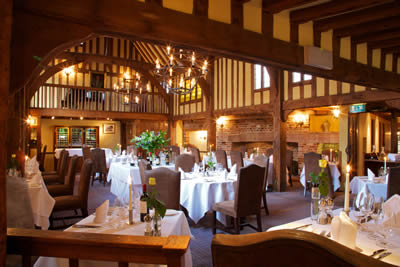 The Swan has a number of comfortable public sitting rooms and is well known for the excellence of its afternoon tea. I therefore repaired to one of the former in order to enjoy the latter (although tea is also served in the restaurant, for those who prefer higher seating). From the 23 teas and infusions, I chose Lapsang Souchong – a tea from which I never deviated as a young man, but which now I reserve as a treat for special occasions. To go with this fine beverage I chose the 'traditional' afternoon tea (£19.50), and tucked into heartily to sandwiches, scones, pastries and cakes. Three items remain in my memory for their top quality: a super ham sandwich, some gorgeous raspberry jam and a very naughty chocolate mousse. The excellence of these comestibles boded well for the evening's dinner.
Head Chef Justin Kett offers an attractive menu. His dishes are based on fine ingredients and accomplished technique. It would be difficult, I think, not to enjoy a meal from this kitchen. He sends out his creations into a beautiful dining room, named – after the place provided for the minstrels – the Gallery. (There is also a brasserie for those who prefer an informal environment.) Everything looks wonderfully mediaeval, but the reality is even more wonderful: the room was constructed in 1965 – when Trusthouse Forte owned the property, and used 400 tons of English oak to create a magnificent chamber. Here, then, is a restaurant of crisp white napery, good glassware (by Riedel, the Restaurant range) and – praise be! – no canned music. The service is efficient and courteous.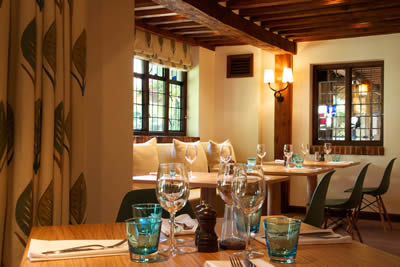 The price to be paid for dinner depends upon the number of courses chosen: £39 for three courses, £49 for four and £59 for five. I began with sea trout on a white rectangular plate, well balanced by the accompanying cucumber jelly, beetroot jelly, fennel and caviar. Next I moved to an altogether higher gastronomic level with a seared fillet of sea bass. This was lovely fish, cooked precisely and set off brilliantly by onions in red wine. And my meat course was just as good. I love duck and I love rhubarb, so when – as here – they are brought together, I am a happy man. I stopped at this point, but I noted that the puddings included such temptations as banana parfait and dark chocolate delice.
Sommelier François Belin presides over a list with more than 250 offerings. Prices run from £22 for a white vin de pays d'Oc to £640 for the 1970 vintage of Chateau Latour. Prices, as the latter illustrates, are friendly. Other bottles to catch my eye were: Krug Grande Cuvée (£183), 1979 Margaux (£390), 2002 Sassicaia (£185), 2007 Opus One (£295) and 2008 Monte Bello Ridge (£159).
I returned to this charming dining room for breakfast, and approved again of the presence of good white napery and the absence of canned music. Another absence pleased me, too. There was no buffet. Under the wrought iron chandeliers I therefore tucked into the excellent food which was brought to me by the genial Jacqueline and by her well-drilled staff: orange juice, fruit salad, porridge (made with water, of course), corn flakes, fruit salad, poached eggs, bacon, grilled tomatoes, fried mushrooms, toast, marmalade, pots of coffee and dishes of ice. As is my custom, I left the breakfast table well satisfied.
Indeed, I left in the Royce well satisfied. The hotel is a pretty, well-managed property, with an enthusiastic staff, a fine Chef, comfortable accommodation and a setting which is well-nigh perfect. You will not find a better inn than the Swan at Lavenham.
---
ADDRESSES
The Swan at Lavenham
Lavenham, Suffolk CO10 9QA, England.
Telephone +44 (0)1787 247 477
Email: info@theswanatlavenham.co.uk
www.theswanatlavenham.co.uk
Double rooms from £100 - £200, including breakfast, according to season
See the hotel website for the rates for specific dates and for special offers