France
PARIS
HÔTEL VENDÔME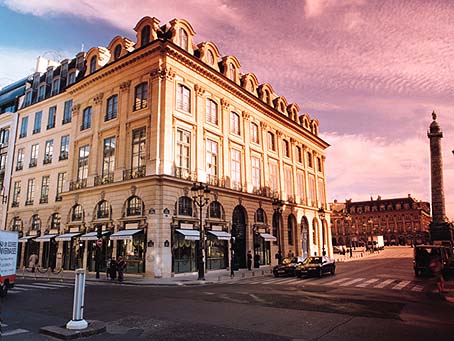 A beautiful little hotel in the best location in Paris. It sounds too good to be true, n'est-ce pas? But there it is, on the entrance to the Place Vendôme from the Rue Faubourg St-Honoré: the Hotel Vendôme. With only 19 rooms and 10 suites, I expected to be able to avoid that ghastly horror of so many large establishments: the queue at the reception desk. And I did, finding in the process – and much to my delight – that each member of manager Patrice Landrein's staff was determined to cater for my every whim. When, for example, I wanted a Sunday Times, I was not told where it was on sale. Instead, the doorman immediately trotted off to the newsagent to fetch one for me. Such efforts in this former mansion of the Vendôme family made me feel truly pampered. I also felt as if I had stepped off a Parisian street into a tiny palazzo in Venice.
Venice? Well, yes. When the hotel was restored three years ago, a decision was clearly taken to spare no expense in the creation of the interior. Tons of marble and acres of gold leaf, combined with a profusion of bold colours, have created a glittering sumptuousness which is utterly Venetian – and utterly captivating. And it contrasts wonderfully with the finest late 17th/ early 18th century French Classicism outside.
As did a little bit of Englishness I spied in the Place Vendôme. Inspecting the shirts in the window of Charvet, my attention was caught as something dark and stately rumbled by. A few minutes later it was back, drawing to a halt only a few yards away. An immaculate Bentley motor car of the early 1950s with (for the enthusiasts among you) saloon coachwork by H.J. Mulliner (or, possibly, Freestone and Webb) with a manual gearbox – a Mark VI or an R type. My excellent doorman told me that it was often to be seen thereabouts, for it is hired out as a chauffeur-driven conveyance to those on shopping sprees in the area's picture galleries and designer boutiques.
Such lucky shoppers also frequently lunch at the Hotel Vendôme, for its French restaurant, Le Café de Vendôme, can be glimpsed invitingly through large ground floor windows. When I tried it for dinner, it was without enormous expectations, for no Michelin stars find their home here. So I was pleasantly surprised by the excellence of chef Gérard Sallé's food. It is straightforward, well done and very enjoyable. Cold red mullet with fennel and anise was tasty and well conceived. Warm goat's cheese worked well with a sweet pepper purée and tapinade. Saddle of lamb was properly pink, and the pudding of a trio of little rum babas with roasted pineapple pleasantly satisfying. (£38 for these four courses.)
While I tucked into these dishes at my small round table in the window, my feet resting on the marble floor and my eyes fascinated by the glittering colours all around, I became aware of the canned music. To begin, it was the most appalling row – nondescript background mush of the sort one often has to endure in lifts. I was on the verge of asking for it to be turned off, when it suddenly changed to the wonderful voice of Sarah Vaughan. Even I can cope with canned music of that quality.
My drinking was classy, too. The list is short, entirely French and not expensive. Many bottles are in the £20-£30 range. Each of mine was burgundy and each was excellent. The 1998 Meursault (Clos Saint Félix, Michelot) was everything I like in a white burgundy – fat, waxy, buttery and toasty. Good value at £45. The 1993 red Corton Grand Cru (Les Maréchandes, Hubert de Montille - £72) had a captivating, sweaty socks nose, was medium-bodied in the mouth and possessed of decent length. I was helped to these choices by Nicolas Charlotte, the Restaurant's young assistant director. Hearing a remark from me about the absence of non-French wines, he rushed upstairs to the hotel's other dining room (which serves Lebanese food) and brought me its list, which spans the World (and includes, naturally, some excellent Lebanese bottles). I offered him a few tips about the best current Australian producers of shiraz, and then retired to my billet on the fourth floor, using the pretty little circular lift.
As its windows looked out over the rue Faubourg St-Honoré, I wondered whether room 407 (£500 a night, bed and breakfast for two) might be spoilt by traffic noise. Not a single decibel penetrated. I could sprawl on the enormous sofa (of gilt wood and red brocade, of course) in perfect silence. Even the large clock on the wall – a thoughtful feature – was soundless. The curtains moved electrically and the silk on the walls was (yes, you've guessed) gold. If the grey and white marble bathroom was a bit small, it still managed its most important function: to accommodate a tub of the proper size. So my morning bathes were long and comforting, as morning bathes should be.
Breakfast at the Vendôme is, however, a touch eccentric. For it is served in Le Bar Anglais (a place of dark panelling and leather armchairs), where the seats are quite close to the ground – at the right sort of level for afternoon tea. I felt rather odd, munching a croissant so near the carpet…
But do not let this strange procedure put you off. You will get used to it, as I did. And it would be such a pity to miss this lovely little hotel – so perfectly located and so well run. At the Vendôme you will eat well, drink well and sleep well – and be able to tell your friends that you have stayed in a tiny bit of Venice in the heart of Paris.
---
ADDRESSES
HOTEL DE VENDOME
1 place Vendôme, 75001, Paris, France.
Telephone +33 (0)1 55 04 55 00
Fax +33 (0)1 49 27 97 89
Email: reservations@hotelvendome.com
www.francehotelreservation.com/devendome
Double rooms from £320