UNITED STATES
CALIFORNIA
BIG SUR
VENTANA INN & SPA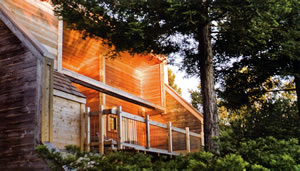 When I hear that the management of one of my favourite hotels has changed, I become nervous. The line from the hymn Abide With Me comes to my mind. "Change and decay in all around I see." I begin to imagine lower standards, ghastly 'makeovers' and deteriorating service. Then the motto of the Bown Family since time began drifts into view: All Change is For The Worse. By nature, we Bowns are, I confess, pessimists. Yet occasionally my fears are confounded. Sometimes – thanks be to the great Deity of Hospitality! – I find that the establishment in question has not been ruined at all. And thus it has been at the wonderful Ventana Inn & Spa. I have been here several times over the years and, from the very beginning, it has occupied a special place in my affections, for it has offered me a seemingly impossible combination: perfect harmony with nature together with absolute luxury. Happily, I can report that Ventana, now part of the Joie de Vivre hotel group, is even better than before.

150 miles south of San Francisco lies a stretch of dramatic coastline called Big Sur. Its wild and unspoilt beauty has attracted many members of the artistic community over the years. When Lawrence Spector made huge profits from his production of the film Easy Rider, he decided to invest them here. In 1975 – on an estate of 243 acres, 1200 feet above the Pacific – he built Ventana. Its name is appropriate, for 'ventana' means 'window' in Spanish, and this property enjoys some of the most spectacular views in California. And it does so in a most unselfish way – for, remarkably, its buildings of weathered cedar appear part of their surroundings, almost as if they had grown organically out of the hillside.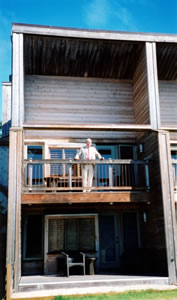 As soon as I turned off Highway One by the Ventana sign, I began to feel at ease, and the cares of the world began to slip away. The car parked, I was transported up to Reception in a golf cart. (These handy little machines are used to whisk folk hither and thither around the estate.) My fellow guests were already beginning to enjoy the complimentary cheese and wine, laid out every afternoon in the lobby. Then, my check-in speedily completed, it was along one of the winding pathways to my apartment.
Room 24 was a 'Fireplace Room' and therefore $575-$625 a night, bed and breakfast for two, according to season. It was on the first floor. The photograph shows me, standing on the verandah. The interior (pictured) was full of natural light, as well as having table lamps and dimmable spotlights. There was a fan on the high, sloping ceiling and effective air conditioning. There was, too, of course, a fireplace, in which I could (and did) burn the bags of logs which had been left for the purpose. There is something particularly soothing about a proper fire, especially in the countryside, and especially when there is good music on the cd player. (I now travel with my own selection of Mozart and Elgar.)
At first the floor area seemed rather modest, but then I noticed that the doors to the bathroom could be folded back, to increase substantially the sense of space. (If your funds allow, you might want to opt for one of the 'Vista Hot Tub' suites at $1,150 to $1,500 a night. I have occupied them before. They are expansive essays in the charming possibilities of natural wood, with four poster beds, sitting and dining areas, enormous bathrooms and outside decks with hot tubs.) Sitting in one of the wicker chairs on my verandah in the early evening, I could gaze across the meadow (pictured) and over at the distant Pacific, and think that the world was quite a good place, after all.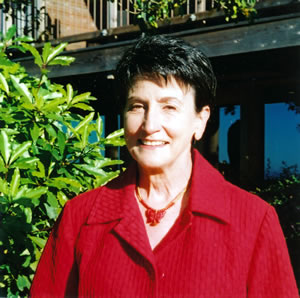 Such thinking was as close to physical excercise as I came at Ventana, for I am not given to the sin of activity. For those who desire them, the Inn offers all sorts of things to do, from the numerous spa treatments to yoga and conducted walks and the delights of its "clothing optional" Japanese hot baths.
Ventana's excellent General Manager, Tina Harlow (pictured) – a fine and interesting lady, once a distinguished thespian - is to be congratulated on maintaining the Inn's atmosphere of exclusive isolation. Mobile telephones are banned from the dining room. (Three cheers!) And (another rousing cheer!) young children are barred from the entire property. The resultant atmosphere of quiet calm is a tonic for the mind and medicine for the soul. I have lost count of how many hotel meals have been ruined for me by mobile telephones and/or noisy children. To know that neither could happen at Ventana was a true joy.
Indeed, the only disturbance during my entire visit was, appropriately, caused by Mother Nature herself. When the morning sunshine was warm, I would turn my back on the crackling log fire in the main lodge and have my breakfast outside. But the birds knew as well as I did that the raspberries, strawberries, blueberries, croissants, strawberry jam, hot buttered toast, boiled eggs and slices of warm spinach quiche were all jolly good – so they made some determined attempts to share the comestibles. (Breakfast used to be Ventana's weak spot. I congratulate the new team for sorting it out.) The birds did not succeed (for I can be pretty determined myself), and by the time of my concluding cappuccino I had eaten well.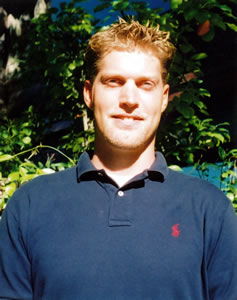 On one of these leisurely mornings I was joined by the Assistant General Manager, Steve Johnson (pictured). In his 6 foot 7 inch frame he embodies the excellent qualities I found in every member of the Ventana staff – friendliness, enthusiasm, efficiency, expertise and a genuine sympathy for the special ethos which brings so many of the world's rich and famous to this unique place. The level of service is, indeed, very high throughout the property, and everything I desired – like the replacement clock for the one which was losing time on my mantelpiece – was brought within moments of my telephoned request.
In the evening I walked to the lobby and was taken thence in the shuttle 'bus to the restaurant. Here I was greeted by a familiar face – that of Richard, the genial waiter, who recalled my previous visits. Flickering candles, heavy beams and high roofs give this large building the air of a modest cathedral. I found it as pleasing as ever – as I did the white damask on the large tables and the high quality glassware (a mixture of Riedel and Spiegelau). Napkins were replaced. As expected, Richard looked after me very well.
Executive Chef Truman Jones cooks simply and directly, and allows the flavours of his top quality ingredients to shine through clearly. My plate of heirloom tomatoes was excellent. Each of the other ingredients – watermelon, basil, pistachio, feta cheese and balsamic vinegar – was there for a purpose. This was a refreshing start to my meal. The foie gras was from Sonoma – good in the terrine form, with cocoa, coffee and brioche, and brilliant seared, with huckleberry sauce. My main course was fillet of beef, with creamed spinach, sweet onion confit and a bordelaise sauce. This meat was tip-top, with a tremendous depth of satisfying richness. I finished this handsome repast with nectarine bread pudding and lavender ice cream. (Allow $80 for four courses.)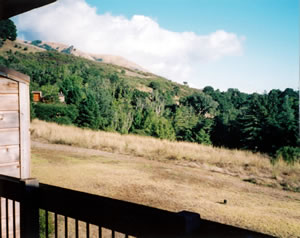 Prices on the wine list range from $30 for a syrah from the Carmel Valley to $395 for 2002 Cristal champagne, $295 for 2001 Opus One and $325 for 2003 Solaia. California supplies most of the 216 bottles and 32 half-bottles. My own drinking began with the brilliant 2007 Talbott Monterey chardonnay ($65). If anyone has doubts about the quality of Californian chardonnay, they should be given this vanilla-laden beauty. My red was interesting (I am always interested to try a new cabernet franc), but its harsh tannins revealed that it was still far too young, even in the half bottle (Pride Mountain, Sonoma County, 2007 - $60).
I emerged from Ventana refreshed and full of beans. All my fears about the new management had been dispelled. Lots of money has been spent to keep the hotel in good shape, but the special atmosphere of the property has in no way been compromised. And the team in charge is very impressive. Truly, Ventana is in safe hands. If you are looking for a luxurious retreat, where you can be nourished by natural beauty and relax in splendid comfort, this is the place for you. Ventana remains, triumphantly, one of my favourite hotels in the world.
---
ADDRESSES
VENTANA INN & SPA
Highway One, Big Sur, California 93920, U.S.A.
Telephone +1 831 667 2331
Fax +1 831 667 2419
www.ventanainn.com
Double rooms from $425-$500, including breakfast, according to season