FRANCE

FRENCH RIVIERA
ST TROPEZ

ALTHOFF VILLA BELROSE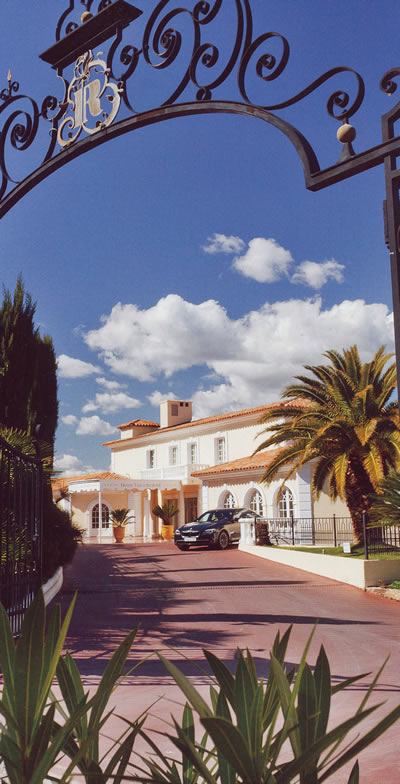 The Althoff Villa Belrose is the sort of hotel I like. Indeed, when I consider its location, its level of service, the excellence of its food and the civilised nature of its atmosphere, I can think of few hotels which can equal its charm. Everything and everyone is of such high and pleasing quality that, when one is a guest, it is difficult not to imitate the pussy cat with the bowl of cream and simply purr with pleasure. Clearly, this must have a great deal to do with the man in charge. Mr Robert-Jan van Straaten, a tall and imposing gentleman, is the sort of General Manager who is 'hands-on'. He is here, there and everywhere. He ensures that everything is exactly as it should be. I salute him – and will even forgive him for not always wearing a tie.
At the top of one of the hills which surround the Bay of St Tropez, the Belrose is reached by driving up a twisting road between some of the most expensive homes in Europe. But, once you reach this gaily-coloured villa in the Florentine style, you will find an atmosphere of exclusive exclusion. The surrounding properties do not impinge at all. Yet, of course, the views over the sea are enchanting. And you do not need to be right next to the sea, for the Belrose has the largest hotel swimming pool in St Tropez. It is a pool so cleverly set amidst the immaculate grounds that it appears to be a decorative feature of the grandest kind. There is also a luxurious spa, for those who like to disrobe for their pampering.
My room was on the level of the main entrance. Number 402 was a 'Prestige Double' and therefore 905€-1,530€ a night bed and breakfast for two, according to season. (You should check the prices for specific dates on the hotel's website.) This was a restrained essay in grey and white, with its walls hung with black and white photographs. The comfortable seating comprised a sofa and a wing chair. The hallway was lined with fitted wardrobes, wherein was my private safe. Lighting was from table lamps. In the bathroom I found plenty of white marble (veined with black) with one wash basin, a tub of decent size with a shower over it, a loo and lots of Penhaligon's toiletries.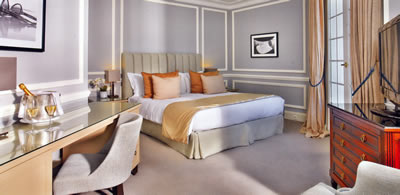 The bedroom was welcoming, and the bed had been made gorgeously soft, at my request. But the bedroom was really an ante-chamber for the terrace. Yes, through the French window was a great and mighty wonder: my very own viewing platform. Here, having chosen my manner of repose from the collection of cushioned chairs and low recliners, I could gaze out upon the beauty of St Tropez Bay. I loved particularly, as the late afternoon became the early evening, the remarkable sight of the distant town blushing a divine pink in the setting sun. La ville rose, seen from the Villa Belrose. In the early afternoons I enjoyed the same view from the main terrace of the hotel – for I tend towards the gregarious after lunch – and sipped my Earl Grey tea from a white porcelain cup.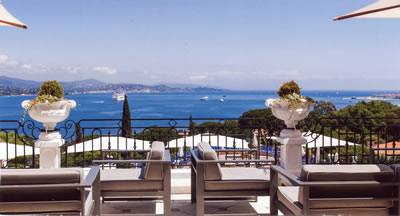 In the morning the view was more brightly lit, and on the terrace of the restaurant umbrellas were pushed this way and that, until my table was in the shade, shielded from the rays of the sun. Or, if a spot of inclemency had arrived, it was no penance to sit within. Then, with white napery and blue and yellow crockery by Villeroy & Boch on my table, I tucked into the delicious fare from the buffet: baked custards, pancakes, carrots, walnuts, melon, strawberries, pineapple and wonderful bread rolls. And brought to me was my particular indulgence: Grandpa's Breakfast (porridge made with milk, brown bread and butter and sliced, raw onion). All this was washed down by coffee from silver pots and, of course, my concluding cappuccino.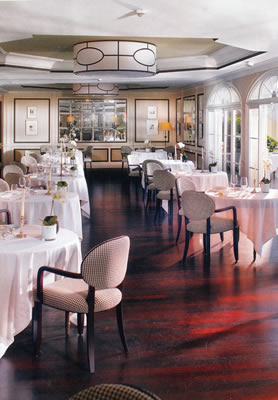 The quality of this food led me to expect great things at dinner, and that expectation was not disappointed. The restaurant has a Michelin star, and the cuisine of Chef Pietro Volontè thoroughly deserves it. My own dinner began with terrine of foie gras, with cream of almonds and quince – a dish of loveliness and delicate balance. The roasted rack of lamb which followed was more robust and, with its elements of spinach, thyme and lemongrass, delivered much tender flavour to my palate. I ended with a classic baba with citrus and creamy grapefruit. (Allow 130€-140€ for three courses.) The service is both friendly and efficient and the members of staff – dressed in a jolly fashion, as if on their way to Henley Regatta – are expertly overseen by the Restaurant Manager, Xavier Pawaert.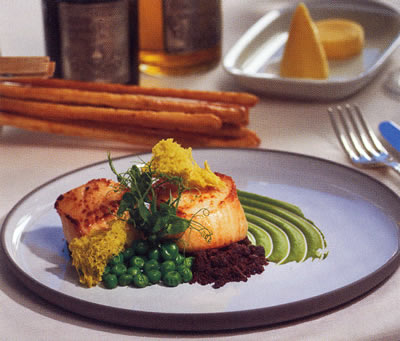 The Sommelier is a fine young man from Marseilles. Florian Merlet has 350 offerings on his mostly-French list, which include 32 magnums and 15 half-bottles. Prices run from 40€ for a Provençal rosé to 3,000€ for the 1981 vintage of Pétrus and 3,800€ for a magnum of 2008 Cheval Blanc. Other bottles to catch my eye were: Krug Grande Cuvée (450€), 1995 Yquem (600€, half), 2001 Lafite (1,750€), 2006 Cheval Blanc (1,950€) and 2001 Latour (1,700€). Among the wines I had poured into the Schott Wiesel glasses was a truly magnificent white burgundy. I must thank Mr Merlet for this, for I would never have chosen it without his guidance. It was described simply as 2014 Bourgogne, Boillot. In fact, it was the producer's Meursault, which had been 'declassified' because of over-production. Thus, for 110€ I quaffed a wine of rich, luscious complexity, for which one might have expected to pay two or three times the price. Well done, that man!
Indeed, well done, the whole establishment! After this excellent dinner I returned to my own private terrace, looked up at the stars and thought to myself: the Althoff Villa Belrose is exactly the sort of hotel I like.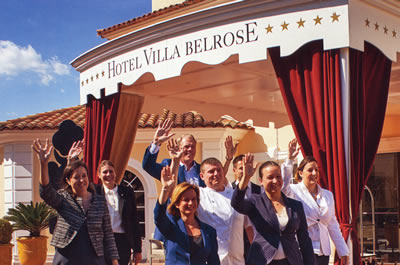 ---
ADDRESSES
VILLA BELROSE
Boulevard des Crêtes, La Grande Bastide, 83580 Gassin/St Tropez, France.
Telephone +33 (0)4 94 55 97 97
Fax +33 (0)4 94 55 97 98
Email: info@villa-belrose.com
www.villa-belrose.com
Open: April – October
Double rooms from 485€-725€, according to season, including breakfast
Check the hotel website for the rates for specific dates and for special offers