ITALY
ITALIAN LAKES
LAKE COMO
CERNOBBIO
VILLA D'ESTE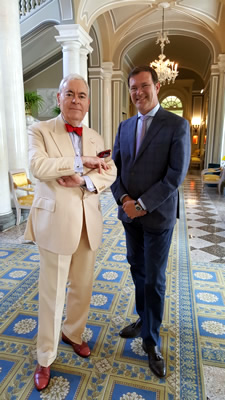 Italy's most famous hotel just gets better and better. How it achieves this logistical miracle – for how can one improve on perfection? – I do not know. But it must be to down to those admirable folk who know that only by the application of intelligence, skill, hard work and good taste does the Villa d'Este retain its position as one of the very best hotels in the world. I make no apology, therefore, for bringing you pictures of these fine people. Chief among them, of course, is the General Manager, Danilo Zuchetti – seen here with your correspondent in the main corridor of the hotel. Tall, charming, dapper and constantly about his property, Mr Zuchetti is the model of what the director of a true luxury hotel should be. He ensures that the Villa d'Este is the true Lady of Lake Como - gracious, serene, beautiful and always perfect in her manners and in her dress. Thus she carries easily that for which so many others can only strive – breeding. She is on intimate terms with the great and good, and yet she treats all her guests, however high or lowly, with the same care and courtesy.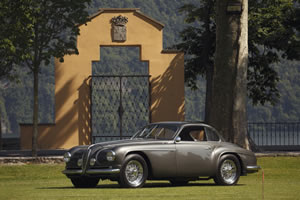 She stands alongside every great hotel and yet, somehow, she stands above them. As the late, great Jean Salvadore (who dealt with the hotel's public relations for so many decades) never tired of reminding me: the Villa d'Este is unique.
Certainly, I know of only one hotel in the world after which a motor car was named. And it was not just any motor car. It was a special version of the Alfa Romeo 6C Super Sport made by Touring of Milan. Only 25 of these gorgeous machines were made, of which just 8 are thought now to reside in Europe. Like the hotel, the eponymous motor car is a true classic, of impeccable pedigree. It is the Coupé Villa d'Este, first made in 1949, a masterpiece of automotive design (shown in the picture). I have now had the privilege of sitting in this particular, pristine example, for it resides in a display cabinet in the grounds, and must be considered a significant addition to the hotel's collection of works of high art.
It should not surprise you, dear Reader, that the Villa d'Este is the one hostelry in the world from which I never stray during the course of a visit. Why am I so happy to stay put? Well, within the domain are some of the most magnificent (and important) gardens in Italy. Its rooms and suites are luxurious and comfortable. It sits right on the edge of Lake Como, and therefore enjoys a panorama which has few equals. There is plenty of civilised space, for its elegant public rooms and terraces are numerous and quiet. The food in its restaurants is delicious and the service from every member of its staff is courteous, friendly and efficient. Indeed, I should pay further tribute to the members of the wonderful team which ensures that only the highest standards are entertained within the Heavenly Estate. My picture shows four of them: (from left to right) Fabrizio Zarattini (the Manager of the Verandah Restaurant), your correspondent, Gianfranco Mondelli (Food & Beverage Operations Manager), Massimo Dorino (Hotel Manager) and Michele Zambanini (Executive Chef) – great persons all. You will notice that Chef Zambanini is not only in the surroundings of his magnificent new kitchen, but is also holding a book. It is called A Culinary Experience, and is a sumptuous evocation of the gastronomic delights of a stay at the Villa d'Este. I recommend it to you.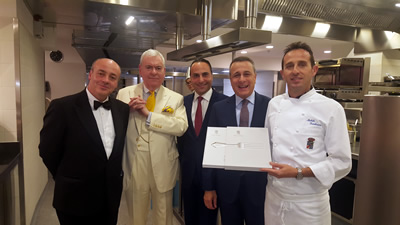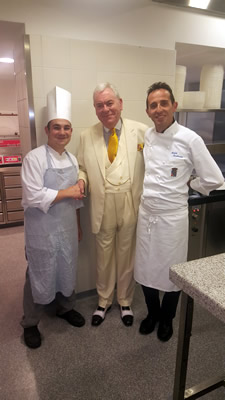 I am not, of course, the first person to be captivated by this demi-Eden. A prince of the Church, Cardinal Tolomeo Gallio, built himself a retreat on this spot in the 16th century, and Queen Caroline – the estranged wife of George IV – could not resist buying the property in 1815. With owners of such quality and wealth, all keen to adorn their lovely prize, it should not surprise us that the gardens are full of fountains, mosaics, arches, statues and battlements. They make the grandest of settings for the 19th Century hotel buildings. For the hotel is a relative newcomer, having been opened in 1873. Its fine buildings are, however, entirely right and exude the impression of having been here forever.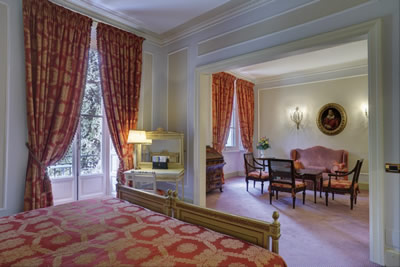 Room 337, on the third floor, was as gracious and charming as I could wish. It was a 'Junior Suite Exclusive' and therefore 970€-1,530€ a night, bed and breakfast for two, according to season. It was decorated in exquisitely traditional taste. In the sitting room were different shades of pale lemon, beige and red – set off by the gold of the picture frames and the table lamps and by the polished marquetry of an antique chest of drawers. Two crystal chandeliers cast their beams down upon the sofa, the armchairs and the fine oil paintings. Within the panelled, walk-in wardrobe was plenty of hanging space (which I welcomed, for I do not travel lightly). There was also a private safe. (As I do not care for the Little Corsican, I carefully covered with a linen napkin the engraving of Napoleon Bonaparte which was hanging by the entrance.) A cd player was brought for me, so that I could accompany my afternoon rests with the melodies of Sir Edward Elgar.
The bedroom continued this graceful style. The bed had, of course, been made deliciously soft for me. The bathroom was impressive for its large slabs of honeyed and black marble. Within were two wash basins, a tub of proper dimensions with a shower over, a loo and a bidet. And, as always, there was a plentiful supply of the Villa d'Este's own toiletries.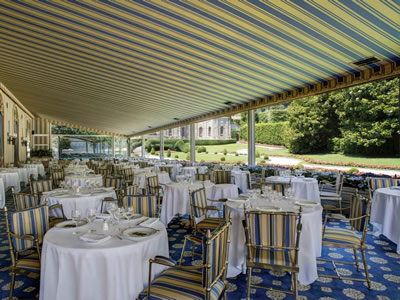 Breakfast on the terrace of the Verandah Restaurant at the Villa d'Este is one of the glories of Italy. But the weather was slightly inclement, so I did what is very nearly as good: I sat inside at table number 20 and gazed straight out through the huge plate glass windows at Lake Como. Here waiters Marco and Roberto looked after me with the utmost efficiency and discretion, bringing to me silver pots of coffee, buckets of ice cubes and glasses of freshly squeezed orange juice. The buffet is rightly famous as a cornucopia of edible delights, but it suited me to sit back and allow the admirable Fabrizio Zarattini (the Restaurant Manager) to organise for me each morning a plate of grilled fish, boiled potatoes and peas, followed by a dish of raspberries and strawberries. Whether it was turbot, sole or sea bass, each of these dishes was wondrous to behold and wondrous to eat.
My days were spent on the terrace by the Lake – within or without the arcade, according to the state of the heavens. To me the excellent waiter brought pots of tea and plates of little cakes. After these happy moments, I would return, as the sun began to sink gently towards the hilltops, to my apartment for the Pre-Prandial Soak. Then I dressed for dinner.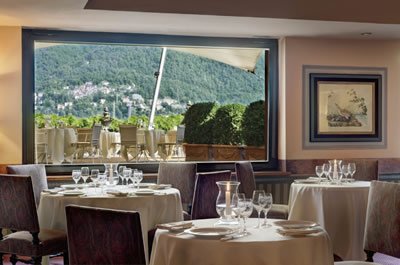 The less formal of the dining rooms is the Grill, which is housed in a separate building in the gardens. Here I was in the hands of Massimiliano Rodio, the Grill's excellent maitre d', and the 2nd maitre, Andrea Capelli. Soon the kindly waiter, Stefano, was lifting domes to reveal the fine dishes prepared by Chef Simone Paredi. I began 'off-menu' with a dish I particularly wanted that evening: fried foie gras with fresh orange. Lovely – particularly with foccacia and olive oil on the side. Then I tucked into super pike-perch – stuffed inside cannelloni and served on top of watercress sauce and with almonds. This was beautifully judged. And the grilled lamb chops were just as good – the meat sweet and tender, and delicately enhanced by a confit of garlic. I could not resist sucking on the bones, after which – of course – a finger bowl appeared on the table. I finished with a happy confection of wild strawberries, rhubarb, panna cotta and whipped cream. (Allow around 120€ for four courses.)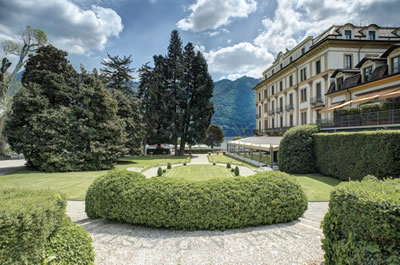 My other dinners were had in the larger Verandah Restaurant. Here the hotel's requirements are exactly right. I quote: "At dinner gentlemen are required to wear jacket and tie. Cellular 'phones are not allowed in the dining room." These words make me want to sing a Te Deum. If only all hotels were so sensible. The Villa d'Este, like The Ritz in London, stands as a bulwark against the barbarian tide.
White napery, candles, waiters in black tie (or red jackets for the sommeliers) and gleaming glassware create an atmosphere at once properly formal and highly welcoming, and Mr Zarattini's calm professionalism ensures that all runs with perfect smoothness. With the kitchen commanded by the brilliant Executive Chef Michele Zambanini, the food in these comfortable and welcoming surroundings is always a highlight of my visits to the Villa d'Este. His dishes delight the eye and caress the palate.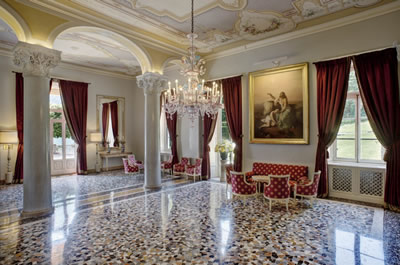 Allow me to share with you the highlights of my meals. Lobster was perfectly cooked and presented with a subtle combination of artichoke cream and sweet and sour apple. Precisely seared scallops found their delicate taste and texture enhanced by San Daniele ham, pumpkin, fig and balsamic vinegar. Lemon-flavoured tagliolini made me gasp at the cleverness of its companions – marinated sea bass, Kaluga caviar and dry Martini. And venison with crispy rice, blueberries and juniper dumplings was as good a meat dish as I have had in many a year. But what stay in my memory most gloriously are the two large soufflés – one cheese and one raspberry – which were so wonderfully indulgent and so magnificently 'right' that I asked to meet their maker, so that I could thank him personally. The picture shows this very talented young man, Andrea, next to Chef Zambanini. (Allow around 170€ for four courses.)
The wine list has 606 offerings, including lots of magnums and half-bottles. Most are from Italy or France. Prices run from 32€ for a rosé from Puglia to 5,750€ for the 2001 vintage of Pétrus. I noticed the following tempting bottles: Gaja Barbaresco 2010 (490€), Luce 2012 (160€), Solaia 2012 (430€), Ornellaia 2012 (340€), 2012 Masseto (1,380€), Sassicaia 2012 (390€), Yquem 1995 (720€), Lafite 2001 (1,680€) and Latour 2001 (1,950€). My own drinking at the Verandah included two splendid bottles recommended by Mr Zarattini: a white blend of friulano, sauvignon blanc and pinot bianco, bursting with grassy aromas, which went beautifully with the cheese soufflé (Terre Alte Rosazzo, Livio Feluga, 2015 – 105€), and an elegant, claret-type red from the Veneto (Rosso dell'Abazia, Serafini & Vidotto, 2009 – 82€)
After these and many other delights, I took my leave of the hotel full of gratitude for the beauty, the luxury and the exemplary service of this place. The miracle on Lake Como goes on. The Villa d'Este just gets better and better.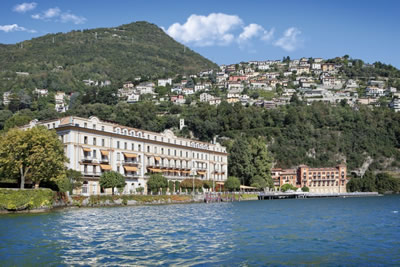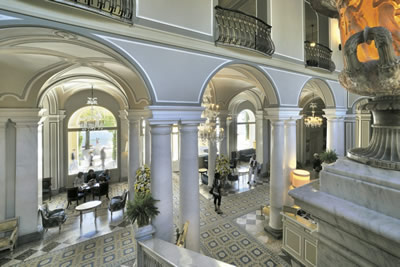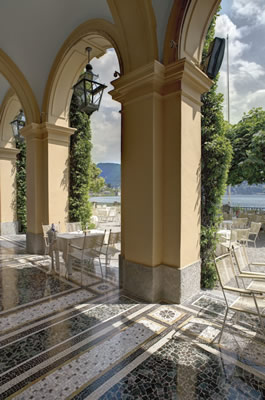 ---
ADDRESSES
VILLA D'ESTE
Via Regina 40, Cernobbio 22012, Italy.
Telephone +39 031 3481
Fax +39 031 348 873
Email: reservations@villadeste.it
www.villadeste.com
Double rooms from around 550€-800€, including breakfast, according to season.
Open from March to November
Check the hotel website for special offers and for the rates for specific dates