ITALY
ITALIAN LAKES
LAKE COMO
CERNOBBIO
VILLA D'ESTE
The Villa d'Este cannot be rated alongside other lodging establishments. It is in a category all by itself. Serene, majestic, noble, imperturbable – it is not of the nobility, rather it is a monarch. No, let us acknowledge the truth: the Villa d'Este is The Emperor of Hotels. That this most famous of hostelries continues to deserve such acclaim is down to those admirable folk who apply their intelligence, skill, hard work and good taste in its service. I make no apology, therefore, for bringing you a picture of these fine people. Chief among them, of course, is the General Manager, Danilo Zuchetti – seen on your correspondent's left. Tall, charming, dapper and constantly about his property, Mr Zuchetti is the model of what the director of a true luxury hotel should be. Next to him is the Hotel Manager, Massimo Dorino, and on my right is the Executive Chef Michele Zambanini, and then next to him Gianfranci Mondelli, the Food and Beverage Operations Manager. This brilliant team ensures that the words of the late, great Jean Salvadore (who dealt with the hotel's public relations for so many decades) remain true: the Villa d'Este is unique.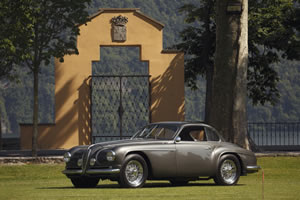 Certainly, I know of only one hotel in the world after which a motor car was named. And it was not just any motor car. It was a special version of the Alfa Romeo 6C Super Sport made by Touring of Milan. Only 25 of these gorgeous machines were made, of which just 8 are thought now to reside in Europe. Like the hotel, the eponymous motor car is a true classic, of impeccable pedigree. It is the Coupé Villa d'Este, first made in 1949, a masterpiece of automotive design (shown in the picture). I have now had the privilege of sitting in this particular, pristine example, for it resides in a display cabinet in the grounds, and must be considered a significant addition to the hotel's collection of works of high art.
It should not surprise you, dear Reader, that the Villa d'Este is the one hostelry in the world from which I never stray during the course of a visit. Why am I so happy to stay put? Well, within the domain are some of the most magnificent (and important) gardens in Italy. Its rooms and suites are luxurious and comfortable. It sits right on the edge of Lake Como, and therefore enjoys a panorama which has few equals. There is plenty of civilised space, for its elegant public rooms and terraces are numerous and quiet. The food in its restaurants is delicious and the service from every member of its staff is courteous, friendly and efficient. Indeed, I must pay further tribute to the members of the wonderful restaurant team which ensures that only the highest standards are entertained within the Heavenly Estate. My picture shows five of them: (from left to right) Marco, Roberto, sommelier Gianpaolo, Marco and Mirko – great persons all.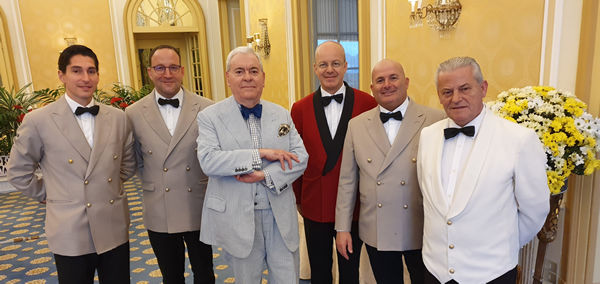 I am not, of course, the first person to be captivated by this demi-Paradise. A prince of the Church, Cardinal Tolomeo Gallio, built himself a retreat on this spot in the 16th century, and Queen Caroline – the estranged wife of George IV – could not resist buying the property in 1815. With owners of such quality and wealth, all keen to adorn their lovely prize, it should not surprise us that the gardens are full of fountains, mosaics, arches, statues and battlements. They make the grandest of settings for the 19th Century hotel buildings. For the hotel is a relative newcomer, having been opened in 1873. Its fine buildings are, however, entirely right and exude the impression of having been here forever.
Room 151, on the first floor, was ideal – as gracious and charming as even I could wish. It was a 'Junior Suite Exclusive' (think around 1,000€-1,500€ a night, bed and breakfast for two, according to season). It was decorated in exquisite traditional taste, in tones of yellow and blue. In the sitting room was a Classical fire surround, above which was an oil painting of a young girl presenting a pink carnation to her mother. A second oil painting, above the sofa, showed the Grand Canal in Venice with San Simeone Piccolo, a church in which I have often attended Mass (according to the Old Rite in Latin, of course). Highly polished pieces of antique mahogany furniture, including a writing desk and a chest of drawers, added to the sense of refined luxury.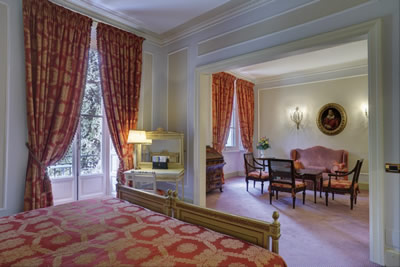 The six branch chandelier was a little too much for me. (Overhead light I find rather harsh.) A gentleman therefore sped to my room to disconnect it, so that I could relax in the gentler illumination of the half dozen table lamps. Two French windows, with sagged and tailed curtains, allowed in nature's brightness. Through the one in the sleeping area was my own private terrace, on which I could sit and gaze at Lake Como. Within the panelled, walk-in wardrobe was plenty of hanging space (which I welcomed, for I do not travel lightly). There was also that necessity of travel nowadays: a private safe.
The bathroom was notable for its size, which was generous, and for its abundance of honey-coloured marble. It accommodated a bath of proper proportions, a separate shower, two wash basins, a bidet and the loo. As always at the Villa d'Este, the toiletries and the large white towels were both numerous and of top quality.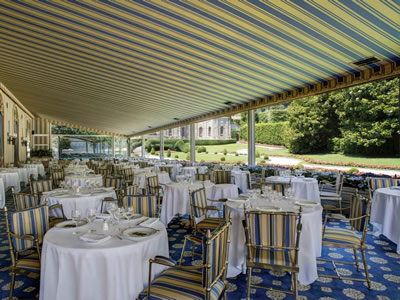 Breakfast on the terrace of the Veranda Restaurant at the Villa d'Este is one of the glories of Italy. But the weather was slightly inclement, so I did what is very nearly as good: I sat inside at table number 3 (which, despite being next to the huge plate glass windows, somehow afforded me protection from the sun's rays while giving me a view down the length of the building's Grand Promenade). The buffet is rightly famous as a cornucopia of edible delights, but it suited me to sit back and allow the admirable chaps in the photograph to organise for me each morning some special delights. I loved the grilled sea bass, with porcini mushrooms, boiled potatoes and peas, and the little pots of bread and butter pudding. And on one morning I had something which, strange to say, I had never eaten before – a lobster omelette. Chef Zambanini suggested that I should have with it a side dish of lobster bisque. Needless to say, the Great Man was right, and I devoured both omelette and bisque with the utmost relish.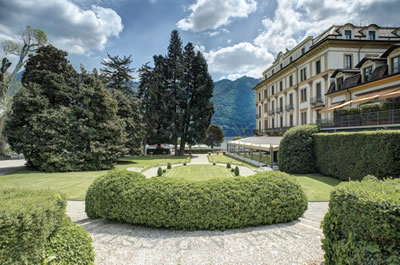 My days were spent on the terrace by the Lake – within or without the arcade, according to the state of the heavens. To me there the excellent waiter brought pots of tea and plates of little cakes. After these happy moments, I would return, as the sun began to sink gently towards the hilltops, to my apartment for the pre-prandial soak. Then I dressed for dinner. It is worth remarking at this point that you will never be bothered at the Villa d'Este by any canned music. Deo gratias! So rare has this blessed absence become that I have had occasion to rebuke those in lesser establishments who presume to tell me, "You must have piped music at a five-star hotel" with the crushing retort: "There is no such noise at the Villa d'Este."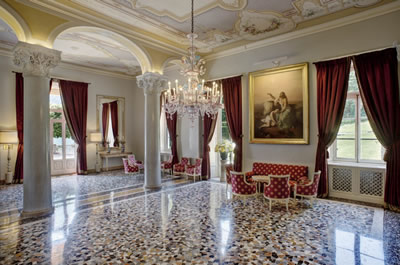 The less formal of the dining rooms is the Grill, which is housed in a separate building in the gardens. Here I was in the hands of Massimiliano Rodio, the Grill's excellent maitre d' and the charming 2nd maitre, Stefano Tordonato. The waiter lifted domes to reveal the splendid dishes prepared by Chef Nicola Campanella. A plate of tagliolini with shavings of white truffle was heavenly. The fillet of John Dory was nearly as good, served with wonderful, sautéed porcini mushrooms. And my ending could not have been better, a magnificent (and magnificently large) strawberry soufflé, spooned out at the table. Here I quaffed a muscular chardonnay from the Valle d'Aosta which was ideal for the John Dory (Cuvée Bois, Les Crêtes, 2015 – 88€).
My other dinners were had in the larger Veranda Restaurant. Here the hotel's requirements are exactly right. I quote: "At dinner gentlemen are required to wear jacket and tie. Cellular 'phones are not allowed in the dining room." These words make me want to sing a Te Deum. If only all hotels were so sensible. The Villa d'Este, like The Ritz in London, stands as a bulwark against the barbarian tide of scruffiness and bad behaviour.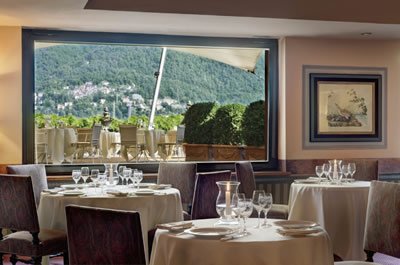 White napery, candles, waiters in black tie (or red jackets for the sommeliers) and gleaming glassware create an atmosphere at once properly formal and highly welcoming. The professionalism of every member of the waiting team ensures that all runs with perfect smoothness. With the kitchen commanded by the Executive Chef Michele Zambanini, a gentleman of courtesy and culinary brilliance (a combination rare nowadays), the food in these comfortable and welcoming surroundings is always a real highlight of my visits to the Villa d'Este. His dishes delight the eye and caress the palate.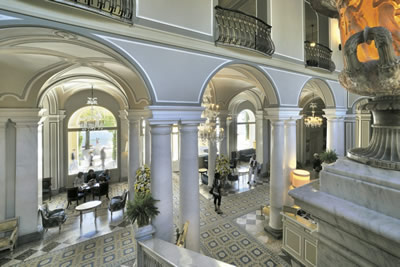 Allow me to share with you the highlights of my meals. An egg yolk, poached in oil, with mashed potato and white truffle was ethereal in its captivating lightness. Lukewarm Black Angus beef with more white truffle and olive oil was gorgeously simple and simply gorgeous. Turbot, grilled and served with asparagus, climbed to the mountain top of piscatorial excellence, while rich, sweet, tender venison with beetroot and green apple and fennel flavoured stuffing showed that the kitchen was controlled by a man with a palate of rare discernment. And then there were the soufflés. I adore large soufflés, and you will not find better than those at the Villa d'Este. The favourite on this visit – as it usually is – was that made with raspberries. I go weak at the knees just thinking about it. (Allow around 180€ for four courses.)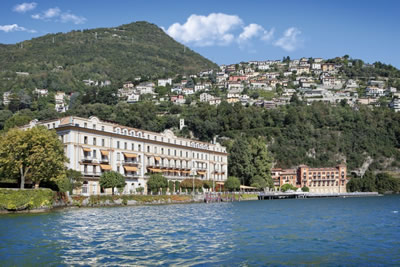 The wine list has 622 offerings, including lots of magnums and half-bottles. Most are from Italy or France. Prices run from 35€ for a rosé from Lombardy to 7,200€ for the 2008 vintage of Pétrus. I noticed the following tempting bottles: Gaja Barbaresco 2015 (480€), Luce 2014 (190€), Solaia 2015 (540€), Ornellaia 2015 (460€), 2015 Masseto (1,900€), Sassicaia 2015 (750€), Yquem 2000 (860€ half), Tignanello 2015 (520€, magnum) and Latour 2001 (1,850€). My own drinking at the Veranda included two splendid red wines recommended by sommelier Gianpaolo Vaninetti: a very special nebbiolo made nearby from dried grapes, which needed air to calm its heaviness but then yielded a captivating depth of black fruit (Sforzat, Albareda, Prevostni, 2015 – 58€, half), and the magnificently arrogant Primitivo di Manduria called ES, a veritable tour de force – so muscular yet so elegant – by Gianfranco Fino (2017 – 106€). Such drinking with such food is a privilege. I do not think I have ever had a disappointing meal here.
Indeed, this magnificent palace next to Lake Como never disappoints. It stands alone in its greatness, and I salute those who maintain its standards. The Villa d'Este is The Emperor of Hotels.
---