Italy
PALERMO, SICILY
VILLA IGIEA GRAND HOTEL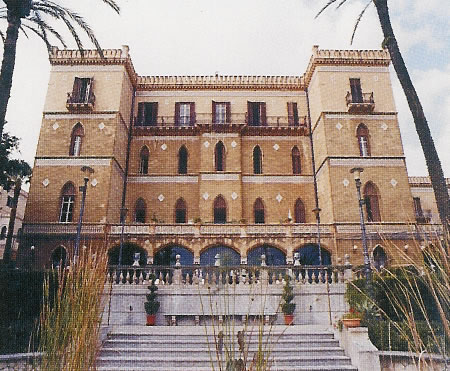 Palermo is packed with the most beautiful church interiors. Exquisite stucco (delicate and cool), remarkable marble inlay (astonishing in its over-the-top complexity), shimmering golden mosaic (disturbing to the soul with its Byzantine indifference to modernity) – it is all here, amidst the bustle and rush of Sicily's great city. And what is here, too – set apart in its own oasis of beauty and calm – is a wonderful bastion of hotel tradition. Like the great and the good before me, I have been to the Villa Igiea Grand Hotel.
First, a warning. Do not be put off by the approach to the hotel. The road is dusty and busy and the surroundings look rather miserable. I was surprised when my taxi suddenly slowed down and drove through some gates in a high wall. We drew up under a porte-cochère. I went up the red carpet of the steps and through the front door. And then I knew all was well.
Years of travelling have taught me that one's first impression of an hotel is usually an accurate indicator of what is to come. Here that impression was of old-fashioned comfort and style. Nothing brash or slick was to be seen. Indeed, all was thoroughly to my taste. The ceilings were high; members of staff were smart; and the furniture (including the numerous clocks) was of the sort one finds in fading photographs, when one is in the mood for a bit of yearning for the glamour of the 1930s.
In fact, the Villa Igiea was opened somewhat earlier, in 1900. There is some dispute as to whether the Villa was originally intended to be a sanatorium, and the decorations certainly embody the themes of recovery and restoration. But there is no doubt that the brilliant architect, Ernesto Basile, created a building and a garden which, together, still lift the spirits most therapeutically. He was helped by the site, a hillside running down to the sea. Soon, to his wonderful interiors, there flocked kings and queens, princes and nobles, and the stars of stage and screen. It pleased me to think, as I wandered the corridors and lingered in the public rooms, that before me had trod, in their days, the King of Siam, Edward VII and Sophia Loren.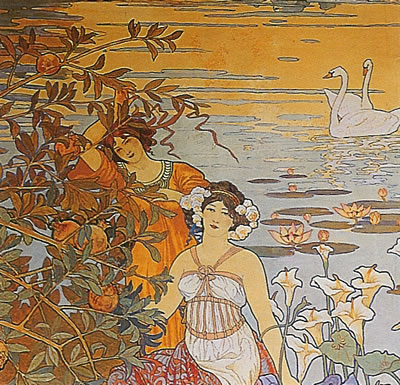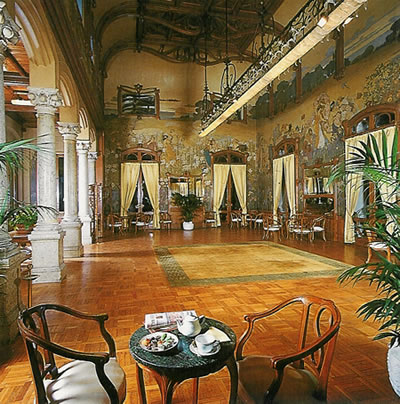 To one of those rooms I must direct your particular attention. The 'Salone Basile' (see picture) is to one side of the hotel's long main corridor. If you like the sinuous homage to nature which is Art Nouveau, you will find this chamber quite enchanting. I tried to relax with a book there, but I was repeatedly distracted by the ladies, some of them unrobed, who were disporting themselves around the walls. These paintings by De Maria Bergler (see picture) made me feel quite young, and reminded me of the illustrations in the books of my youth.
My own apartment was more modest, yet was not without its enchantments. Room 106 was on the ground floor (viewed from the hotel entrance), and on the first floor (viewed from the seaward side). Designated a 'Blue-Top Deluxe' (and therefore 340-466 euros a night, bed and breakfast for two, according to season), this was a decent, square chamber, with beige and gold damask covering its walls. I detected a hint of Empire style in the mahogany furniture. Four engravings included one of the Temple of Neptune at Pesto. A ten-foot ceiling, a proper hallway, air-conditioning and a private safe were to my liking – as was the long tub in the bathroom.
But the main delight was through the French windows: a terrace, on which I could sit and contemplate the view. And this was a view which deserved contemplation. Beyond the garden and the swaying masts of the yachts in the marina, was the whole sweep of the Bay of Palermo, with its backdrop of distant mountains. I enjoyed this visual treat in the morning sun, in the afternoon shade and in the evening array of far-off, twinkling lights. It was a constant yet changing joy. And it was savoured in a quietness broken only by the sound of the splashing water in the garden fountain.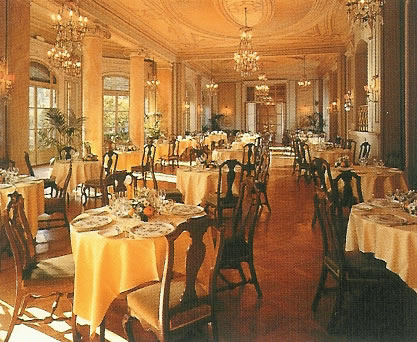 I dined in the hotel's Belle Epoque Restaurant. The pianist played La Vie En Rose as I sat in a high-backed wooden chair and cast my eye over my grand surroundings. Mirrored walls and crystal chandeliers always help my digestion – so I tucked enthusiastically into the food brought to me by the waiters in their white dinner jackets. Two chefs man the kitchens here, Edoardo Monticciolo and Riccardo Marchese. Their food is carefully prepared. My lobster salad with shredded vegetables, olive oil and red currants was tasty and well-balanced. Gnocchi, with pumpkin and gratinated squash blossoms, were just as good, with soft textures and luscious tastes. Cutlets of wild boar were less exciting. I ended this enjoyable meal, as I so often do, with crèpes Suzette. (78 euros for these four courses; a three-course set meal is offered at 49 euros.)
About 130 wines inhabit the list. Italy dominates, of course, but there are one or two tempting foreigners – like 1997 Opus One at 290 euros and 1999 Chateau Margaux at 360 euros. Prices for the Italians range from 25 euros for a local white to 190 euros for 2001 Sassicaia. I chose both my red and my white from the Sicilian sections headed "aged in oak cask". Both were from a producer recommended to me by a Sicilian wine waiter working in Siena – the Duca di Salaparuta. And both were excellent. His 2001 Bianca di Valguarnera (made from the inzolia grape – 44 euros) was supremely elegant, very dry, with suggestions of butter – rather like a good Meursault. The 1999 Duca Enrico (made from the nero d'avola and perricone grapes – 63 euros) was also very dry, almost austere, with a nose reeking of damp oak. I am pleased to report that, for these fine wines, Spiegelau glasses were produced.
It was back to the Belle Epoque Restaurant each morning for breakfast, with the waiters now in the sort of short white jackets once popular on ocean liners. It delighted me to observe, each day, that my fellow guests invariably made an effort to dress decently for their morning appearance. From the buffet I collected melon and Parma ham, bacon and scrambled egg and slices of crusty bread – all of good quality. My little pots of marmalade had journeyed to my table all the way from Tiptree, in Essex. Through the windows was that lovely view of the Bay. This was a good way to start the day.
And the Villa Igiea – comfortable, stylish and proudly traditional – is a good place in which to stay when you go to Palermo. For go to Palermo you must – not least to marvel at those beautiful church interiors.
---
ADDRESSES
VILLA IGIEA GRAND HOTEL
Salita Belmonte 43, Palermo 90142, Sicily, Italy.
Telephone +39 091 6312 111
Fax +39 091 547 654>
Email: villa-igiea@amthotels.it
www.amthotels.com
Double rooms from 195-277 euros, according to season
Breakfast 15 euros