United Kingdom
ENGLAND
BUCKINGHAMSHIRE
BUCKINGHAM
VILLIERS HOTEL

Every gentleman has to teach at a prep school at some time. Or, at least, that is what folk of my generation used to believe. A little contretemps at Oxford, and it became clear that it was time to fulfil this particular little bit of my destiny. I cannot recall, at this distance, whether I secured my appointment via the services of Gabbitas-Thring (I certainly visited their wonderfully Dickensian offices off Piccadilly) or via the efficient procedures of The Independent Preparatory Schools' Association, but secure my appointment I did. There followed two of the happiest years of my life, which ended only when I was forcibly persuaded to return to the groves of Academe. I thought I was rather a good pedagogue. I wrote the School Song and I bequeathed to subsequent generations of young scholars The Bown Cup, a handsome silver trophy, to win which the contestants had to learn and recite before the whole school many lines of Shakespeare, Milton or Wordsworth. After several decades of absence, I was invited back to visit Beachborough (for that was the school). But where was I to stay?
That part of England at which the boundaries of Oxfordshire, Northamptonshire and Buckinghamshire meet is not famous for its hotels. Indeed, some have been so unkind as to describe it as "a hospitality desert". I am therefore particularly pleased to have found, and now be able to recommend to you, a truly excellent market-town hostelry – the Villiers Hotel.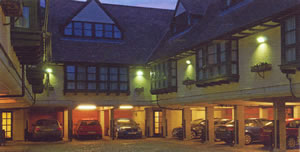 Such a place should be a former coaching inn, and the Villiers is just that. Its oldest parts date from the 17th century, and it has the cobbled courtyard and the higgledy-piggledy corridors you would therefore expect. Close to the old Town Hall, the hotel is on the street which leads to the parish church. Buckingham itself is still the charming little place to which I would take the sixth form in the school mini-'bus (to visit the local library). Arriving at the hotel, I was struck at once by the welcoming atmosphere of the public rooms, which are full of restful colours and comfortable sofas. I was pleased, too, that the helpful members of staff I encountered were keen to ensure that there was always a private parking space for my Royce.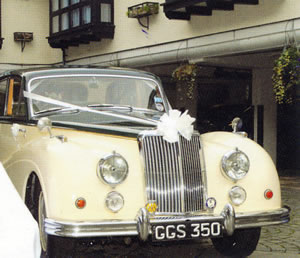 And speaking of motor cars, the hotel is popular for weddings and I cannot resist bringing before you a picture from its weddings brochure. It shows that quintessentially British motor car, the Armstrong Siddeley. This model is, I think, the Star Sapphire, which puts its birthday in the year 1958, 1959 or 1960. It strikes me as exactly the right transport to waft the happy couple from the parish church to the door of the Villiers.
Having been greeted by the amiable General Manager, Jean Rush, I was soon in my billet on the first floor. Room 118 was a Duplex Suite, and therefore £110-£158 a night, bed and breakfast for two, according to season. This struck me as very good value. The door from the corridor took me straight into the sitting room, wherein I found a solid writing desk, a sofa and easy chair in damson velvet, a beige carpet, a television, spotlights and a large window overlooking the quiet courtyard. On the desk were tea- and coffee-making facilities and in the mini-bar was what is so often forgotten – a jug of fresh milk. Upstairs was the galleried bedroom, with a second television and a fitted wardrobe with another sign that thought had been give to important details – an iron and an ironing board. The bathroom was small, tiled and had one wash basin. Its tub was of a decent size.

Bathed and besuited I went down for dinner. The restaurant is a large, low room, with a stone floor, spotlights, lemon tablecloths and seats in black leather. At my request, the Restaurant Manager – Martin Krasowki, a fine fellow from Poland, who looked after me very well indeed – turned off the canned music. Then the atmosphere was civilized and pleasing. A cushion was brought and, comfortably ensconced at a corner table, I was ready to tuck in.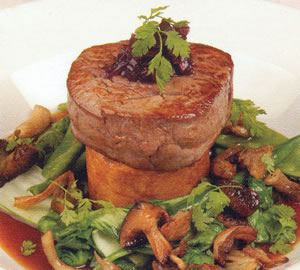 And that is precisely what I did. Chef Paul Stopps knows what he is about. His menu is brief and to the point and, on the evidence of my meal, I would judge that he obtains good ingredients and treats them with skill and intelligence. Smoked trout mousse, with confit of celery, green beans and horseradish cream, found all tastes present and correct. Then came some very good beef – fillet, cooked pink and sliced in the manner of a chateaubrand – with celeriac purée, creamed mushrooms and peas. And finally, what is now, sadly, something of a rarity – and something to remind us all of our schooldays – a really good rice pudding, with strawberry compote. This last was from the set menu; the first two dishes were from the carte. (Allow £30-£35 for three courses from the carte.)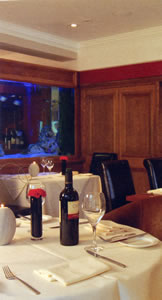 The wine list is not one to set the pulse racing. Still, its forty or so offerings are reasonably priced, ranging from an Argentinian chenin blanc at £13.50 to Dom Pérignon champagne at £150. My two bottles were from South America: a bright, grassy sauvignon blanc from Chile (Santa Serena - £13.75) and a smooth, dense malbec, full of blackcurrants, from Argentina (Zarapito - £13.50).
I returned to my corner table for breakfast, and there was impressed by the quality of my smoked haddock with mushrooms. Mr Krasowki had ensured that some just-squeezed orange juice was ready for me. Together with a white pot of Earl Grey tea, plenty of hot toast and a bowl of good fruit salad, this set me up for my day of nostalgia.
So how was the school? I found it much bigger, with lots of girls (it was boys-only in my day), far fewer boarders (even though my old rooms are now dormitories – with the appearance of hotel rooms), computers all about the place, and an art room with some paintings in the Fauvist style I would not have been surprised to see in a Cork Street gallery.
And slowly answer'd Arthur from the barge:
"The old order changeth, yielding place to new…"
If you are visiting Beachborough, or want to see your lad at Stowe or simply have a desire to explore Buckingham and its environs, you will lodge comfortably, sleep soundly and eat well at the Villiers Hotel.
---
ADDRESSES
THE VILLIERS HOTEL
3 Castle Street, Buckingham, Buckinghamshire MK18 1BS, England.
Telephone +44 (0)1280 822444
Fax +44 (0)1280 822113
Email: Buckingham@villiershotels.com
www.villiershotels.com
Double rooms from £70-£118.50, including breakfast, according to season
Check rates for specific dates on the website.