ENGLAND
BERKSHIRE
THE VINEYARD AT STOCKCROSS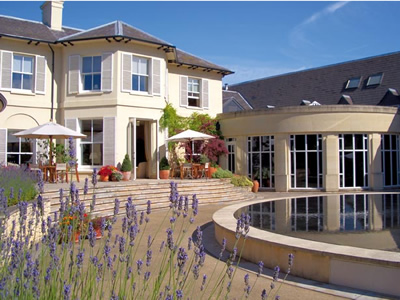 If you live in England and love California, but – like me – you do not care for long flights on aeroplanes, you should go to Berkshire. There, a brisk 70 mile drive down the M4 from London, you will find a Victorian hunting lodge. It has been much extended and the interior is now light and airy – in the Californian manner. Filled with good art, both traditional and modern, it provides food of high quality, so that a Michelin star twinkles over its roofs. Here, too, has been assembled the best cellar of Californian wine in the United Kingdom. The service, under the direction of the General Manager, Marwan Hemchaoui, is friendly and efficient. This lovely place was brought into being by Sir Peter Michael, creator of Classic FM and owner of the famous Californian winery which bears his name. It is, of course, The Vineyard at Stockcross.
Arriving in the Royce, I thought for a moment that I had been transported to the Napa Valley. And that is high praise. As soon as I walked in, I noticed the sense of space and easy elegance which pervades the whole property. I noted, too, the extensive, comfortably furnished, public areas and the abundance of really good oil paintings. (I will say more about one of these later.) Other works of art are conspicuous, too – like the pond by the main entrance, surrounded at night by flaming torches, which is entitled 'Fire and Water' and is by William Pye.
My air-conditioned Atrium Suite, number 218, was named Dom Ruinart, for all the apartments have names associated with the production of wine. (You will need to check the hotel website for the prices for specific dates.) It was on the first floor, on the front side of the building, overlooking some pretty gardens. (You should be aware that the 'B' road which passes by the hotel can sometimes be a little busy at certain times of the day.) This was spacious and comfortable accommodation in soothing tones of cream and brown.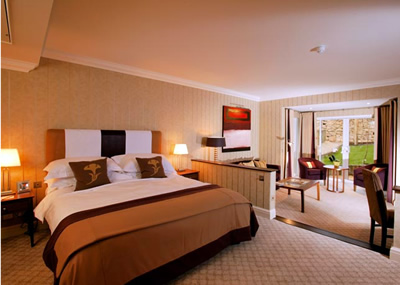 The sitting area – complete with its own balcony overlooking lawns – accommodated quite easily a sofa, an easy chair, a writing desk and a television with a dvd player. The sleeping area and the built-in wardrobes (with mirrored doors) were up one step. A coffee-making machine was to hand, which I liked, and so was a bed which had been made deliciously soft for me. Upon the latter I enjoyed my afternoon doze. For this invariable ritual I always display the 'Do Not Disturb' notice. At The Vineyard, this is slightly more complicated than elsewhere, so allow me to share the secret of the system with you. You need to press a button near the door, until a small light flashes. This means that a light is displayed in the corridor, telling the staff to keep away. Both of these lights are extinguished automatically when you next open the door.
In the large bathroom, I found overhead spotlights, one wash basin, a tub of large size, a separate shower, a loo, an extending shaving mirror and toiletries by Ren.
Bathed and carefully suited, I arrived at the restaurant, and was soon settling myself at a large table (number 4), looking down upon the dining room's lower level. The wrought iron balustrade next to me – of a sinewy, Art Nouveau style – adds much to the appeal of this elegant chamber of creamy tones. Before me on the tablecloth of white damask were Riedel glasses of the Restaurant Range. The service, particularly that provided by my waiter, Olivier, was courteous, friendly and proper.
And now, as promised, I will remark upon one of the oil paintings which can be seen near the hotel's reception area. On 24th May, 1976, a tasting of wines was organised in Paris by Stephen Spurrier. Those present were among the most renowned French wine experts of the day. The tasting was 'blind' and the wines on the table were some of the best French pitted against some of the best Californian. To the astonishment and consternation of the whole French nation, as it seemed at the time, the Californian wines swept the board. In 2012 Sir Peter Michael commissioned the artist Gary Myatt to paint a depiction – somewhat in the manner of paintings of The Last Supper – of the moment when the identity of the bottles was revealed to those who had drunk from them. The result is an amusing representation of this 'Judgement of Paris'.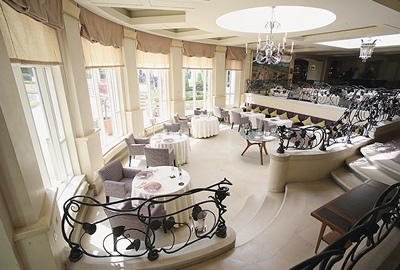 Now, in a modest way, the restaurant pays homage to that famous occasion by providing, with its tasting menu of eight courses (£99), glasses of six French and six Californian wines (£95), chosen by the Head Sommelier, Romain Bourger. This seemed to me a splendid idea, and my experience proved beyond doubt that it was a splendid idea. (Shorter menus are also available at dinner – at £65 and £75.)

Daniel Galmiche is from Eastern France. He is, as the Michelin inspectors have acknowledged, a chef of remarkable talent. He is also possessed of a finely tuned culinary wit. My first course, of sweet onion velouté with fois gras and pickled red onions, was not only a treat for my palate in its tastes and in its textures: it was also a good joke. For the foie gras was in the shape of a ball, covered with breadcrumbs which had been dyed with black squid ink. For a split second I thought that before me was a plump black truffle.
This was a tremendous start to my meal. It was followed by a well-judged rabbit and parsley terrine, precisely cooked cod with gorgeous peas, super firm-textured halibut with tomato, brilliant saddle of lamb with asparagus, cheeses which included an excellent Comté, confit apple with bergamot sorbet and then a triumphant finale to an impressive gastronomic concert – divine chocolate with salted caramel and fromage blanc sorbet. Did I enjoy my dinner? Yes, I did.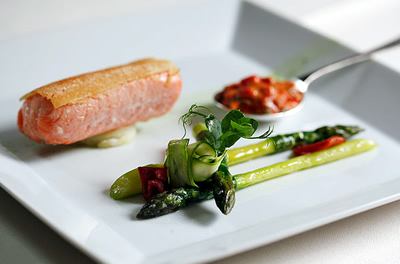 And I enjoyed the wines, too. My notes remind me that sometimes I preferred the Californian offering and sometimes I preferred the French. A 2010 Sancerre was bright and acidic (St Lalou), a Californian chardonnay was beautifully buttery (Benovia, 2013) and the 1998 vintage of the second wine of Cos d'Estournel was deliciously subtle and fruity (Pagodes de Cos).
I have already mentioned the excellence of the cellar. On the main list I counted 2,281 offerings, running in price from £20 for a 2010 Napa Valley cabernet (Amala Spring – a decent, spicy red) to £20,000 for a double magnum of 1982 Pétrus. Among the vast range of Californian bottles are 2004 Opus One (£370) and 2001 Screaming Eagle (£3,100). If you want to conduct your own tasting of the best clarets from the great vintage of 1982, you can order – alongside that double magnum of Pétrus – Ausone (£1,620), Cheval Blanc (£4,950), Haut Brion (£4,000, magnum), Margaux (£2,350), Latour (£5,020), Mouton-Rothschild (£6,500) and Lafite (£8,732). Those of you with less deep pockets will have to make do with comparing some Italian gems: 1997 Sassicaia (£720), 1997 Ornellaia (£510) and 1998 Masseto (£510). Or you might be drawn to the section at the very back of the list, wherein you will find 26 "everyday drinking wines under £30". The separate Short List has 100 wines available by the glass and by the carafe, grouped under titles such as 'Dry and Crisp'.
I returned to the restaurant and table number 4 the next morning for a hearty breakfast. Apart from mushrooms on toast, croissants and fruit salad – all excellent – I was pleased to be able to reproduce my grandpapa's morning repast of porridge (made with water), sliced raw onion and brown bread and butter. This sounds strange, but is wonderful – just like the idea of California in rural Berkshire.
The Vineyard at Stockcross offers a life-enhancing experience of food and wine.
---
ADDRESSES
THE VINEYARD AT STOCKCROSS
Newbury, Berkshire RG20 8JU, England.
Telephone +44 (0)1635 896562
Fax +44 (0)1635 528398
Email: reception@the-vineyard.co.uk
www.the-vineyard.co.uk
Check on the hotel website for the rates for specific dates and for special offers