ITALY
FLORENCE
WESTIN EXCELSIOR HOTEL
If I were asked – and sometimes I am asked such questions – what would be my ideal of an hotel in the enchanting city of Florence, I might well make the following response: a Renaissance-style palace overlooking the River Arno. And if I were pressed further, to imagine my ideal accommodation within this ideal hotel, I would surely reply that it would be a large and impressive suite in the traditional style. Well, my friends, I can now be more precise, for my ideal is no longer supposed. It is actual, and I have encountered it. Its name is the Westin Excelsior Hotel – a lodging as splendid as you will encounter, even in the City of Splendours.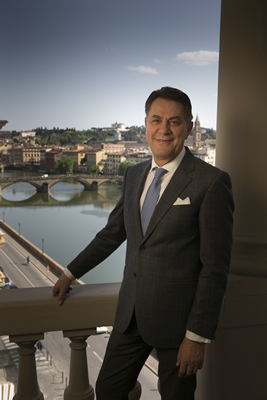 Occupying one side of the piazza Ognissanti, as well as a good stretch of the promenade by the river, the Westin Excelsior is both imposing and welcoming. It looks like a grand hotel and it is a grand hotel. Its entrance hall is properly huge, and is filled with such quantities of marble, gilt and polished wood that a smile is brought immediately to the faces of those of us who like to be surrounded by grandeur. Boutique hotels are fine and dandy, but sometimes one just needs to feel one is staying in a palace. And the members of staff – smart and attentive – add to the sense of being somewhere special. They are a credit to the dapper and charming General Manager, Mr Valentino Bertolini (pictured).
Of its 171 rooms and suites, I occupied numbers 132 and 134, which make up one of the hotel's Grand Deluxe suites (5,085€ a night, bed and breakfast for two). And those adjectives are deserved. This was grand and deluxe. On the first floor – reached (when I had the energy to ignore the lifts) by a sweeping staircase of stone and marble, lined with ancient oil paintings – this was the sort of apartment which you will know from the Hollywood films. In the proper entrance hall were two doors, one to the drawing room (pictured) and one to the bedroom.
The former was a wonderful chamber, about 20 feet by fifteen. Its white marble fireplace was surmounted by a gilt-framed mirror. A thick grey carpet lay upon the wooden floor, and grey woven material covered the walls. From its high ceiling was suspended a twelve-light chandelier. Wall lights and table lamps provided further illumination. The furniture included four wing chairs, a sofa, a marble-topped coffee table and an antique, inlaid writing desk. In this charming salon I spent my afternoons with pots of Earl Grey tea and the sound of Jean Langlais' Messe Solennelle – for a cd player had been installed for my use. Through the two French windows I looked across the river to the dome and the unfinished façade of the church of San Frediano in Castello. These were times of innocent and intense pleasure.
The bedroom had the same view, and in its wonderfully soft bed, surrounded by the finest crisp linen, I slept the sleep of the righteous – when I was not relaxing in one of the wing chairs or sampling the channels on the second television. My ablutions were conducted in the bathroom of grey marble, wherein were two wash basins, a large bath tub, a separate shower and a separate loo and bidet.
From this cosseting environment, I sallied forth each morning to see some of man's most noble artistic achievements – but not, of course, before I had broken my fast with determination and enjoyment. Breakfast at the Westin Excelsior should not be rushed, and I did not rush it. To my corner table in the cavernous ground floor breakfast room, I took from the buffet comestibles of high quality – including dishes of pineapple, melon and mango, plates of tomatoes, mushrooms and broccoli, helpings of bacon and scrambled egg and slices of apple tart. I also lingered by the 'omelette station' and secured an example with onions. All this food was delicious, and was washed down by pots of excellent coffee brought to me by one of the friendly waitresses.
Lunch and dinner are had on the top floor of the building at the restaurant 'Se-Sto on the Arno', a rooftop dining room in a glass box. Given the magnificence of the views in every direction, the abundance of glass is a blessing. At night, the floodlit towers and domes of the Florentine churches add luminary delight to the magical panorama. In the evening I found here a busy, buzzy atmosphere, the dark brown tablecloths and white napkins adding a sense of modern sophistication. The flame of the single candle on each table – mine was number 45 – twinkled in the Villeroy & Boch glasses. This is the setting for the fine food of the talented lady chef, Entiana Osmenzeza (pictured). She offers three set menus in the evening, one of them (at 78€) for vegans. I had four courses from the carte (for 92€).
I began with a bright, sparkling salad of Tuscan bread, with tomato and basil gazpacho and olive oil. This was a confection of strong, appealing tastes. My pasta was pici – rather like fat spaghetti – with truffles and porcini mushrooms, another offering of rich, robust flavours. For my main course I went for the roasted Kobe beef, and was glad I did. This was luscious meat, full of the most delicious fat. It was well served by the accompanying fondant potatoes and red onions. I ended with a rather complicated pudding – pears in cider apples, braised eggplant in red wine and olive oil ice cream. The service throughout – orchestrated by maitre d' Marco Malesci – was exemplary.
The wine list has 297 offerings. Most are Italian, but France and Spain are well represented. Vintages are given only for the more important red wines. Prices run from 30€ for a Tuscan chardonnay (Sovente) to 4,000€ for the 2009 vintage of Pétrus. The following bottles caught my eye: 2002 Vega Sicilia Unico (600€), 2010 Lafite (1,100€), Krug Grande Cuvée (250€), 2010 Ornellaia (300€), 2009 Masseto (800€) and 2008 Solaia (250€). I enjoyed tremendously that most enticing of Italian sparkling wines, the yeasty and nutty Franciacorta 'Anna Maria Clementi' (Cà del Bosco, 2005 – 100€), and a full-bodied 2009 Brunello di Montalcino (Poggio Cerrino, Enzo Tiezzi – 70€). This was good drinking.
And my stay was a good stay. For those of us who hold to traditional values, the Westin Excelsior is a joy. If you are looking for my ideal of an hotel in Florence, you need look no further.
---
ADDRESSES
WESTIN EXCELSIOR HOTEL
Piazza Ognissanti 3, 50123 Florence, Italy.
Telephone +39 055 27151
Fax +39 055 210278
Email: excelsiorflorence@westin.com
www.westinflorence.com
Double rooms from 345€
Check the hotel website for special offers and for the rates for specific dates