ITALY
FLORENCE
WESTIN EXCELSIOR HOTEL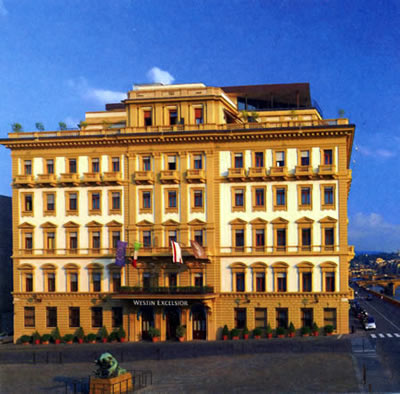 Florence is enchanting. We all know this. But it is particularly enchanting when you are staying in a Renaissance-style palace overlooking the River Arno. And it becomes ravishingly, heart-wrenchingly enchanting when your apartment within the palace is a large and impressive suite in the traditional style with its own view over the said waterway. Thus it was for me at the Westin Excelsior Hotel, as splendid a hostelry as you will find in splendid Florence.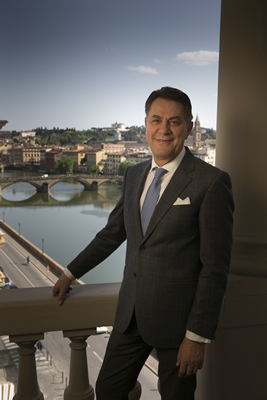 Occupying one side of the piazza Ognissanti, as well as a good stretch of the promenade by the river, the Westin Excelsior is both imposing and welcoming. It looks like a grand hotel and it is a grand hotel. Its entrance hall is properly huge, and is filled with such quantities of marble, gilt and polished wood that a smile is brought immediately to the faces of those of us who like to be surrounded by grandeur. Boutique hotels are fine and dandy, but sometimes one just needs to feel one is staying in somewhere monumental. And the members of staff – smart and attentive – add to the sense that this place is somewhere special. They are a credit to the dapper and charming General Manager, Mr Valentino Bertolini (pictured).
There are 171 rooms and suites. I occupied number 424, a Junior Suite and therefore 800€-1,500€ a night, bed and breakfast for two, according to season. On the fourth floor – reached (when I had the energy to ignore the lifts, which was on one descent) by a sweeping staircase of stone and marble, lined with ancient oil paintings – this was the sort of apartment which 'flows' really well. And that – together with the restful colour scheme of grey, brown and white and the efficient (and controllable) air conditioning – added considerably to my feeling of wellbeing.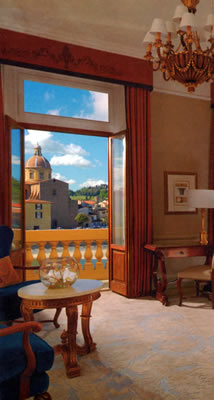 In the proper entrance hall were the doors of the fitted wardrobes, wherein I found a private safe and plenty of hanging space – the later sufficient, even for me. Then I passed into the sitting room. Immediately I was struck by the abundance of cushions. I like grand cushions. They impart a feeling of luxury and they enable me to relax with the minimum of discomfort from my wretched back. Thus I was able to sit on the sofa or in the blue velvet wing chair, under the eight-branch chandelier, and gaze through the French window, over the balustrade and across the river to the unfinished façade of the church of San Frediano in Castello. My afternoons here, with a pot of Earl Grey upon the glass-topped coffee table, were times of innocent and intense pleasure.
The bedroom, through sliding doors, had the same view through its own French window. In its wonderfully soft bed, surrounded by the finest crisp linen, I slept the sleep of the righteous – when I was not relaxing by sampling the channels on the second television. My ablutions were conducted with the help of toiletries by Acqua di Parma in a bathroom which was well-equipped, with two wash basins, a large bath tub, a separate shower and a separate loo and bidet.
From this cosseting environment, I sallied forth each morning to see some of man's most noble artistic achievements – but not, of course, before I had broken my fast with determination and enjoyment. Breakfast at the Westin Excelsior should not be rushed, and I did not rush it. To my table in the cavernous ground floor Caminetto Room, I took from the buffet comestibles of high quality – including dishes of melon and strawberries, plates of tomatoes, mushrooms and broccoli, helpings of bacon and scrambled egg and slices of various lovely breads. I also lingered by the 'egg station' and secured omelettes with onions and mushrooms. All this food was delicious, and was washed down by pots of excellent coffee, with my ice cubes, of course, brought to me by members of the friendly and attentive staff.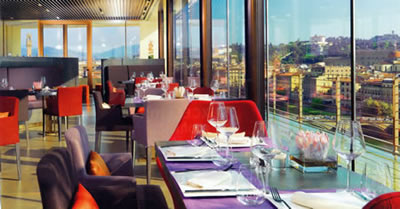 Lunch and dinner are had on the top floor of the building at the restaurant 'Se-Sto on the Arno', a rooftop dining room in a glass box. Given the magnificence of the views in every direction, the abundance of glass is a blessing. At night, the floodlit towers and domes of the Florentine churches add luminary delight to the magical panorama. In the evening I found here a busy, buzzy atmosphere, the dark brown tablecloths and white napkins adding a sense of modern sophistication. The flame of the single candle on each table twinkled in the Villeroy & Boch glasses. This is the setting for the fine food of an extremely talented (and young) Executive Chef, Matteo Lorenzini (pictured). He offers two set menus in the evening, one of four courses (95€) and a surprise menu of six courses (130€). I had four courses from the carte (121€), and was looked after very well indeed by the Restaurant Manager, the admirable Marco Malesci.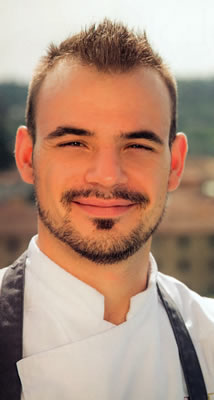 One thing I liked at once was the presentation of the food – prettily done, and on large, white plates. I will continue to insist until my last breath that this is the very best way to display food – despite the addiction of too many kitchens to gaily coloured and strangely shaped crockery. And my palate was as pleased as my eyes, for Chef Lorenzini's food is based upon the very finest ingredients. These are expertly handled and sent to the table in dishes which express an admirable culinary intelligence.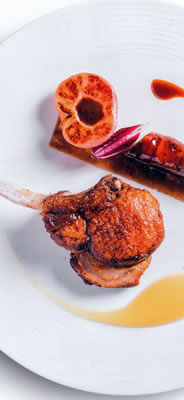 I began with peas and morel mushrooms in vin santo wine, with stuffed and gratinated onions. This confection produced a delightful combination of luscious tastes and textures. My pasta was nearly as good. The maccheroni was marginally too 'al dente' for me, but there was no denying the gorgeous nature of the fresh tuna, and the effectiveness of the beans and onions which were its companions. Tuscan pigeon brought the pleasure of meat which was tender as well as full of flavour, partnered with an intriguing mixture of beetroot both red and white. I finished with a red ball of joy, full of raspberry, apple, caramel, Earl Grey tea and mint. This was a very, very enjoyable meal.
The wine list has 279 offerings. Most are Italian, but France is well represented. Prices run from 35€ for various tipples such as a 2015 Soave Classico to 3,300€ for the 2009 vintage of Mouton Rothschild. The following bottles caught my eye: 2014 Planeta chardonnay (55€), 2006 Yquem (650€), 2010 Lafite (2,600€), Krug Grande Cuvée (350€), 2013 Ornellaia (350€), 2012 Masseto (1,000€), 2013 Tifnanello (145€), 2014 Cervaro della Sala (85€) and 2012 Luce (180€). Guided by the knowledgeable sommelier, Francesco Ciamei, I drank a super 'super-Tuscan', the 2011 vintage of Coevo – a red with an elegant structure and lots of luscious, ripe black fruit and that satisfying residual hint of sweetness I associate with the best wines from Tuscany. This was really good drinking.
And my stay was a really good stay. For those of us who hold to traditional values, the Westin Excelsior is a joy. Book one of its suites and you will have an enchanting stay in Florence, the City of Enchantment.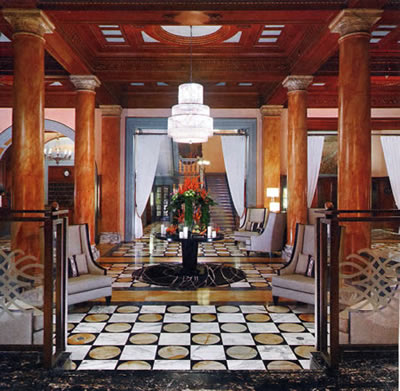 ---