SWITZERLAND
ZURICH
WIDDER HOTEL - WIDDER RESTAURANT BY ALEXANDER KROLL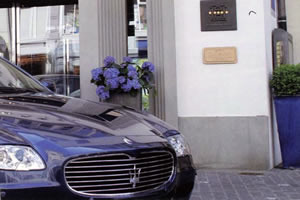 Here is a very civilized idea. Restaurants should offer, without charge, to send a motor car to pick you up before dinner, and return you home afterwards. It should, of course, be a grand motor car, as befits your station in life. This sounds too good to be true, does it not? But in Zurich I found that such an arrangement really does exist. All one had to do, as long as the journey was within the city, was to ask for the service when the table reservation was made. And so, after wining and dining in great style, I found myself being transported back to my hotel in the rear of a new Maserati Quattroporte. I was perhaps not in the best state to appreciate all the subtleties of its impressive Italian engineering, but I did know that I was travelling in something which, in every metallic curve and in every stitch of its smooth leather, expressed what we all seek: good taste with a dash of panache. And that made it an appropriate vehicle for the Widder Restaurant.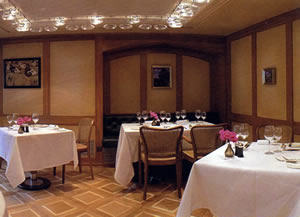 After a ten year restoration, the Widder Hotel opened in 1995. It occupies nine houses which date back to the Middle Ages. They have been joined together in a clever way which preserves their integrity and yet which allows the hotel to function as a unity. Now the Widder Hotel is a treasure house of art, both modern (Andy Warhol &c.) and antique. Its restaurant is upstairs and occupies two small rooms with low ceilings. I was struck immediately by the warmth and welcome of these spaces.
Partly, of course, this was because the members of staff – headed by the maitre d'Sebastian Seubert, a charming young man from Würzburg – were courteous and efficient. But it was also because the atmosphere was so right – the elegant armchairs stood on a polished wooden floor, the napery was of thick white damask, the waiters looked smart in waistcoats and striped blue shirts and my round table was of a decent size and sited in an ancient bay window. And the buzz of conversation from the surrounding tables was a clear indication of a high level of contentment among my fellow diners.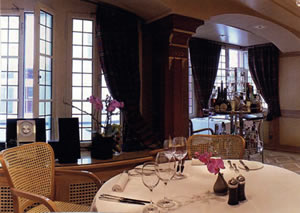 As, indeed, there should have been, for there was much about which to be contented. Alexander Kroll, the Executive Chef, has created a menu which is full of interest. I could have chosen happily almost any of the dishes offered. I decided that I would begin with some lobster – cold, with melon and honey. The plate was pretty and the combination of flavours worked well. Then I went for soup. I should eat more soup, particularly when it can reach these standards. This was cream of spinach with a poached quail egg and pieces of smoked quail breast. It was smooth, rich, intensely flavoured and utterly delicious. For my main course, I was torn between roasted saddle of summer deer, chateaubriand and Wagyu beef.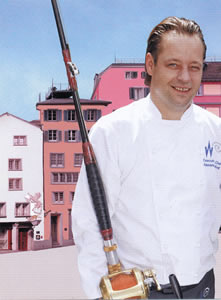 The Wagyu beef won the contest. (Wagyu beef is related to the famous Kobe beef of Japan, but the animals are reared in Chile.) This was a piece of grilled fillet (of 150 grammes – the weight is given in the menu, as this is an expensive product), which was beautifully tender and full of rich, satisfying flavour. I found the accompanying port wine sauce a little strong for my palate, but this was easily avoided in favour of the much more flattering celery purée. My meal ended with wild berry ice cream baked in puff pastry. (These four courses were 200CHF.)
Prices of the wine list go from 43CHF for a Swiss reisling/sylvaner to 1,300CHF for 1966 Latour. Mr Seubert told me that every wine under 100CHF a bottle could be had by the glass, which seemed a sensible arrangement. Switzerland and the rest of the world are well represented. The following bottles caught my eye: 2007 Cloudy Bay sauvignon blanc (82CHF), 1999 Sassicaia (320CHF), 2003 Opus One (495CHF), 1988 Yquem (615CHF) and 1961 Ducru-Beaucaillou (1,250CHF).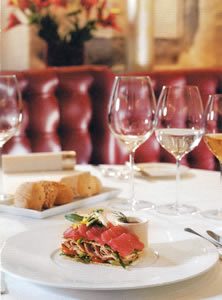 My own drinking began with one of the low alcohol German Rieslings I like so much. This one was fresh, bright and possessed of a hint of that typical petrol in the nose which makes these wines so intriguing. It was also, as so often, very good value (Erdener Treppchen Kabinett, Dr Loosen, 2006 – 54CHF). My red was recommended by Mr Seubert. He said it was an interesting Swiss merlot from the Ticino. And interesting it was, for – in a blind tasting – I would never have identified the grape from which it was made. This wine was just like a medium-bodied, well-balanced, red burgundy. Its nose and its taste were entirely of red fruit. A pinot noir, I would have said. There was not the slightest trace of the black fruit of merlot (Tracce di Sassi, 2006 – 108CHF). Remarkable.
I was still pondering this vinicultural miracle as the Maserati glided along the streets of central Zurich. It remains a mystery to me, even now. Still, there is nothing mysterious about the Widder Restaurant. Like the Quattroporte, it is a gleaming expression of good taste – with a dash of panache.
---