United Kingdom
England
NOTTINGHAM
WORLD SERVICE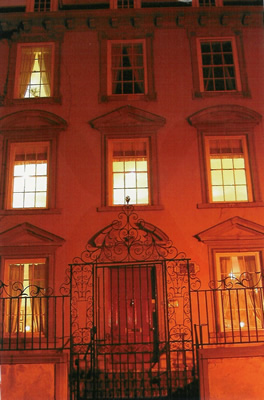 Fortunate is the man who has happy culinary memories of his youth. Gastronomic Enlightenment is on the curriculum of few schools. It was certainly unknown within the academic halls trod by your correspondent. Yet, occasionally – and, invariably, it was in a family dining room, far away from any institutional kitchen – a taste entered my mouth so wonderful that it imprinted itself upon my memory bank. Much of my subsequent eating has been a search to replicate these moments of intense pleasure. Auntie Maud's mint sauce gave me such a moment. And it has just been replicated at the restaurant called World Service, in Nottingham.
Mint sauce is nowadays despised. When it does appear, it is usually made from the bottled green mush which is sold in the shops. This stuff is disgusting, and its harsh and repellent taste deserves to be banished forever from our tables. But proper mint sauce – made with fresh leaves of mint, cut not too finely, combined with malt vinegar diluted with water and lightly sugared – is a truly magnificent accompaniment to roast lamb. And so it proved in the Midlands town of Nottingham, where – at my request – a small jug of mint sauce was made for me. For its thrilling taste, I will forever be grateful to the good folk at World Service.
In fact, I liked this place a lot. It inhabits the ground floor of a handsome Georgian house near Nottingham Castle. Its upper stories are still occupied by the United Services Club, and evidence of the Club's activities can be found in the restaurant bar. On its walls are boards bearing the names of the fine fellows who, in years gone by, won the Club's various sporting trophies. This tiny suggestion of the alma mater pleased me – as did the lovely carved mantel over the fireplace.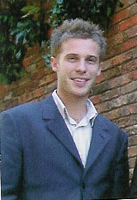 One enters the bar first and it is the link between the two halves of the building – which is modern at the rear and period (and architecturally very distinguished) at the front. In the evening the whole place buzzes with activity, for the people of Nottingham find World Service very much to their liking. I was greeted by the manager, Dan Lindsay, whose picture I reproduce. Full of smiles and good humour, this young man combines efficiency with great charm. He runs the front-of-house very well indeed. Would I prefer a table in the modern room or in the more traditional room? The latter, I decided – anxious, as always, that I should have as good a chance as possible of hearing the conversation of my companion. Experience has taught me that the more modern the surroundings the more noise my fellow diners tend to make.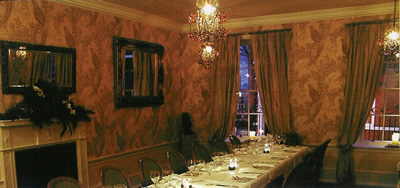 Thus I found myself in the Blenheim Room. Small crystal chandeliers, Persian carpets and wallpaper with birds of paradise combined to create a relaxed, but proper atmosphere. Service from waiters in open-necked shirts and waitresses in dark trousers displayed the same qualities. The napkins of those who left the table were refolded.
The restaurant's name might suggest that we are in the Land of Fusion. Mercifully, we are not. Elements from here and there make their brief appearances, but the foundation of the menu is French.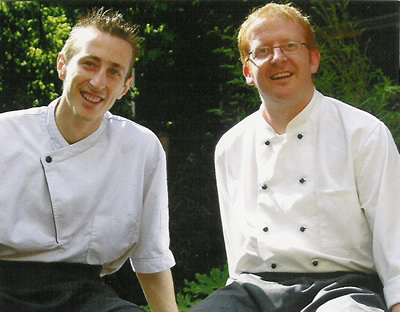 Executive Chef Chris Elson (on the right of the picture) and Head Chef Preston Walker have wisely decided to display their talents by taking good quality ingredients, handling them carefully and combining them sensibly. Take what was – apart from the nostalgic bonanza of the mint sauce – the highlight of my meal: a ballottine of foie gras with rum-soaked raisins and toasted brioche. Essentially simple, but well-conceived and wonderfully executed. This was a lovely combination of textures and flavours.
Before this gem, I had begun with a decent salad of smoked duck, with apple and hazelnuts, enlivened by a raspberry dressing. My main course was English rack of lamb with a small shepherd's pie and a braised lamb faggot – a dish which told me that the kitchen does not mind hard work. With it came some tasty peas and the (by special request) mint sauce. I ended with a straightforward vanilla yoghurt panacotta with poached rhubarb. (£43.50 for these four courses.)
The wine list offers many bottles in the £20 to £30 range. Otherwise, prices range from £13.50 for an Italian white to £600 for 1962 Dom Perignon. Most parts of the wine-producing world get a mention. Included in the three vintages of Chateau Musar from the Lebanon is the 1978 at £115. For a really good claret, you might try 1986 Cos d'Estournel for £160. The famous 1976 Yquem can be had with your pudding or your foie gras for the relatively modest price of £580. From my own drinking, I would point you to a well-balanced, toasty, Californian chardonnay with discreet fruit – the 2002 Saintsbury Carneros at £29.
I enjoyed my visit to World Service. It deserves its success – for its delightful interior, for its enjoyable food, for its friendly service and, of course, for allowing me to relive a magic moment from my childhood. Ask me now what Nottingham means to me, and I will answer, "Mint sauce, of course".
---
ADDRESSES
WORLD SERVICE
Newdigate House, Castlegate, Nottingham NG1 6AF, England.
Telephone +44 (0)115 847 5583
Fax +44 (0)115 847 5584
Email: info@worldservicerestaurant.com
www.worldservicerestaurant.com
Closed: 1-4 January, 26 December