ITALY
ITALIAN LAKES
TREMEZZO, LAKE COMO
RISTORANTE LA FAGURIDA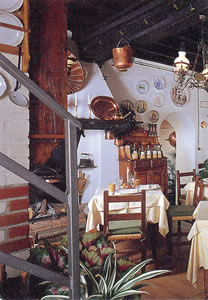 Despite my repeated visits to Lake Como, I always find something new to delight me. The area is blessed with an abundance of beauty, both natural and man-made. Travellers with aesthetic interests will have enough to fill a lifetime's itineraries. And those of us who spurn not the hedonistic side of human nature can also revel in the magnificence of the luxury hotels and the fine restaurants. But there are simpler pleasures, too, and I have just discovered one of the best. So, if you are looking for the ideal 'rustic' restaurant in Italy – with straightforward, well-cooked food at kindly prices, homely service and a location to lift the spirits, allow me to introduce you to the Ristorante La Fagurida.
I was staying at the Grand Hotel Tremezzo (see separate article), and it was the kind people at this lakeside palace who, in response to my query about local eateries, suggested that I might like to visit La Fagurida. A Mercedes motor car was summoned, and I was soon high above the town, in the rural hillside. Down a narrow lane and across a yard of gravel was my destination: the sort of establishment on which we British Italophiles tend to linger in our daydreams. Here was a traditional stone cottage offering the warm hospitality of a family.
I was met at the door by the charming young lady of the house and taken through the two dining rooms (pictured) to the outside terrace, for it was a pleasantly warm evening. There I sat at my small table, an orange tablecloth before me, and looked out at Lake Como far below. This was a lovely setting, and my sense was that all my fellow diners – including a small group of well-spoken young Englishmen – were having a thoroughly good time. As, indeed, was I.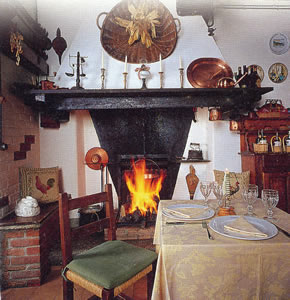 The menu is short and the food is rustic, robust and served in hearty portions. I could easily have satisfied my appetite with two dishes, but in Italy I make it a matter of principle always to eat the Italian Way. I therefore had four courses. (You should allow 40/45 euros for the food, if you wish to do the same.)
I began with Polenta Uncia – a dish of soft, warm polenta, with cheese, butter and garlic. This was as luscious as it was filling, and as filling as it was full of taste. Indeed, I should revise my previous comment: I could easily have satisfied my appetite with this one dish. I went on to a plate of grilled vegetables. Then came a mighty portion of grilled beef – beef of superbly rich, dense flavour – with some excellent roast potatoes. At this point I really should have stopped. But as you, dear Reader, know very well, I am a Man of Principle. The pudding had to be tackled. I therefore chose what I thought would be the lightest - a crème caramel with vanilla ice cream – and ended my meal with a smile upon my face.
Like those around me, I was content to allow the family to bring me such wine as was regarded as suitable for my eating, and I was rewarded by some decent drinking at modest cost. Needless to say, this is not an establishment at which you need to set aside an hour to survey an encyclopædic wine list. But it is a place for a very satisfying and enjoyable lunch or dinner.
I have therefore now marked down the Ristorante La Fagurida as yet another delight to be enjoyed on Lake Como.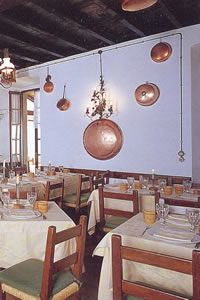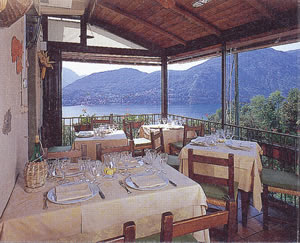 ---
ADDRESSES
RISTORANTE LA FAGURIDA
Via Rogaro 17, 22019 Tremezzo, Lago di Como, Italy.
Tel/fax +390344 40676
Email: lafagurida@gmail.com
www.lafagurida.it
Open for lunch and dinner
Closed: Mondays